90th Oscar Nominations Make History for Female Filmmakers
Photos by Theo Wargo/Getty, Lars Niki/Getty, Mark Davis/Getty, Andrew H. Walker/Getty
Movies
News
Academy Awards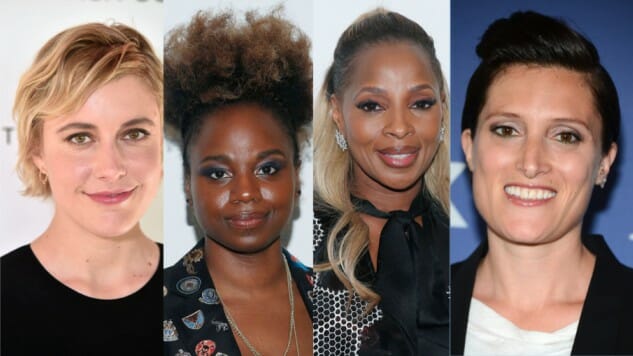 Greta Gerwig, ladies and gentlemen, has become the fifth woman to ever receive an Oscar nomination for Best Director. She joins the shamefully small group that includes Jane Campion (The Piano), Sofia Coppola (Lost in Translation), Lina Wertmüller (Seven Beauties) and Kathryn Bigelow (The Hurt Locker). Bigelow is the only woman to win the Oscar for Best Director, while Campion and Coppola are the only two women to win a coveted Palme d'Or for Best Director at the Cannes Film Festival. Gerwig's nomination comes as no surprise after the Directors Guild recognized her, making her the ninth woman ever nominated. Gerwig's debut film Lady Bird received five Oscar nominations, including Best Picture and a lead actress nomination for Saoirse Ronan, who took home the Golden Globe. You can view the full list of the 90th Academy Award nominations here.
Besides Gerwig's well-earned nomination being a huge feat for women filmmakers, Mudbound's Rachel Morrison also became the first woman ever to receive a nomination for cinematography. Currently, women make up only five percent of cinematographers in the film industry.
Eight female producers were nominated for Best Picture, including Emilie Georges for Call Me By Your Name, Lisa Bruce for Darkest Hour, Christopher Nolan's wife and producing partner Emma Thomas for Dunkirk, Evelyn O'Neill for Lady Bird, former head of Sony Pictures Amy Pascal and Kristie Macosko Krieger for The Post, and JoAnne Sellar and Megan Ellison for Phantom Thread. Ellison made history in 2014 when she became the fourth producer and first woman to receive two nominations for Best Picture; the nominations were for her work on American Hustle and Her.
Mudbound's Dee Rees became the first African-American woman to be nominated for Best Adapted Screenplay, and actress/singer Mary J. Blige became the first African-American woman to receive two nominations in the same year. Her performance in Mudbound earned her a Best Supporting Actress nod, and her composition and lyrics for the song "Mighty River" from Mudbound earned her a Best Original Song nomination.
One surprise was the lack of Oscar love for cultural phenomenon and box office mega-hit Wonder Woman, which appeared poised for nominations in Costume Design and Production Design, if not Best Picture. The film also featured a female director, Patty Jenkins, and marked another historic moment as being the first 100 million dollar-budget film directed by a woman. Bigelow's K-19: The Widowmaker was just at 100 million.
The 90th Academy Awards Ceremony will be held on Sunday, March 4, on ABC at 8 p.m. EST.