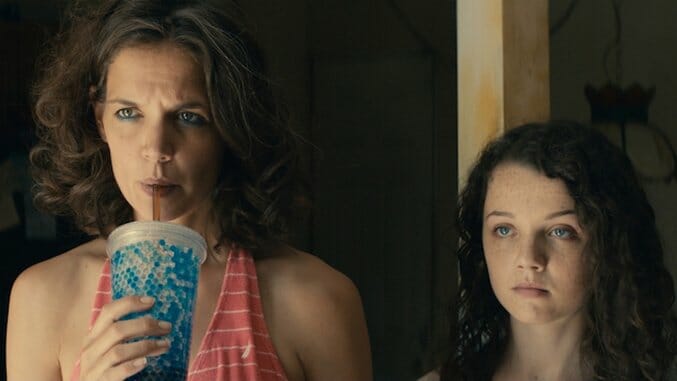 For her directorial debut, Katie Holmes went with All We Had, an intimate look at a mother and daughter with little income and fewer prospects for improving their station in life. Based on a 2014 book by Annie Weatherwax, the film treads a well-worn path: growing up with a single parent while struggling through poverty. The movie doesn't do anything new with this subject matter, but it hangs together for a little while because of a warm, sympathetic performance by Stefania Owen.
Owen (who bears a striking resemblance to Holmes) plays Ruthie, a bright 14-year-old who tells us in narration that her mother, Rita (Holmes), has bad taste when it comes to boyfriends. She explains this as the pair escape yet another abusive situation (suggested by the faint outline of what may be a black eye). They set out on the road in a jalopy that's seen much better days, ostensibly to reach Boston. Along the way their car breaks down outside a diner where they just skipped the bill. Rita sees this as a sign things are about to change for the better. And of course they are.
Coming to their rescue is Marty (Richard Kind), the diner's owner, and Pam (Eve Lindley), a transgender waitress who takes a shine to Ruthie. Things seem to improve further when another lover enters Rita's life—a sleazy real-estate agent (Mark Consuelos)—and he convinces her to buy a house in foreclosure.
Reference is made to the economic downturn, as when Pam asks, "When are times gonna change?" But poverty and money struggles aren't Holmes' focus. Rather, she's interested in the dynamic between her two main characters and how they support one another. Shared moments between the pair are intended to garner sympathy: playing in the rain while early in their journey; talking about their dream house; whispering to each other at night while in their car. At times, Ruthie has to be the mother in the relationship, particularly because of Rita's drinking. Besides the performances, what keeps us interested is wondering whether Rita can make better decisions and stop her self-destructive behavior.
But around the film's mid-point, All We Had loses what little interest it may have generated, and Rita's line "We're just gonna figure it out as we go" seems to guide the movie as well. That leaves elements rich with possibility underdeveloped, from Ruthie's struggles in high school to Rita's struggle with alcohol and her efforts to give it up. Holmes glosses over these and pads the film with too many shots of the sky that are more soporific than evocative. Further undermining the movie's impact is dialogue that's reminiscent of exchanges in mediocre young adult novels. Lines like "We are dealt the cards we know how to deal with," and "Why is life so hard?" wallow in banality.
So too is the film's conclusion trite. Holmes and screenwriters Josh Boone and Jill Killington cram too much underserved material into the movie's remaining 15 minutes: teen-age defiance, resentment, feeling out of place, and a romance in its early stages. It all leads to a reconciliation that is welcome not because of our empathy for the characters but because we've expended our interest in them.
Director: Katie Holmes
Writers: Josh Boone and Jill Killington, based on Annie Weatherwax's novel
Starring: Katie Holmes, Stefania Owen, Eve Lindley, Luke Wilson, Richard Kind, Mark Consuelos
Release Date: Dec. 9, 2016