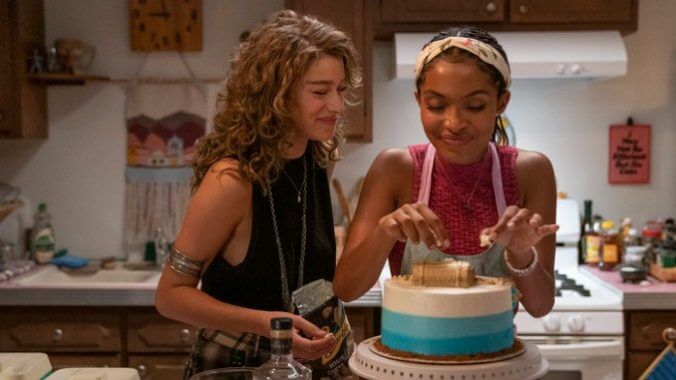 I don't mean this as flippantly as it sounds, but movies love a good cancer story. Anyone who knows someone who has had cancer (and, sadly, that's probably all of us) knows how cruel and capricious cancer can be. The insidiousness of the disease makes for good drama. The 1971 ABC movie Brian's Song, which starred James Caan and Billy Dee Williams, is perhaps the most well-known entry in the genre. Brian's Song, in which Caan plays a Chicago Bears player who dies from cancer, is famous for making viewers (particularly men who, at the time, weren't allowed to show a lot of emotion) cry. The Fault in Our Stars, Terms of Endearment, A Walk to Remember, One True Thing—I could go on and on. Prime Video enters the field with Sitting in Bars with Cake.
Jane (Yara Shahidi) and Corinne (Odessa A'zion) are life-long best friends. They've moved from Arizona to Los Angeles where Corinne is a junior music agent and Jane is working in the mail room while applying to law school. Corinne is outgoing, vivacious and loud while Jane is quiet, shy and has a passion for baking. Corrine's favorite celebrity is Mick Jagger. Jane's is NPR's Terry Gross. Corrine loves sexy lingerie. Jane's fashion sense is "if it works for Mr. Rogers, it works for me." You get the idea.
After bringing Corrine's birthday cake to a bar proves to be a terrific conversation starter, Corinne convinces her friend to spend a year bringing her delectable cakes to a different bar every week and tracking the results (does she get a guy's number, get asked out on a date, etc.). Just months into the "cake barring" experience (and 28 minutes into the movie), Corinne is diagnosed with brain cancer and the world as these young women know it is irrevocably changed.
You can tell just by reading the above paragraph that Sitting in Bars with Cake (has there ever been a more literal title?) is trying to mesh two distinctly different genres: A light-hearted rom-com of twentysomethings searching for love in creative and delicious ways, and a tragic story of receiving a cancer diagnosis during the prime of your life. 
On paper, it sounds like two very incongruous ideas, but the movie is based on the real-life experiences of Audrey Shulman, who wrote a popular blog and book about her cake-barring experience and also wrote the movie. And, as diametrically opposed as these two plot lines may seem, that is how tragic events occur. You are going about, living your life, when an unexpected calamity throws you a curveball. 
What truly makes Sitting in Bars with Cake work are the standout performances from Shahidi and A'zion. Shahidi, who starred it black-ish and its spin-off grown-ish, brings a sweet charm and quiet determination to her role, allowing viewers to truly understand why two opposites like Jane and Corinne are such good friends. A'zion, perhaps best known for Hellraiser, brings an engaging brashness as Corrine, trying to mask her underlying vulnerability as she navigates her cancer treatment.
Ron Livingston and Martha Kelly are equally compelling as Corrine's parents Fred and Ruth. They hover and struggle with how best to help their daughter. Wanting to be able to fix something when he cannot fix his daughter's diagnosis, Fred repairs nearly everything he comes across, from the hospital chair to the restaurant table. In just a few scenes, Livingston and Kelly make Fred and Ruth's love for their daughter palpable, and create two fully-realized movie parents. 
Other roles are very underwritten, particularly Bette Midler as Corrine's boss Benita. Midler's presence in the movie is a reminder of 1988's Beaches, where Midler's C.C. is a famous singer whose life-long best friend Hillary (Barbara Hershey) dies from heart failure. Every time Midler is on the screen, doing her best The Devil Wears Prada impression, I kept wanting her to break into "Wind Beneath My Wings." There should have been much more to the Corrine and Benita story. I also could have used more information about Corrine's ne'er-do-well boyfriend Dave (Aaron Dominguez) and her friends (Maia Mitchell, Simone Recasner). Perhaps since the movie is trying to do so much, director Trish Sie never quite landed upon a way to gracefully weave them into the narrative.
The cakes featured in Sitting in Bars with Cake, the work of food stylist and culinary producer Megan Potthoff, look delectable and are inspiringly creative. It almost made me—someone who only makes cake from a box—want to try baking some of Jane's creations. The movie also makes good use of L.A.'s notable spots, including Jane and Corrine's apartment at The Pink Flamingo.
Does Corrine survive? Does Jane break out of her shell and begin to advocate for herself? You probably don't need me to tell you how this movie ends, but Sitting in Bars with Cake is still worth tasting.
Director: Trish Sie
Writers: Audrey Shulman
Starring: Yara Shahidi, Odessa A'zion, Martha Kelly, Ron Livingston, Bette Midler
Release Date: September 8, 2023 (Amazon Prime Video)
---
Amy Amatangelo, the TV Gal®, is a Boston-based freelance writer and a member of the Television Critics Association. She wasn't allowed to watch much TV as a child and now her parents have to live with this as her career. You can follow her on Twitter.