Paramount Preps Theaters to Show Ang Lee's Gemini Man at 120 Frames Per Second
Photo by Mike Coppola/Getty
Movies
News
Ang Lee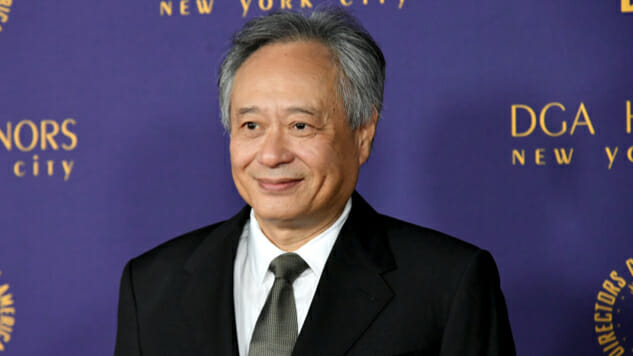 Oscar-winning filmmaker Ang Lee has had a weird and wonderful career, the most recent chapter of which was the noble failure that was Billy Lynn's Long Halftime Walk. In adapting Ben Fountain's 2012 novel of the same name, about a soldier who's celebrated at a football game after coming home from the Iraq War, Lee took the technological leap of shooting at 120 frames per second (a huge jump from the industry-standard 24fps), attempting to make audiences feel as if they were sharing the title character's post-traumatic anxiety at "being honored for the worst day of [his] life." It didn't work: Billy Lynn bombed, as its unprecedented visuals weren't enough to make up for its narrative flaws, and the Sony Pictures film was only scarcely screened in its intended 120fps, 4K, 3D format anyway, so few viewers were able to take that long halftime walk as Lee had intended.
Paramount Pictures is taking pains to avoid a repeat of that misfire with Lee's new film, Gemini Man, a sci-fi thriller starring Will Smith as an over-the-hill hitman who finds himself being hunted by a younger version of himself—sort of like Rian Johnson's Looper if Bruce Willis were the protagonist. Lee, teaming with cinematographer Dion Beebe, went back to the 120fps, 4K, 3D well to shoot the new film, and Paramount is reaching out to theater exhibitors ahead of Gemini Man's October premiere to prepare them to screen it in all its hyper-realistic glory.
"Ang's unique vision for this film includes recording and projecting in the most pristine and immersive formats," writes Paramount's Jim Smith in a letter to exhibitors obtained by The Playlist. "We want to do everything possible to make projecting the high frame rate version of Gemini Man a turnkey experience for you and provide audiences the latest technological advancement in cinema." The letter goes on to reveal that exhibitors will be sent 60fps, 3D and 120 fps, 2D versions of the film (in addition to the assumed, usual 24fps 3D and 24fps 2D).
It's exciting to see Lee getting another shot at making 120fps happen—despite the off-putting, uncanny valley effect that high-frame-rate footage can have, it's this kind of technical innovation, as Paramount suggests, that is more likely to get cinephiles up off their couches and out to a theater to see something they simply can't experience at home.
Gemini Man's high frame rate is hardly the only cutting-edge visual move Lee and company are making: Casting a young Smith as his own worst enemy required advanced motion-capture and digital de-aging techniques, as Oscar-winning visual effects ace Bill Westenhofer (who worked on Lee's Life of Pi) explained to IndieWire last April:
The clone (created through motion capture) is a major character in the film, and is present for 400-plus scenes in over half the movie, delivering full "in your face" emotional performances. Our full methodology involves a combination of scenes where Will plays his younger self wearing appropriate costumes for his body and a motion capture head rig. These scenes are done "on set" and cover all of the action where young and old versions are not on screen together.
For scenes where both are playing against each other, we have a body double for the young character. Both he and Will are filmed together on set. The geometry of the set is recreated later in a motion capture volume where Will performs the young character over again. Given the tight coupling with head and body action, we will often need to fully replace the body double with a digital version, though there will be times when we can salvage some of him and just replace the head.
It's a bold proposition, attempting this ambitious (and narratively essential) an effect in a high-frame-rate format, in which even the slightest visual blemish sticks out like a sore thumb. "That's why we are pushing the envelope as hard as we possibly can to potentially be the first to deliver a fully convincing digital human," Westenhofer told IndieWire.
Gemini Man opens on Oct. 4. Stay tuned for more updates on the film, which will undoubtedly be a sight to see.