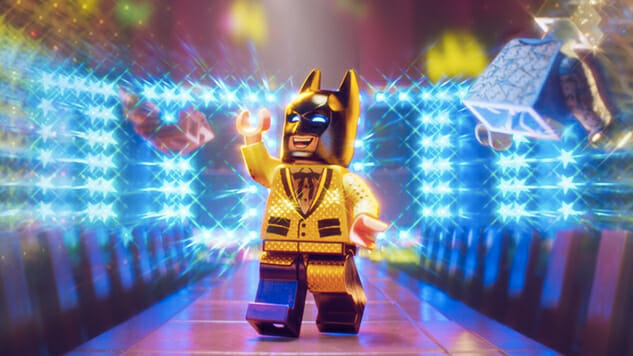 Leave it to satire to get at the core of Batman better than most straight-faced Batman films. The Lego Batman Movie is a spin-off of 2014's The Lego Movie, focusing, as you can likely guess, on Batman, voiced in both films by Will Arnett, a man born as an avatar of oblivious narcissism, whether in TV shows like Arrested Development and BoJack Horseman or in movies like The Brothers Solomon. He excels at being into himself, and his trademarked egotism feels like a necessary punchline aimed at a character typified by chronic brooding and an overwhelming preference for darkness.
But how long can you rely on Arnett to make sport of the Caped Crusader's morose self-obsession without running out of steam? About an hour and 40 minutes, as it turns out. The Lego Batman Movie works when in all likelihood it shouldn't, in part because there's a fondness for all things Batman that runs through the film even in its most absurd moments. Grant that the basic conceit of The Lego Batman Movie—in which 3D animated Lego figurines are comically dramatized—is patently absurd, and that distinguishing degrees of absurdity is a wholly subjective exercise. You'll find neither doom nor gloom here, only farce.
If imitation is the sincerest form of flattery, though, mockery comes in a close second. The Lego Batman Movie's silliness is just the stationery on which creator Chris McKay (an animation co-director on The Lego Movie) has composed his love note for the World's Greatest Detective, at once a sharp parody of representations of Batman on screens both big and small as well as an honest go at exploring what really makes the icon tick beneath the cape, cowl and cool gadgets. It isn't the grim posturing seen in Christopher Nolan's Dark Knight trilogy and in Zack Snyder's Batman v Superman: Dawn of Justice, or the gaudiness of the Joel Schumacher films, or the violent, kinky cheese factor of the Tim Burton films—it isn't the campy 1960s vibe of the Adam West TV series, either—no, it's loneliness that makes Batman Batman, and The Lego Batman Movie dives into his self-imposed isolation with equal parts sympathy and glee.
It's fun to be Batman when you're called on to save the day from the Joker (Zach Galifianakis), Harley Quinn (Jenny Slate) and Batman's entire assembled rogue's gallery, including the Riddler (Conan O'Brien), Two-Face (Billy Dee Williams), Clayface (Kate Micucci), Poison Ivy (Riki Lindhome), Bane (Doug Benson) and the Scarecrow (Jason Mantzoukas). It's less fun when the day has demonstrably been saved, your services are no longer needed and it's time to go home, where you've only a supercomputer and your trusty butler to keep you company.
Sure, going home to Wayne Manor, the Batcave and of course Alfred (Ralph Fiennes), isn't such a bad deal on paper, but after The Lego Batman Movie's transcendently great sugar-rush of an opener, liberally peppered with gags, one-liners, and zippy animated action, the crushing weight of solitude sets in and McKay establishes the first of the film's two major plot arcs, wherein Batman gets over his deepest fear: Being part of a family again. Enter Dick Grayson (Michael Cera in an inspired casting move), whom Batman unwittingly adopts while ogling Gotham City's new commissioner, Barbara Gordon (Rosario Dawson). It's these human relationships that give the film inner weight beneath its outer ridiculousness. Batman lives on a literal island, but that doesn't mean he has to be a figurative island, too.
Running concurrent to Batman's begrudging acceptance of fatherhood is the Joker's heartache at being rejected by the person he considers his greatest enemy. The problem is that Batman can't bring himself to say the same about Joker, and like any spurned lover hater, the Joker concocts a plan to prove to Batman that they belong together by marshaling an evil army composed of pop culture's most notorious villains, each imprisoned in the Phantom Zone. (It's a list best left unspoiled, but suffice to say that Ellie Kemper has a part in this and is an absolute delight.) If The Lego Batman Movie wasn't wacky enough from the start, it gets exponentially wackier once the Joker's scheme is realized.
It goes without saying that this isn't a serious movie, but it does take its material seriously. There's a distinct feeling here that McKay, plus the team of writers gathered to write the script, genuinely cares about the Batman mythos, that he's a bona fide Bat-fan and that he can not only write a joke but take a joke, because to make fun of Batman is to make fun of Batman's legions of fans. McKay's immense understanding of the character lets him get away with relentless parody, and also positions The Lego Batman Movie as one of the most surprisingly authentic Batman movies ever made. It gets that Bruce Wayne is Batman's alter ego and not the other way around, that at the end of the day the real persona is the one shaped by childhood trauma. The playboy is more of a mask than that iconic cowl.
The Lego Batman Movie will be red meat for Batman nuts, in other words, but don't let these geeky particulars fool you: You'll have a good time even if you're only tangentially familiar with the character, thanks to the film's unending reserves of zaniness. If the trend of late is to give superheroes more somber cinematic treatments, then The Lego Batman Movie is a reminder that fun need not be traded for po-faced melodrama to come up with something meaningful.
Director: Chris McKay
Writers: Seth Grahame-Smith, Chris McKenna, Erik Sommers, Jared Stern, John Whittington
Starring: Will Arnett, Zach Galifianakis, Michael Cera, Rosario Dawson, Ralph Fiennes, Hector Elizondo, Ellie Kemper, Jenny Slate
Release Date: February 10, 2017
---
Boston-based critic Andy Crump has been writing about film online since 2009, and has been contributing to Paste Magazine since 2013. He writes additional words for Movie Mezzanine, The Playlist, and Birth. Movies. Death. and is a member of the Online Film Critics Society and the Boston Online Film Critics Association. You can follow him on Twitter and find his collected writing at his personal blog. He is composed of roughly 65% craft beer.