Netflix May Acquire New Cloverfield Sequel from Paramount
Photos via Frazer Harrison/Getty Images, Pascal Le Segretain/Getty Images, Kevork Djansezian/Getty Images, Brendon Thorne/Getty Images, Michael Loccisano/Getty Images
Movies
News
Cloverfield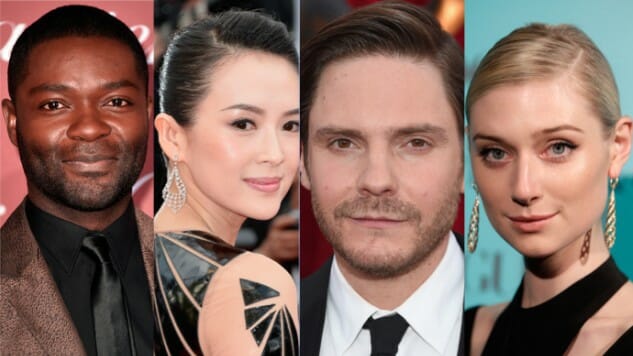 Formally titled Cloverfield Station and now possibly still dubbed God Particle, the latest sci-fi thriller in the Cloverfield series has struggled to find a release window. Currently Paramount's slate of films ready for release is being "spearheaded" by the new chairman, a lot of unknown sources say. One source told THR about the new chairman, "He sat down and looked at what is theatrical, what is not in this day and age. Certain movies were not making the cut." So, Netflix may be coming to the rescue if the deal in talks actually goes through. This deal would follow the December agreement made between Paramount and Netflix allowing the streaming service to distribute the Natalie Portman helmed Annihilation internationally. You can view the trailer for that film here.
The new Cloverfield stars Golden Globe nominated actors, David Oyelowo (Selma), Ziyi Zhang (Memoirs of a Geisha) and Daniel Brühl (Rush), and will also star Elizabeth Debicki (The Great Gatsby) and Gugu Mbatha-Raw (Belle). The previous two Cloverfield films were both produced and released by Paramount. 10 Cloverfield Lane, which was released in 2016 and starred John Goodman and Mary Elizabeth Winstead, cost around $15 million and grossed $72 million domestic. The original found footage genre Cloverfield (2008) was shot for $25 million, made $80 million domestic and featured no huge names at the time.
God Particle has skewed away from the traditional model. It's budget is around the $40 million-plus range and it has a much more established and higher-salaried cast. Several sources told THR that the film needs some serious work, and although J.J. Abrams is fairly busy with his new deal to direct the final Star Wars installment, he's insistent to get "down to business" during post-production. The film was supposed to be ready this spring, but whether the deal with Netflix goes through and post-production runs smoothly, its fate could be on the shelf.