Watch Keira Knightley Defy Sexual Boundaries in First Trailer for Colette
Photo by Robert Viglasky / Bleecker Street
Movies
News
Colette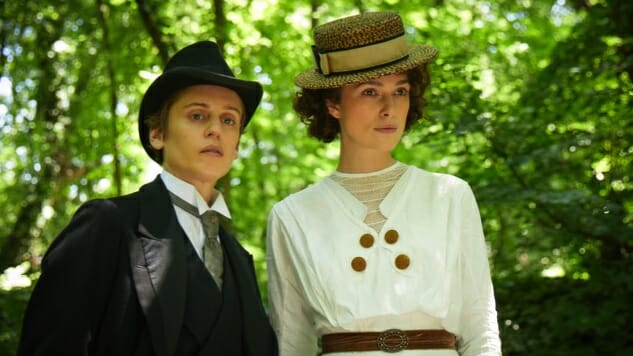 It's no accident that period drama Colette is being released amidst the Me Too and Time's Up movements, as Keira Knightley tells Variety. The actress will star as the film's eponymous Colette, the French lesbian novelist who defied gender and sexual boundaries throughout the early 20th century, in a story about societal constraints that resonates just as much today.
In the first full-length trailer for the film, we meet Colette when she is still married to Henry Gauthier-Villars (Dominic West). Though Gauthier-Villars was a well-known author in his day, he published Colette's first four Claudine novels under his own name after the first entry in the (at that time, shocking) coming-of-womanhood series gained popularity with young women.
After Gauthier-Villars blocked Colette's access to her earnings, she began a relationship with Marquise de Belbeuf, a gender-defying lesbian artist of the era; the pair caused a literal riot when they shared an onstage kiss in a play at the Moulin Rouge in 1907. The trailer hints at the new confidence the relationship helps Colette to establish, and soon, she begins to stand up to her exploitative husband. "The hand that holds the pen writes history," says Colette, pointedly underlining her own name.
The movie comes from Bleecker Street, a promising new film distribution company formed in 2014. Read more about the company's exciting roster of forthcoming films here and catch Colette in select theatres on Sept. 21, 2018. Watch the full trailer below.