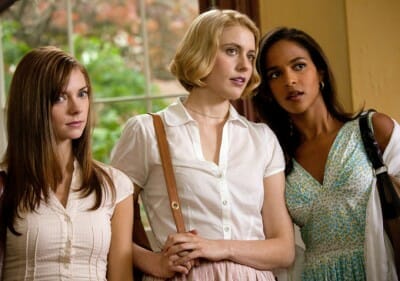 Whit Stillman fans have had to wait a long, fourteen years since his last film, The Last Days of Disco. While diehard enthusiasts may be satisfied with his latest effort, Damsels in Distress feels too episodic and light to fully endorse despite some snappy dialogue and charming dance numbers. Actress Greta Gerwig makes a sharp departure from her mumblecore beginnings and pulls off Stillman's highly stylized banter, as do several of the other actors. Ultimately, though, the banter feels empty and little more than dressing on a meandering plot.
The film is set at an East Coast college where a trio of pretty and principled girls are trying hard to alter campus culture. Their leader, Violet (Gerwig), believes the biggest problem in contemporary social life is a tendency "to always seek someone 'cooler' than yourself." So rather than look for conventionally good-looking and intelligent men, she and her friends attend fraternity parties with the hope of helping dopey guys realize their full potential. They consider their behavior a form of social work, just as they do their work at the college suicide prevention center. Their methods are hardly conventional though, as they mostly try to convince the depressed of their views on life and teach them to tap dance.
One new convert to their group is Lily (Analeigh Tipton), a naïve transfer student who has a crush on Xavier (Hugo Becker), a French student with a girlfriend. The girls offer her romantic advice, though none of the group is competent enough to navigate their own love lives, especially Violet whose frat boy boyfriend is more concerned about a toy bean bag than her. Another man, Charlie (Adam Brody), grabs the attention of both Lily and Violet, claiming to be an associate at a strategic development firm. All of this occurs as Violet struggles with depression and tries to create the next big international dance craze.
The viewer never quite understands what the main characters really want. Are they in search of true love? Are they simply trying to find their identities as they mature? Or will creating the next big dance craze truly have an effect? It's never made clear where salvation lies. Perhaps Stillman doesn't really care and the viewer is simply meant to have an enjoyable romp. If that's the case, it's an uneven excursion, and one spent focused mostly on the broad comedy of the dopey frat boys who seem too easy a target to pick on. The episodic structure of the film is a bit jarring, as well. While never taken completely out of the film by the intertitles and shifting story lines, one never feels completely involved, either. Ultimately, though the snappy dialogue makes for a fun turn here and there, Damsels in Distress is a ride that's not worth the price of admission.
Director: Whit Stillman
Writer: Whit Stillman
Starring: Greta Gerwig, Analeigh Tipton, Megalyn Echikunwoke, Carrie MacLemore, Adam Brody, Hugo Becker, Ryan Metcalf, Billy Magnussen
Release Date: Apr. 6, 2012