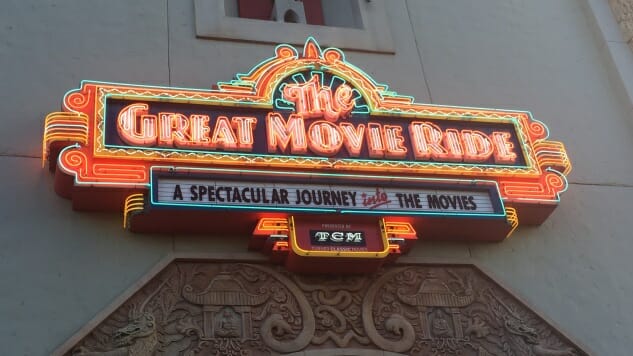 A Disney cast member calls like a carnival barker to the throngs crowded around the replica of Grauman's Chinese Theater. "Folks, the line starts here! Everybody will get to ride it one last time," he says into his headset mic, repeating his instructions every few seconds in-between a nonstop patter of Borscht belt jokes directed at passersby. The line snakes through the theater, spilling out into its courtyard, as dozens more stand across the sidewalk in front, waiting in hopes of being one of the last to revisit an old favorite. It's Sunday, August 13, 2017, the last night of The Great Movie Ride at Disney's Hollywood Studios, and fans of theme park rides and classic movies have gathered to say goodbye.
One of those fans, Jeannie Lancaster, stands in line with her granddaughter. "It's been [her] favorite since she's been about 2 years old and now she's 23," Lancaster says. Originally from outside Chicago, Lancaster recently relocated to the Orlando area, but she's been coming regularly to Disney World for decades. "Since 1995 I've been here five times a year," she says. "It's a lot. I have grandchildren and I used to take one at a time." The Great Movie Ride has always been one of her family's highlights, and a must-ride every time they've visited. She and her granddaughter have been saying goodbye to the ride all week—"This is probably our fourth time in the last seven days," she says—but they still couldn't miss the final day.
When Disney-MGM Studios Theme Park, as it was originally known, opened in May 1989, The Great Movie Ride was its signature attraction, and one of only two operating that day. Disney's third park in Orlando promised an inside look at the movie business, with operating TV studios, an animation department, and attractions like the Studio Backlot Tour and the Monster Sound Show, where guests learned what Foley artists do on a film set. The goal was to entertain park goers while also educating them on the entertainment industry, as part of the Disney parks' long-standing commitment to edutainment.
Most early attractions showed how movies were made, but The Great Movie Ride always focused on the finished product, acting as the centerpiece for the whole park. It deployed more than 50 audio-animatronics to recreate scenes from a dozen iconic movies across a half-century of film history, from Busby Berkeley's 1933 musical Footlight Parade to 1981's Raiders of the Lost Ark. Visitors saw a robotic Gene Kelly swinging on the lamppost from Singin' in the Rain, came face-to-face with one of Alien's xenomorphs aboard the Nostromo, and finished in The Wizard of Oz's Munchkinland, where the Wicked Witch of the West crashes the Munchkins' musical number. A closing film montage included snippets from more than a hundred other movies stretching back to the earliest days of film. Every ride would be taken hostage by a cast member playing either a 1930s gangster or a bandit from an old Western, adding an element of interactive theater to this otherwise traditional dark ride. The Great Movie Ride was a celebration of movies as an art form and a business, and a nostalgic trip through Hollywood's past that fans quickly became nostalgic for in turn.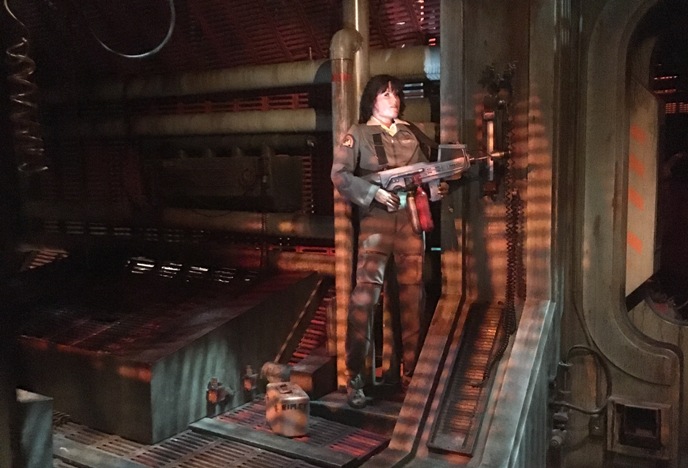 "It reminds me of my childhood," says Patina, who doesn't give her last name, and who is another fan who hopes to be on the very last ride. In her late 20s, she was born well after every movie recreated in the ride was released, yet she counts it as one of her favorite rides at all of Disney World. "I grew up watching old movies with my parents and my grandparents and I'm going to miss that," she says. "When I see it on the screen and see it on the ride it brings me back to there. It's sad to see it go."
Her friend, Dustin, who also didn't give his last name and is also too young to have seen any of the ride's 12 primary films during their original runs, concurs. "This ride combines all generations. A lot of the rides here, even all the parks, nothing does that. There are movies in this ride that I remember watching with my mother and movies I remember watching with my grandfather and great-grandmother. You're talking four generations, counting me, that watched growing up that are just engulfed in this ride and attraction.
"For [Patina], she sees Casablanca, that's her grandfather," Dustin continues. "On the anniversary of his passing we sit and we watch that movie and we drink the red wine that he liked. For me, since cable became cable and the Western channel became the Western channel, my grandfather has watched it. I go to his house, the TV does not change from the Western channel. So guys like John Wayne and Clint Eastwood remind me of my grandfather. But then I look at even older movies and they remind me of my great-grandmother, watching her as we're sitting in a nursing home watching movies together. Nothing encompasses every generation like this ride does."
Over the years Hollywood Studios has steadily drifted away from its original theme. High concept thrill rides like The Twilight Zone Tower of Terror and the Rock 'n' Roller Coaster Starring Aerosmith opened throughout the '90s, and the working live action and animation studios were eventually shut down. By the 2010s studio tour-style attractions like Lights, Motors, Action! Extreme Stunt Show and the Studio Backlot Tour closed to make way for new expansions themed to Toy Story and Star Wars. The Great Movie Ride held out the longest, but even this former centerpiece couldn't survive the park's transformation. Hollywood Studios' original theme celebrating the history and process of moviemaking, with references to movies from almost every major Hollywood studio, has now become one celebrating a handful of specific movies that are all owned by Disney.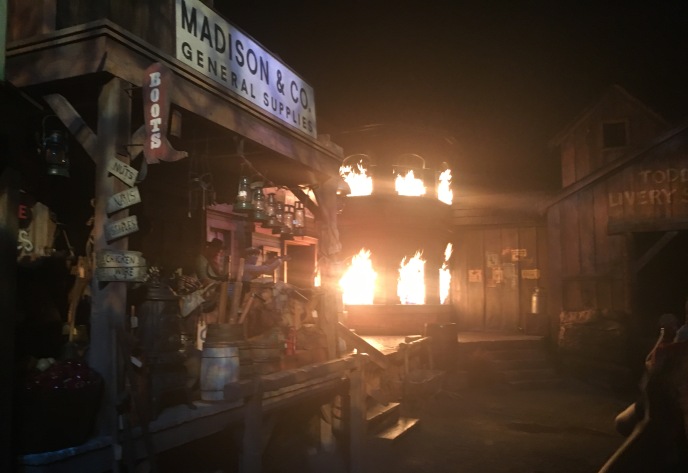 The end of The Great Movie Ride is more than just a major step in removing the old Hollywood Studios. It's another erasure of Disney World's 1980s expansion, when two of its four parks opened, and the idea of Disney World as a resort destination and not just a one-day trip was truly established. Throughout the 1980s Disney opened a number of sprawling attractions featuring heavy use of their groundbreaking audio-animatronics. Most of these were located in Epcot, which opened in 1982, and was originally focused on educating guests about science, history and the world we live in, while also entertaining them. Original Epcot attractions like Horizons, The World of Motion and Journey into Imagination were lengthy rides into unique, immersive worlds, from the possibilities of the future to the endless scope of our own mind. None of those three made it out of the 1990s, either replaced by new rides, altered into something new and unrecognizable, or simply shut down for good with little explanation. The Great Movie Ride was originally conceived as one of these Epcot pavilions, and it was one of a handful of those '80s rides to survive into the current decade. Losing it isn't just a blow to Hollywood Studios and introducing younger audiences to classic films: it's another loss for fans of a beloved but now almost erased era of Disney Imagineering.
By the end of 2019 The Great Movie Ride's show building, this replica of Grauman's Chinese Theater, will be the home of a new ride. Mickey & Minnie's Runaway Railway, the first ride at a Disney park to star Mickey Mouse, will reportedly be a state-of-the-art dark ride that transports riders into a cartoon. It sounds like an exciting addition to a park that has long been short on attractions. For fans of The Great Movie Ride, though, it will never replace the memories of what once was. And some fans might not ever give it an opportunity to; as Lancaster says, "I'll never try the new one. I'm not a child.
"It's supposed to give you the perspective that you're in the cartoon, which is neither here nor there," Lancaster continues, explaining what she's heard about the new ride. In the process she sums up how many longtime fans of The Great Movie Ride and Hollywood Studios feel about the changes. "I prefer the movies," she says. "This to me was a movie theme park. And now it's a mini-Magic Kingdom."
Outside the barker continues his spiel. "Come to the goofy redhead with the amplifier," he says, pointing to the hair on his head and the small speaker attached to his belt. A man wearing a light-up Mickey Mouse hat gets in line, and the cast member asks him if he's okay—"you're looking a little light-headed," he cracks. The line grows longer, as Patina, Dustin and dozens of others try to patiently time it out to where they can be on the very last car. When that last ride starts its 22-minute trip, well after the park has closed, almost every guest has their phone out, making their own movies of this fading attraction. The audio-animatronic John Wayne and Humphrey Bogart creak and whirr one last time in scenes from The Searchers and Casablanca, legends and films that have stood the test of time. They are big, the audio-animatronics seem to argue; it's the theme parks that got small.
---
Senior editor Garrett Martin writes about videogames, comedy, travel, theme parks, wrestling, and anything else that gets in his way. He shares stories and photos from his Disney journeys on Instagram at @garrett_goes_to_disney. He's also on Twitter @grmartin.