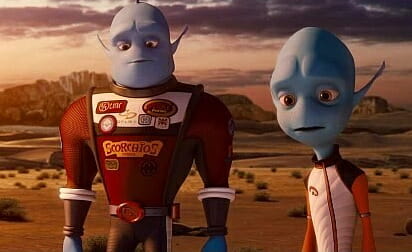 You know there's usually a juicy backstory when advance screenings for a film aren't offered to press, there's a lawsuit from the former production team and the final writing credits alone are nearly as long as a true indie film's entire crew. Such is the case with The Weinstein Company's animated sci-fi adventure Escape from Planet Earth, which quietly slipped into theaters this past weekend.
Directed by first-time feature helmer Cal Brunker, and written by Brunker and Bob Barlen (with additional writing by Stephen Fry, Dan Mazer, David Javerbaum, and based on a story by Tony Leech and Cory Edwards), Escape from Planet Earth is a mildly entertaining examination of intergalactic sibling rivalry that will probably appeal to many younger kids, but not to the parents who have to sit through it with them.
Visually, the film looks good, dominated by the blue hues of the residents of planet Baab, where superstar astronaut Scorch Supernova (Brendan Fraser) is sent on an impossible mission to the "Dark Planet" (aka Earth). Scorch is a blowhard and a showoff who'll shill almost anything for corporate sponsorship; the number of patches on his space suit (like "Scorchios") rival any NASCAR racer's. His Ricky Bobby-like bombastic ways rub his more studious brother Gary Gary (Rob Corddry), and the audience, the wrong way, and Scorch often teases Gary, head of BASA Mission Control, for being too level-headed—in other words, boring. On the flip side, Gary is a little meek and whiny at the beginning of the movie.
On the dark planet, Scorch is captured in Area 51 by General Shanker (William Shatner), flanked by teams of soldiers in yellow Hazmat suits. The general's personal mission is to destroy all intelligent life in the universe, and he recruits Gary's boss, the duplicitous Lena (Jessica Alba) to unwittingly help him. Lena thinks that the General is a ringer for Elvis, with the help of a wig and a fictitious dating site profile.
It's up to Gary to rescue his brother, but he gets captured, too, and is recruited to work for the general with other enslaved aliens. (The requisite sidekicks of any animated feature are this time voiced by Craig Robinson, George Lopez and Jane Lynch.) The story gets a little muddled at this point, but in the end, it's a family rescue effort, with Gary using his brain to outmaneuver the general on Earth, and his wife Kira (Sarah Jessica Parker), a former test pilot turned stay-at-home mom, and boy genius son Kip (Jonathan Morgan Heit), helping to defeat Lena on planet Baab.
A few humorous moments appeal to adults, and we wished for more of them. There's a an industrial, black-and-white "documentary" on planet Earth, where the residents of Baab learn that the Dark Planet is the only one in the universe that's de-evolving, starting with the intelligent, gentle dinosaurs to a race of humans who war with each other. The Baab-ians also learn that the Dark Planet's inhabitants choose their leaders by picking those with weird facial hair (showing illustrations of Fidel Castro and others).
Escape from Planet Earth has a great cast, but there are too many characters with too little to do. Sofia Vergara, who voices Scorch's girlfriend reporter Gabby Babblebrock, is largely onscreen to be kissed by the valiant hero each time he returns from a mission. We would have rather also seen more of the three little floating aliens that do the general's bidding. (It's not until the end that we find out that one of them sounds like a dead ringer for Ringo Starr.) What's largely missing from the film are the compelling heroes that kids and adults will root for—and despite the film's huge team of writers, ultimately, viewers don't have a vested interest in either Gary or Scorch.
The film is offered in 3D, but save the dough—the extra dimension won't help this film get off the ground.
Director: Cal Brunker
Writers: Cal Brunker and Bob Barlen, with additional writing by Stephen Fry, Dan Mazer, David Javerbaum, based on a story by Tony Leech and Cory Edwards
Starring: Rob Corddry, Brendan Fraser, Sarah Jessica Parker, William Shatner, Jessica Alba, Jane Lynch, Craig Robinson, George Lopez
Release Date: Feb. 14, 2013