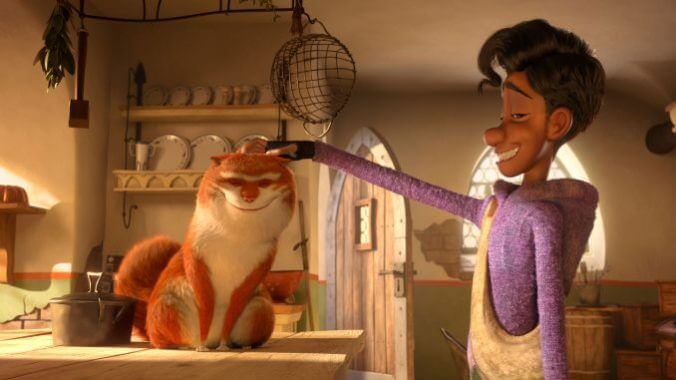 As the father of three young adults, I remember clearly those days when we'd watch just about any new kids movie that was released. And I also remember feeling like studios took advantage of that desperation for entertainment, filling the latest unoriginal script with enough silly gags that the little ones would giggle as the parents checked the time. I was always so thankful for those rare family films made with the same kind of care that went into the latest arthouse flick.
We're keeping a running list of the latest movies for children for you to peruse and find something that the whole family might enjoy. We've included a synopsis of each.
Here are 20 of the biggest new kids movies from the last few months:
1. The Magician's Elephant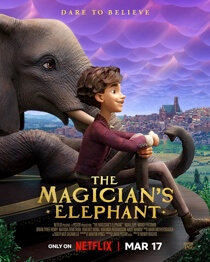 Release Date: February 3, 2023
Director: Wendy Rogers
Stars: Noah Jupe, Mandy Patinkin, Brian Tyree Henry, Natasia Demetriou, Sian Clifford, Benedict Wong, Miranda Richardson
Genre: Animation, Adventure
Rating: PG


The wrong tonal choices can be a killer, especially when it comes to making an animated film tailored to kids. Netflix's adaptation of author Kate DiCamillo's The Magician's Elephant makes some fatal tone mistakes in trying to smoosh together comedy, tragedy, childhood wonder and animal exploitation—which clash pretty hard. In the aftermath of a terrible war, the town of Baltese has lost its belief in magic and is a bummer of a place to grow up. A muted, postwar pastel wash blankets the melancholy town. Peter (Noah Jupe) is a war orphan now being raised by Vilnius (Mandy Patinkin), an old, paranoid ex-soldier who wants the young boy to be ready for the next invasion, should it ever come. But Peter is far more concerned with finding his little sister that he was separated from during the war. He even goes to a fortune teller, who cryptically confirms that she does live, and if he follows the elephant, he will find her. That leads him to the visiting magician (Benedict Wong) who gets so heckled during his act by the wonderless townspeople that he casts an actual spell, conjuring up a real elephant that falls on a very mean old lady (Miranda Richardson). It's a highlight moment. But that gets him jailed and the elephant becomes a ward of the state. The goofy King (Aasif Mandvi), who loves to be entertained, gets wind of the marvel and arrives in town to see it for himself. When Peter hears of what happens, he knows the elephant is the key to finding his sister, so he wheedles his way into the castle and promptly asks that the elephant be given to him. The King is delighted to turn that outlandish demand into a game, telling Peter that if he accomplishes three impossible tasks, the elephant will be his. From there The Magician's Elephant fractures into two halves. Peter's pursuit of the three tasks compose the most dynamic sequences of the film, as his faith in his new elephant friend and what she represents inspires him to outwit the quests in fun ways. But then there's the other half, which is overstuffed with somber side stories about an agoraphobic nun (Dawn French) raising a moppet of an orphan girl (Pixie Davies), the backstory of the paranoid soldier, the terrible truth of how the elephant was magicked away from her herd, and much, much more. There are plenty of sad stories in animated films that cater to kids, but the way Rogers and Hynes relentlessly crosscut back to the more sorrowful elements ruins any momentum they achieve with the lighter half of the story. There's just too much complicated plot to follow and too many distracting tangents that bloat the runtime into boring territory. —Tara Bennett
---
2. Shazam! Fury of the Gods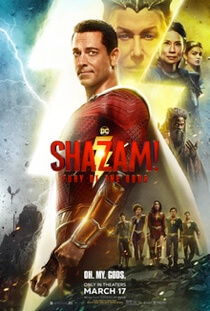 Release Date: March 17, 2023
Director: David F. Sandberg
Stars: Zachary Levi, Asher Angel, Grace Caroline Currey, Jack Dylan Grazer, Rachel Zegler, Adam Brody
Genre: Superhero, Sci-Fi
Rating: PG-13


Only in Theaters
With the first Shazam!, director David F. Sandberg and writer Henry Gayden capitalized on the abject joylessness of DC films by making the first half of their movie into a funny viral-video riff on coming of age in a superpowered world. The second half devolved into the same messy tropes that've come to define superhero films as a form, but there was a spark. There was personality. Four years later, Fury of the Gods is no longer a novelty. Comic characters poking fun at themselves is the standard; the person doing it best at DC, James Gunn, is now running their superhero business. That leaves Sandberg and Gayden (whose script was co-written, tellingly, by resident Fast & Furious scribe Chris Morgan) as representatives of the blockbuster franchise version of the Peter principle. They haven't been promoted past their point of competence, but rather were competent and creative enough to see their competence and creativity consumed by the expansive demands of the Superhero Sequel Model. Shazam! wasn't the most exciting or heartfelt of superhero movies, but it knew how to use its gimmick. Fury of the Gods grows in scope and scale, drowning that gimmick in mediocrity. Like I said, it's easy to imagine its creators empathizing with a hero feeling out of his depth—especially when the scene directed with the most joy is a crass mid-movie Skittles commercial. One of the biggest takeaways from Fury of the Gods is that Sandberg probably just wants to direct Super Bowl ads. If only Fury of the Gods was able to use any of this insight. Fury of the Gods pits a family of six young heroes against a mythic sisterhood of three villains—something was going to fall through the cracks. You just wish it wasn't everything that made the first movie watchable.  Fury of the Gods has been asked to abandon the parody completely—or, rather, what was once a parody has been corrupted into convention—and in response, its filmmakers have fully turned their project over to the rigid confines of the template. This is the fate that awaits all indie filmmakers snapped up by these machines, the hopes of working within the system dashed against the realities of the cinematic assembly line. As long as blockbuster filmmakers are effectively going to work in soulless, joyless factories overseen by flowchart-loving foremen, this kind of milquetoast settling is, to use the vocabulary of superhero movies, inevitable.—Jacob Oller
---
3. Ant-Man and the Wasp: Quantumania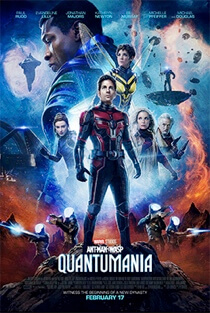 Release Date: February 17, 2023
Director: Peyton Reed
Stars: Paul Rudd, Evangeline, Jonathan Majors, Kathryn Newton, David Dastmalchian, Katy O'Brien
Genre: Superhero, Sci-Fi
Rating: PG-13


Only in Theaters
For better or worse (and mostly for worse), Ant-Man and the Wasp: Quantumania goes large. In a case of cinematic superposition, a franchise built to go small, to ride on more personal stakes and the casual chemistry of Ruddian charm and likable group dynamics, must now also fully introduce not only an entire universe/microverse but the next Thanos-level threat much of the MCU will be centered around in the coming decade. Frankly, it's a lot to ask of an insect-themed hero. That's not to say there aren't moments to appreciate. The initial scenes in the quantum realm have a certain "$200 million budget" vigor that evokes the often trippy alien landscapes found in the pages of the Fantastic Four, Thor and Doctor Strange. At a minimum, it felt like the budget line for creating new aliens was double or even triple that allowed in a Guardians of the Galaxy film. That said, the relentless green screen of it all, coupled with often clunky, predictable dialogue, drains much of the interpersonal charm and chemistry that helped buoy the previous films. In its place, we're left with sheepish excusing (Paul Rudd), disapproving looks and mutterings (Kathryn Newton's Cassie Lang) and buckets of "No time to tell you!" (Michelle Pfeiffer's Janet Van Dyne), the latter of which seems a scriptwriting substitute for actual suspense and revelation. Thankfully, as Kang the Conqueror, Johnathan Majors seems mostly immune. And then it all gets shoved into the MCU Third Act Sausage Grinder, yielding a familiar mush of green-screened heroes battling swarms of identical henchmen in numbers as limitless—or conspicuously absent—as they need to be. Ant-Man and the Wasp: Quantumania feels less like it's a small part of a bigger plan and more as if it's being forced to work against its own interests to serve a grand design. The MCU is undeniably a bigger place than it was when Thanos lost his game of gauntlet keepaway. But in the midst of multiplying timelines, exploding multiverses, and newly revealed quantum realms, Kevin Feige and company shouldn't overlook the small things. —Michael Burgin
---
4. The Amazing Maurice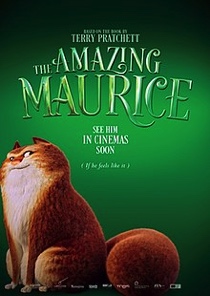 Release Date: February 3, 2023
Director: Toby Genkel
Starring: Hugh Laurie, Emilia Clarke, Himesh Patel, Gemma Arterton
Genre: Animation, Adventure
Rating: PG


Only in theaters
Adapting Terry Pratchett's Carnegie-winning Discworld book, The Amazing Maurice is a successfully wry, odd, utterly British spin on the Shrek-like self-aware fairy tale. Stuffed with motormouths and throwaway gags, the chunky animation can be a little off-putting, but its momentary ugliness feeds into its delightfully dark villains, its underdog heroes and the strange story tying them all together. This isn't pristine, groundbreaking, photoreal CG, but cartoonishness that suits its oddballs—and might even give a kid a stray nightmare or two. As a former kid with a lot of affection for the animated movies that used to freak me out, that's a compliment. Turning the Pied Piper story on its head, and then flipping it around again so that it's right-side up but utterly disoriented, The Amazing Maurice asks plenty of its young audience. They'd better be able to keep up with Malicia's (Emilia Clarke) rapid sledgehammer blows smashing through the fourth wall, because the narrator finds herself wrapped up in her own story; they'd also better be able to parse the nested myths explaining how some of the tale's animals came to grasp such intelligence. But, because the film has faith in its young viewers, it's completely achievable. While it cuts some of Pratchett's most incisive and dark components (like the intelligent rats navigating relationships with regular rats) in favor of cinematic comprehension, it's still a faithful enough translation to win fans over—and introduce kids to a welcoming literary world that takes the piss out of everything around it. —Jacob Oller
---
5. Dog Gone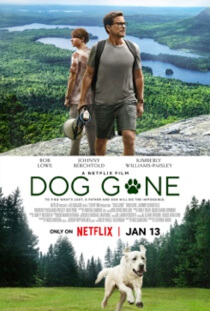 Netflix Release Date: January 13, 2023
Director: Stephen Herek
Stars: Rob Lowe, Johnny Berchtold, Kimberly Williams-Paisley, Nick Peine
Genre: Drama
Rating: R
Almost a decade ago, a story captivated the nation. This story follows a dog named Gonker, who went missing on the Appalachian Trail, and his loyal owner, who wouldn't stop until the two were reunited. The tale of the Little Labrador That Could is endlessly suspenseful and surprising; but above all, it's inspiring as hell. If you're looking for an adaptation of this story that latches onto this final point and absolutely nothing else, Dog Gone is the film for you. Netflix's newest feel-good endeavor centers around Fielding Marshall (Johnny Berchtold), a college student who rescues a yellow lab pup/bonafide goodboy from a shelter in an effort to get over his recent ex dating a ripped frisbee player. But Fielding and Gonker can't stay in their college campus dream life forever, and eventually it's time to venture back into reality: Fielding's parents' multi-million dollar mansion. While there, Gonker runs off; but never fear! Fielding and his stern (but eventually proud and even touchy-feely!) dad John (Rob Lowe), will stop at nothing to get that doggone dog back from being gone! As you might have gathered by now, Dog Gone is shamelessly sickly-sweet. This exhaustively sanitized, overly saccharine take on the hero's journey is certainly nothing new, but it remains rather uninteresting. But, despite its over-commitment to the family-friendly angle, Dog Gone is fun enough. It's hard not to fall in love with a pooch who flips donuts in the air and catches them, so the main quest is bound to pull on your heartstrings—even just a little. These inklings of genuine heart make it that much more disappointing that Dog Gone is so steadfast on sanitizing Gonker's real story. —Aurora Amidon
---
6. Puss in Boots: The Last Wish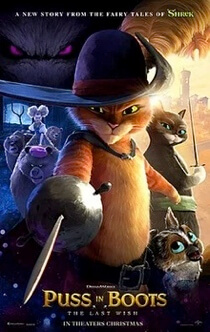 Release Date: December 21, 2022
Director: Joel Crawford
Stars: Antonio Banderas, Salma Hayek, Harvey Guillén, Florence Pugh, Olivia Colman, Ray Winstone, Samson Kayo, John Mulaney, Wagner Moura, Da'Vine Joy
Genre: Animation, Adventure
Rating: PG


Only in theaters
After an 11-year cat nap, our favorite orange outlaw is back for another flamenco adventure. Told with a bold and contemporary visual style, Puss in Boots: The Last Wish celebrates the magic of classic folklore with the reverential irreverence we've come to love about this storybookland. What could have easily been a hairball of half-digested nostalgia is transformed into a mature and cat-ivating story that positively purrs. When we last left our fearless feline, Puss (Antonio Banderas) was still running across terracotta rooftops. But now it seems all nine of his lives have finally caught up with him. Down to his last life and suddenly aware of his mortality, his only hope of getting his lives back is to wish upon the magic star lodged in the heart of The Dark Forest. His journey crosses paths with his old flame, Kitty Softpaws (Salma Hayek), and Puss even gets his own chatty sidekick/service animal (Harvey Guillén), just like his old pal Shrek. To find the magic star and make a wish, they'll need to conquer new foes: Goldi (Florence Pugh), The Three Bears (Olivia Colman, Ray Winstone, Samson Kayo) and Little Jack Horner (John Mulaney). Together they'll prove there's no more wondrous magic than Team Friendship. Puss in Boots: The Last Wish excels where The Swampverse has always succeeded: Indexing classic folklore. Like Jack Horner's collection of magic artifacts being pulled from a bottomless bag, Fisher and Swerdlow provide an unending stream of references to stories, tales, songs and lullabies that we don't share anymore. No other films today celebrate Mother Goose lullabies, idioms, Dancehall music and literary fairy tales the same way The Last Wish does, let alone takes the time to remind us of the difference between these cultural genres. —B.L. Panther
---
7. Avatar: The Way of Water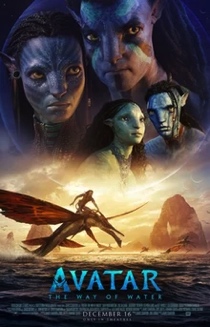 Release Date: December 16, 2022
Director: James Cameron
Stars: Sam Worthington, Zoe Saldana, Sigourney Weaver, Stephen Lang, Jamie Flatters, Britain Dalton, Trinity Bliss, Kate Winslet, Cliff Curtis, Edie Falco, Jack Champion, Jemaine Clement, Joel David Moore, Brendan Cowell, CCH Pounder
Rating: PG-13
Runtime: 192 minutes


Only in theaters
Avatar: The Way of Water is a promise—like the titular Way as described by a beatific, finned Na'vi fish-people princess, the film connects all things: the past and the future; cinema as a generational ideal and one film's world-uniting box office reality; James Cameron's megalomania and his justification for Being Like That; one audience member and another audience member on the other side of the world; one archetypal cliché and another archetypal cliché; dreams and waking life. Avatar's sequel can be nothing less than a delivery on everything Cameron has said, hyperbolic or not, he would deliver. What's less clear is exactly what Cameron's intending to deliver. The Way of Water's story is a bare bones lesson in appealing to as many worldwide markets as possible, the continuation of the adventures of Bostonian Jake Sully (Sam Worthington, who's spent the past decade trying not to sound like an outback chimney sweep) as he raises a Na'vi family with like-warrior-minded Neytiri (Zoe Saldaña, screaming from inside her golden prison) and realizes that Earthlings aren't going to stop colonizing Pandora just because they had their shit kicked in a lifetime ago. The Way of Water's true achievement is that it looks like nothing else but the first Avatar, unparalleled in detail and scale, a devouring enterprise all to itself. Watching The Way of Water can at times feel astonishing, as if the brain gapes at the sheer amount of physical data present in every frame, incapable of consuming it, but longing to keep up. We believe that this film will redefine box office success because Cameron presents it—making the absolute most of high frame rates, 3-D, and IMAX, normalizing their use, acclimating our brains in ways Ang Lee could only wish—as the next evolutionary step in modern blockbuster filmmaking. This is immersion for its own sake, moviegoing as experience vaunted to the next level, breathtaking in its completely unironic scope. After so many hours in Pandora, untroubled by complicated plot or esoteric myths, caring for this world comes easy. As do the tears. The body reacts as the brain flails. Avatar has consumed James Cameron; it is his everything now, the vehicle for every story he wants to tell, and every story anyone may want to tell—the all-consuming world he's created is such a lushly resourced aesthetic wonder that anything can be mapped onto its ever-expanding ecosystems. Pandora is a toolbox and ready-made symbol. No film will ever be this beautiful in my lifetime, at least until the next Avatar.—Dom Sinacola
---
8. Roald Dahl's Matilda the Musical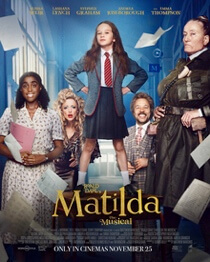 Release Date: December 9, 2022
Director: Matthew Warchus
Stars: Alisha Weir, Stephen Graham, Andrea Riseborough, Lashana Lynch, Sindhu Vee, Emma Thompson
Genre: Musical
Rating: PG


Many of Roald Dahl's fantastical stories include adults being exceptionally malicious to children, and that's certainly the case in Matilda the Musical. Matilda Wormwood's (Alisha Weir) parents never wanted her, are casually cruel and neglect her to the point they forget to send her to school. Once at school, called Crunchem Hall where a statue with the words "No Sniveling" greets students and headmistress Miss Trunchbull (Emma Thompson) delights in torturing children. The school motto is "Children are Maggots." Nice, right? Orphaned children singing about their troubles while unifying their peers is a musical staple (see: Annie). But Matilda is a decidedly stranger, darker show. Matilda has a vivid imagination and magical powers. When she's not standing up to Miss Trunchbull or dealing with her garish parents, she tells extraordinary, disturbing stories about an Escapologist (Carl Spencer) and an Acrobat (Lauren Alexandra) to kind traveling librarian Mrs. Phelps (Sindhu Vee). But none of that really matters, because Matilda the Musical, an adaptation of the Tony and Olivier award-winning musical, is so good. Just give yourself over the utter weirdness. Weir is fantastic, bringing a plucky spunk and some fantastic vocals to the lead, while Thompson leaves all (and I do mean all) vanity behind as the horrific Trunchbull. Lashana Lynch is goodness personified as Matilda's loving teacher Miss Honey; Stephen Graham and Andrea Riseborough are tawdry comic relief as Matilda's awful parents. And wow, those musical numbers. With original music and lyrics by Tim Minchin, the songs and the accompanying choreography, by Ellen Kane, are full of energy and deliciously executed dance moves. The cast of children, many of whom in their film debut, are terrific. And the message of Matilda the Musical is a good one. Children should be listened to. They know and understand more than you think, and today's children are tomorrow's adults. Even though they're little, they can do a lot. Matilda the Musical is a movie for the entire family that will leave you singing and dancing. A movie musical this good is a miracle—you can tell Matilda's parents I said so. —Amy Amatangelo
---
9. Guillermo del Toro's Pinocchio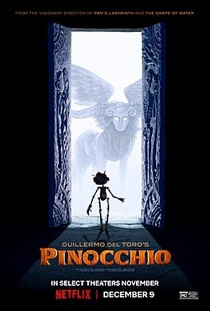 Release Date: December 9, 2022
Director: Guillermo del Toro, Mark Gustafson
Stars: Ewan McGregor, David Bradley, Gregory Mann, Ron Perlman, Finn Wolfhard, Christoph Waltz, Tilda Swinton, Cate Blanchett
Rating: PG
Runtime: 114 minutes


Guillermo del Toro has never shied away from infusing the harsh realities of life and death into the journeys of his young protagonists. His fascination with the intersections of childhood innocence and macabre whimsy are what make him the ideal co-director of Netflix's newest Pinocchio adaptation, a work that marvelously marries the filmmaker's flair for dark fantasy with the equally strange fairy tale elements of Carlo Collodi's 1883 The Adventures of Pinocchio. Like all successful marriages, Guillermo del Toro's Pinocchio brings out the very best of both parties. The stop-motion musical is an artistic triumph that colors Collodi's cherished storybook characters with humanity and depth to craft a mature tale about rebellion, mortality and the love between a parent and child. This rendition marks the 22nd film adaptation of the Italian novel, and while it remains true to the grisly nature of Collodi's original stories, it boldly departs from its dated moral lessons. In The Adventures of Pinocchio (and notable renditions thereafter), Pinnochio's many escapades are structured as cause-and-effect narratives that serve to caution children against defiant behavior. In Disney's 1940 animated feature, an evening of fun and relaxation on "Pleasure Island'' nearly turns the wooden boy into a salt-mining donkey. In the original serial La Storia di un Burattino, delinquent behavior leads him to a gruesome death. These values of compliance and servility are reversed by del Toro's fascist setting. In his Pinocchio, disobedience is a virtue—not a crime.
These moral examinations are given a sense of urgency in death—a theme that informs so much of the film's mind and soul. Where previous adaptations are preoccupied with life—with the puppet's extraordinary consciousness and the hope that he may someday become a "real boy"—del Toro's Pinocchio is interested in what our mortality can teach us about being human. In the film, death is never too far away from the protagonist or his loved ones. Death touches Carlo, then remains close to Pinocchio throughout his epic journey. The beauty of del Toro's Pinocchio is that death isn't treated with the usual dread and cynicism we typically see in the Western world. Here, death is mysterious, ethereal, soaked in gorgeous blue light. Death is not something to be feared, but respected and accepted when the time comes, because the notion that we will someday—maybe unexpectedly—leave this earth is what makes our time here so beautiful. I don't typically advise listening to crickets, but believe Sebastian J., because the story of Pinocchio has never been told quite like this.—Kathy Michelle Chacón
---
10. Night at the Museum: Kahmunrah Rises Again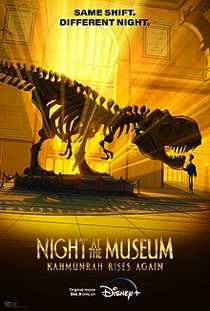 Disney+ Release Date: December 9, 2022
Director: Matt Danner
Stars: Joshua Bassett, Jamie Demetriou, Joseph Kamal, Thomas Lennon, Zachary Levi, Akmal Saleh
Genre: Animation, Adventure
Rating: PG
The Night at the Museum franchise gets its first animated entry, a follow-up to 2014's Secret of the Tomb. Joshua Bassett is the third actor to portray Nick Daley, the son of Ben Stiller's security guard Larry Daley (this time voiced by Zachary Levi). Nick is now a high-schooler working the night shift as his summer job. It's up to him—and pals like Teddy Roosevelt (Thomas Lennon), Sacagewea (Kieran Sequoia) and the dinosaur skeleton Rexy—to stop the ancient Egyptian Kamunrah from freeing an entire army of the dead.
---
11. Diary of a Wimpy Kid: Rodrick Rules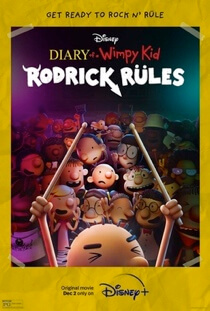 Disney+ Release Date: December 2, 2022
Director: Luke Cormican
Stars: Brady Noon, Hunter Dillon, Ethan William Childress, Chris Diamantopoulos, Erica Cerra
Genre: Animation, Comedy
Rating: PG
It's hard to believe, but this is the sixth film adapted from Jeff Kinney's Diary of a Wimpy Kid children's books—and the second adaptation of Rodrick Rules after a 2011 live-action version. The latest serves as a follow-up to 2021's first animated film in the series with most of the voice actors returning. Ed Asner voiced Grandpa Heffley in one of his final performances before his death in 2021. The "rules" in Rodrick Rules pertain to Gregg's older brother Rodrick's tricks for accomplishing things with minimal effort.
---
12. Strange World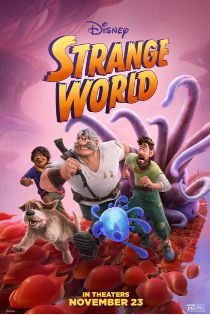 Release Date: November 23, 2022
Director: Don Hall
Stars: Jake Gyllenhaal, Dennis Quaid, Jaboukie Young-White, Gabrielle Union, Lucy Liu
Genre: Animation, Adventure
Strange World, Disney's sole original animated feature of 2022, combines facets of Pixar's pair of the year's releases to a lesser effect. Looking both backwards to Lightyear's loving homage to pulp fiction and forwards to Turning Red's progressive and wholesome examination of specific family dynamics, Strange World is late to its own company's trends. It wears its more talented siblings' emotional honesty and retro homages like hand-me-downs. Like many of the flashy adventure stories it mimics, Strange World can be arresting—especially with its inventive setting and bulbous creatures—and its attempts at deconstructing the sweaty, macho-man ethos hawked by its inspiration are admirable. But with muddled themes and slight characters, remnants of the old dime magazines coordinate to bring Strange World down on the wrong side of familiar. Strange World's embrace and rejection of both tradition and modernity can be confounding, despite the undeniable beauty it finds along the way. Like the wild, untamed, interconnected world lying underneath humanity's Avalonia, there's a complexity worth tangling with lurking beneath Strange World's tired family conflict. But its desire to have its world and strange it too is irreconcilable with its top priority: Be a Disney movie. Sadly, the resulting confusion, of commentary stifled by corporate need and tradition, isn't that strange at all. —Jacob Oller
---
13. Disenchanted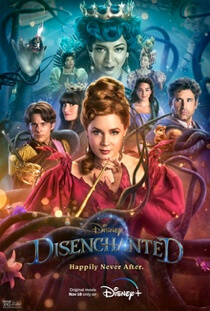 Release Date: November 18, 2022
Director: Adam Shankman
Starring: Amy Adams, Patrick Dempsey, James Marsden, Idina Menzel, Gabriella Baldacchino, Maya Rudolph, Yvette Nicole Brown, Jayma Mays, Oscar Nunez, Griffin
Genre: Musical comedy
Rating: PG
Unlike the first act of Enchanted, the sequel Disenchanted is light on the satire of fairy tale tropes, and heavy on the fairy tale rules and aesthetics. There's still plenty of charm to go around, and it's ultimately a fun experience, but it undeniably avoids the original movie's strongest aspects in favor of sincerity. Fifteen years after the events of Enchanted, in which Giselle left behind the magical land of Andalasia for a life in New York with Robert, their family has a new baby, Sofia, in addition to Robert's now-teenage daughter Morgan (Gabriella Baldacchino). The family's New York condo suddenly feels too small to contain their growing needs. Giselle convinces Robert to move to the quaint suburb of Monroeville, where everyone struggles to adjust to their new lives. Giselle clashes with the town's queen bee Malvina (Maya Rudolph), while Morgan increasingly feels like she has no place in her family. Giselle's Andalasian ex-beau Edward (James Marsden) and Nancy (Idina Menzel), Edward's queen and Robert's ex, come to visit Giselle and Robert's new home bearing a gift for Sofia: A magic wand that will grant her every wish. After an argument with Morgan, Giselle and her chipmunk pal Pip (voiced by Griffin Newman) use the wand to try and bring some fairy tale magic to Monroeville, unwittingly causing catastrophic consequences for their world and Andalasia that must be undone before the clock strikes midnight. There's a telltale corporate scent here, as if Disenchanted was created by studio executives who didn't understand what made the original movie a winning formula. If you're willing to overlook that and enjoy a goofy bit of treacle, you'll still have a nice time. Just don't expect brilliance. —Abby Olcese.
---
14. Slumberland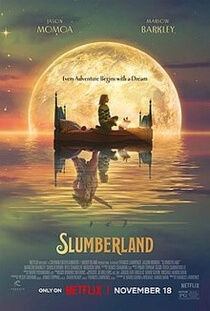 Release Date: November 18, 2022
Director: Francis Lawrence
Starring: Jason Momoa, Marlow Barkley, Chris O'Dowd, Kyle Chandler, Weruche Opia, India De Beaufort, Humberly González
Genre: Family, Fantasy, Adventure
Rating: PG


Declaring what our dreams look like, if such a sweeping declaration can be made, is asking for trouble, but I can certainly put forth what I hope our dreams don't look like: I hope they don't look a thing like Slumberland. Director Francis Lawrence deadens and dulls Winsor McCay's classic comic Nemo in Slumberland, updating McCay's bright and groundbreaking early 20th century absurdity to modern VFX's best-practice aesthetic—namely, "dark, and in a big room." Slumberland's loose adaptation is Disneyfied in plot and theme, and self-smothering of a feeble imagination that barely outpaces its images. Slumberland's Nemo (Marlow Barkley) lives an idyllic life running a lighthouse with her hot, bearded and cableknit widower dad Kyle Chandler. In the same kind of endearing yet inevitably tragic opening that comes pre-packaged into every children's movie, Chandler's perfect parental character is not long for this world. When he dies and Nemo is thrust into the care of her uptight urbanite uncle Philip (Chris O'Dowd), she finds herself escaping time and time again into the dream world, where she can briefly pursue her father alongside a dream-being who was the co-star of many of her father's bedtime stories. This dream-being, Flip (Jason Momoa), is supposed to be the source of all the film's energy. Momoa, who looks like Rob Zombie in a Willy Wonka costume, all but has this assignment written on his forehead. He's growly and eccentric, with plenty of useless wibbly-wobbly Jack Sparrow tics, and has a little trouble talking through his Beauty and the Beast fangs. While Barkley is clearly out of her depth as our wide-eyed heroine, Momoa is equally ill-equipped to bring the Jack Black-like pop his karate moves, heel clicks and heroic poses try to generate. —Jacob Oller
---
15. Black Panther: Wakanda ForeverRelease Date: November 11, 2022
Director: Ryan Coogler
Stars: Letitia Wright, Lupita Nyong'o, Danai Gurira, Winston Duke, Florence Kasumba, Dominique Thorne, Michaela Coel, Tenoch Huerta, Martin Freeman, Angela Bassett
Rating: PG-13


Black Panther: Wakanda Forever boasts the same director in Ryan Coogler (and the same writing team of Coogler and Joe Robert Cole), who have again created a story whose conflicts and character arcs go deeper than the average MCU fare. Of equal importance, Wakanda Forever again features the Oscar-winning talents of Hannah Beachler (production design) and Ruth E. Carter (costume design). Wakanda remains a vividly realized Afrofuturist cityscape (even in mourning), and the MCU's newest kingdom, Talokan, though markedly less flashy than James Wan's Atlantis in Aquaman, feels as real and wondrous as a fictitious Aztec/Mayan underwater realm should. The cast is mostly the same, with Michael B. Jordan's scene-stealing antagonist Erik Killmonger replaced by Tenoch Huerta's similarly compelling and cleverly reimagined anti-hero Namor (who is much more integral to Marvel Comics—and likely the MCU—than Killmonger). But how keen the loss contained in that word—"mostly." Chadwick Boseman's portrayal of T'Challa was a magical piece of casting alchemy on par with Chris Evans' Steve Rogers. Coogler confronts the loss directly in Wakanda Forever in a beautiful opening tribute to both actor and character. T'Challa's funeral is a reminder of just how strong the cast is overall, providing Angela Bassett, Letitia Wright and Danai Gurira some grief-themed scene-chewing of their own. Where Thor: Love and Thunder felt like a lighter, sloppier version of its predecessor, Wakanda Forever feels like a well-considered, necessary next step for a franchise rocked by loss. It's a tad overstuffed—an entire sub-plot involving Everett Ross (Martin Freeman) feels more like Feige fiat to ensure certain characters and developments are sufficiently presaged—but that only serves as a reminder of the fine line between "laying groundwork" and overpacking. Despite the daunting challenge faced by Coogler and his team, Black Panther: Wakanda Forever feels like the surest step taken in the MCU since Thanos was reduced to ash. It's both an impressive achievement and a promising development, especially when considers the strong comic book connections between Namor, mutants (he is one), and a certain fantastic foursome on the MCU horizon.—Michael Burgin
---
16. My Father's DragonRelease Date: November 11, 2022
Director: Nora Twomey
Stars: Jacob Tremblay, Gaten Matarazzo, Golshifteh Farahani, Dianne Wiest, Rita Moreno
Genre: Animation, Fantasy
Rating: PG-13


My Father's Dragon, the latest film from Ireland's Cartoon Saloon, is directed by studio co-founder Nora Twomey and based on the beloved children's book of the same name created by Ruth Stiles Gannett. This adaptation brings to life, in gorgeous 2D animation, a kaleidoscope of surreal visuals and strange creatures encountered by a little boy and his dragon friend. Theirs is an intimate story about processing fear, especially speaking to those children wrestling with the burdens of having to emotionally navigate real-world stresses that invade their lives too soon. Like Gannett's book, My Father's Dragon is also narrated (sparsely) by the unseen grown child (Mary Kay Place) of the story's protagonist, Elmer Elevator (Jacob Tremblay). She sets up an adventure Elmer had in his childhood that not only utilized his talent for finding things, but was also life-changing, involving a talking cat (Whoopi Goldberg) and a dragon (Gaten Matarazzo). Twomey and her artists have done the magic of staying within the illustration aesthetic of their studio's signature approach, while expanding that into a more surrealistic and fanciful approach that feels individual and unique. It will especially appeal to the sensitive kids (and adults) in your life, and it most definitely meets the high standards Cartoon Saloon continues to make in the medium. —Tara Bennett
---
17. One Piece Film: Red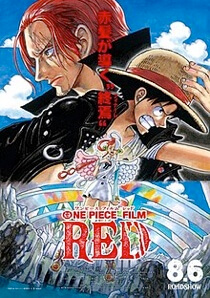 Release Date: November 4, 2022
Director: Gor? Taniguchi
Stars: Mayumi Tanaka, Shuichi Ikeda, Kaori Nazuka, Kazuya Nakai, Akemi Okamura
Genre: Anime, Action
Rating: PG-13


Only in theaters
With its latest movie One Piece Film: Red in theaters, it might seem like a fine time to become acquainted with what Oda has been building for over 25 years. The story of Monkey D Luffy and his misfit Straw Hat Crew's attempts to find the fabled One Piece treasure blends magnificent emotional poignancy with escalating adventures in a way that's honestly awe-inspiring. One might expect this kind of story to become exhaustingly cyclical, as many of its ilk have: Heroes get stronger, while new, more powerful villains appear in revolving door fashion. But One Piece has, for the most part, managed to stay vibrant, and the sense of discovery that leads people to first engage with the series remains just as potent as it did in 1997. —Daniel Dockery
---
18. Wendell & WildRelease Date: October 28, 2022
Director: Henry Selick
Starring: Jordan Peele, Keegan-Michael Key, Angela Bassett, Lyric Ross, Ving Rhames
Genre: Animation, Comedy
Rating: PG-13


Early on, Wendell & Wild feels like it might not be for kids so much as inebriated adults. Over the course of its runtime, that is revealed to be a reductive appraisal—it's a spooky coming-of-age comedy made of sad and dramatic moments which demonstrate the importance of community resistance to corporate control of the government. The plot has enough going on that it could have been a TV series or a two-parter, but for whatever its flaws or limitations, it flows coherently for 106 minutes to a satisfactory conclusion. All the while, it's a marvel of artistry and artisanship, with a soundtrack full of Black-fronted rock bands to boot. Kat (Lyric Ross), a young green-haired Black girl, loses her parents—pillars of their community—in a car accident and is roughed up over the years by the juvenile justice system as the film visually summarizes through shadow-puppet illustrations of memories. It's a nice added layer, artistically and didactically. A grant-funded reintegration program brings Kat back to her now largely-deserted hometown, Rust Bank, and its eponymous private Catholic school. There, Kat discovers her supernatural connection to the underworld through Wendell (Keegan-Michael Key) and Wild (Jordan Peele). Wendell & Wild reminded me of Beetlejuice and Nightmare Before Christmas, but it isn't cribbing from what has come before. It's building on it, and kids and parents everywhere are lucky to have this film. Selick hasn't directed a lot of movies, but his films have a lasting impact, etching themselves in the memories of their audiences for decades. —Kevin Fox, Jr.
---
19. Enola Holmes 2Release Date: October 27, 2022
Director: Harry Bradbeer
Stars: Millie Bobby Brown, Henry Cavill, David Thewlis, Louis Partridge, Helena Bonham Carter, Susie Wokoma, Adeel Akhtar, Sharon Duncan-Brewster
Genre: Thriller, Adventure
Rating: PG-13
Millie Bobby Brown returns as the kid sister of Sherlock Holmes in this sequel to 2020's Netflix original. This time, she's a full-fledged private detective trying to solve the mystery of a missing girl.
---
20. The School of Good and EvilNetflix Release Date: October 19, 2022
Director: Paul Feig
Stars: Sofia Wylie, Sophia Anne Caruso, Kit Young, Kerry Washington, Charlize Theron
Genre: Teen Fantasy
Rating: PG-13


Warner Bros. has Harry Potter. Lionsgate has The Hunger Games. Now, Netflix (regrettably) has The School for Good and Evil. Though the streamer has seen enormous success in adapting Young Adult fiction in recent years, its latest venture into the teen fantasy market is an agonizing two-and-a-half-hour experience drawn out by lackluster VFX and familiar narrative elements. Based on the bestselling children's book series by Soman Chainani, The School for Good and Evil tells the story of two unlikely companions: Sophie (Sophia Anne Caruso) and Agatha (Sofia Wylie). When the duo find themselves clutched between the claws of a giant bird-like creature, they are transported from their quiet town of Gavaldon to the enchanted School for Good and Evil, an institution that has educated legendary storybook characters for ages. Trouble ensues when Sophie is dropped off at the School for Evil and Agatha at the School for Good, a decision the girls are certain is a mistake. As the film progresses, and Sophie becomes influenced by an evil force, the best friends are placed on opposite sides of a magical battle. The School for Good and Evil is juvenile, over-the-top and campy in all the worst ways. It's too busy trying to combine TikTok fashion with Top 40 music and popular children's fantasy films to create any visual, musical or narrative distinction for itself. Its final scene teases a sequel, but it's difficult to imagine The School for Good and Evil becoming even half as bewitching or influential as the YA series it's trying so hard to be. —Kathy Michelle Chacón