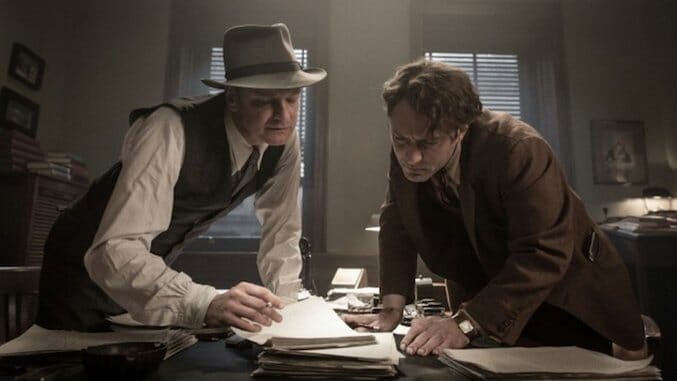 There are exactly two sequences in which Genius—Michael Grandage's biopic of the relationship between Thomas Wolfe (Jude Law) and his editor at Charles Scribner's Sons, Max Perkins (Colin Firth)—transcends its middlebrow trappings and gives us a taste of the livelier film this could have been. The first is the one time in the film we actually see Perkins doing some honest-to-God editing, in a sequence that compresses the two years he spent tirelessly working with Wolfe to drastically cut the work that would become his second novel, Of Time and the River, down from its original unwieldy multi-volume length. There's real tingling excitement in seeing these two wildly contrasting personalities going at it, with the passionately extroverted Wolfe making his case for certain passages and the levelheaded Perkins taking it all in and either standing firm or giving in in his deeply considered way.
The second sequence has nothing to do with editing, though, and everything to do with the personalities themselves. Wolfe brings Perkins to a jazz club one evening and offers his editor a taste of the kind of freedom he tries to not only embody in his lifestyle, but also express in his prose. Perkins finds himself becoming immersed in the music, especially after the band improvises on a favorite tune of his that Wolfe requests they play—but he's only willing to follow Wolfe so far, turning down his temptations to cheat on his wife, Louise (Laura Linney).
That second scene suggests a temporary meeting of minds, but it also points to a deficiency at the heart of Grandage's film: As hard as Firth and Law try to bring these two diametrically opposed characters to life, they never come off as more than conceptual emblems of disparate worldviews. This failing unfortunately extends to most of the other characters: Louise is ultimately a pretty thankless loyal-wife role; while Perkins' two other star writers, Ernest Hemingway (Dominic West) and F. Scott Fitzgerald (Guy Pearce), make mere walk-on cameos intended only to support the central Perkins-Wolfe relationship. Wolfe's love interest, theatrical costume designer Aline Bernstein (Nicole Kidman), is better fleshed out than the rest, but even then the jealousy she increasingly feels toward Perkins as she sees Wolfe spending more time with him than her isn't built up all that convincingly; it simply pops up in one scene and becomes just another running theme in John Logan's screenplay.
It's the nature of the relationship between Perkins and Wolfe that's the main thrust of Genius, and also the main source of its disappointment. Essentially, Grandage and Logan—the latter adapting A. Scott Berg's biography of Perkins, Max Perkins: Editor of Genius—have crafted a bromance out of Perkins and Wolfe's interactions. Perkins may claim to his wife that he won't go on vacation with the rest of his family because he's too busy editing Wolfe's book, but the filmmakers leave the possibility dangling that he's attracted to Wolfe beyond the merely professional: He's willing to spend more time with Wolfe than with even his own wife and kids. This faintly homoerotic dynamic turns out to be unrequited on Wolfe's end, especially when he realizes that the wider public is giving Perkins as much credit for Wolfe's success as Wolfe himself, which bruises his ego.
"Are we really making books better?" Perkins asks out loud to Wolfe at a particularly fraught moment. "Or just different?" It's a potent expression of an editor's eternal dilemma, but in the context of this film, the line carries precious little emotional weight, merely coming off as a bald statement of theme. Therein lies the ultimate shortcoming of Genius: The filmmakers can't solve the age-old problem of making the acts of writing and editing—both profoundly solitary and introspective creative processes—compelling on screen. Certainly, no one who goes into Grandage's film unfamiliar with Wolfe's prose will come away understanding the greatness Perkins sees in it—and without fundamentally establishing such stakes, the film's attempt to dramatize the interpersonal conflict between Wolfe and Perkins remains at best lifelessly theoretical.
Director: Michael Grandage
Writer: John Logan, based on A. Scott Berg's biography, Max Perkins: Editor of Genius
Starring: Colin Firth, Jude Law, Laura Linney, Nicole Kidman, Guy Pearce, Dominic West
Release Date: June 10, 2016
---
Kenji Fujishima is a freelance film critic, contributing to
Slant Magazine, Brooklyn Magazine, The Playlist,
and the
Village Voice
in addition to
Paste
. He is also Deputy Editor of
Movie Mezzanine
and former editor-in-chief of
In Review Online
. When he's not watching movies and writing and editing film criticism, he's trying to absorb as much music, art and literature as possible. He has not infrequently been called a "culture vulture" for that reason.