Samuel Jackson Is Creepy as Hell in the First Trailer for Shyamalan's Glass
Photos via Universal Pictures
Movies
News
Glass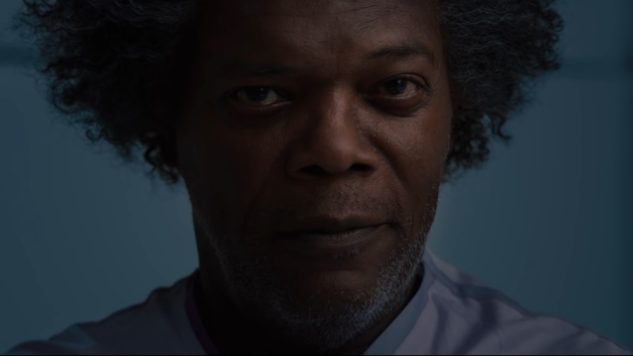 Ever since the final scene spooled out in M. Night Shyamalan's 2016 return to form, Split, audiences have been beside themselves with excitement. Why? Well, because said scene unexpectedly featured Bruce Willis, reprising his role as David Dunn from the 2000 film Unbreakable, arguably Shyamalan's finest directorial effort. The original film was a brilliant deconstruction of the superhero genre that was largely misunderstood at the time by audiences who were expecting a more conventional follow-up to Shyamalan's breakthrough, The Sixth Sense. But as the years have gone by, it's Unbreakable that has emerged as the second crown jewel in Shyamalan's resume … and now we finally have a trailer for the sequel, combining the worlds of Unbreakable and Split into one.
At first, you'd be forgiven for thinking that the below trailer is the beginning to a new season of American Horror Story, given that it features a perturbed-looking Sarah Paulson, apparently ready to start bawling. However, as it turns out, her character of Dr. Ellie Staple is instead a researcher or psychiatrist who specifically deals in cases where people think they have superhuman powers—which includes David Dunn, Split's Kevin Crumb and the titular "Mr. Glass." And indeed, Paulson has all three lined up in front of her, for what will surely be an engrossing back-and-forth.
The rest of the trailer is engaging to a fault—each of these characters is simply so interesting, and so perfectly cast, that the film itself almost seems like a shoo-in at this point. Dark, stylish and portentous, a "villain team up" is hinted at by Mr. Glass, implying that he will join forces at some point with The Beast, the ultimate antagonistic personality of James McAvoy's character.
Also returning is Anya Taylor-Joy of Split, The Witch and this year's excellent Thoroughbreds, although we only see her for a few moments.
Suffice to say, Glass looks like one of 2019's most exciting genre movies, and it's hard to believe that we're this excited once again that is bearing M. Night Shyamalan's name on it. The director has completed one hell of a comeback, and we look forward to adding Glass to our ongoing ranking of all of his feature films. Check out the trailer below.