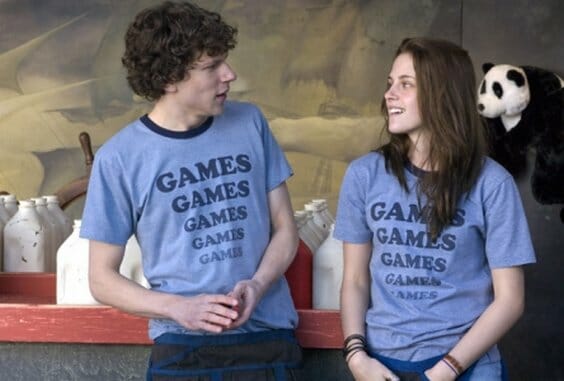 Modest coming-of-age flick thrives in details
Adventureland is a part of a long tradition of autobiographical coming-of-age stories, a genre that covers more movies than we often admit. It's reasonable to assume these stories remain so popular because they're personal to filmmakers, but curiously, the actual movies are almost all the same—quirky caricatures of youth spliced with the usual awkward rites and first loves. Together they create a fantasy of shared adolescent experience that's easy to embrace, especially since it usually ends with a smooth welcome into the future.
Release Date: April 3
Director/Writer: Greg Mottola
Cinematographer: Terry Stacey
Starring: Jesse Eisenberg, Kristen Stewart, Martin Starr, Bill Hader, Ryan Reynolds
Studio/Run Time: Miramax, 107 mins.
Adventureland does not break from this, and yet it feels special—light, easy to like and more forthright than one would expect. Set in 1987, when writer-director Greg Mottola was the same age as the characters, the movie considers James (Jesse Eisenberg), a recent college grad whose plans for a European summer morph into a season at the eponymous local park. The stock population is all there: the unhinged boss (Bill Hader), the nerdy sage (Martin Starr) and, of course, the kindred soul (Kristen Stewart). Booze, hash brownies, malicious elders and romantic entanglements complicate things, but not by much.
From there, Mottola's nimble instincts help give the movie a second life beyond the usual grind. Even as it falls back on boner jokes, crotch shots and the built-in conflicts that drive these movies, Adventureland also pauses for less-rushed sequences, as when the camera lingers on James and a co-worker as they smoke up inside a run-down old ride. Or a moment with Ronald Reagan on television, armed with a spiel that's barely changed two decades later. Or when James hops into a pool with Dream Girl and their doe-eyed mutual glance has an unlikely resonance.
Which is to say Adventureland admirably resists the more noxious requirements of its canon, such as the one that demands every scene be designed to make us as uncomfortable as possible. Mottola last made Superbad, a very funny movie that became a phenomenon, but he insists on a more modest approach here. The movie works harder to suggest a mood than it does to get laughs, and that's no small thing, especially since its writer-director spent the last decade under the influence of Judd Apatow. On the way out of Adventureland, there may not be any eminently quotable lines or gags, but there is the rare sense of satisfaction that comes from a story told through careful, patient eyes.