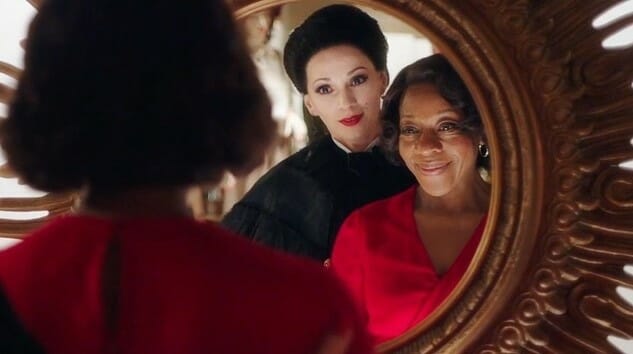 This post is part of Paste's Century of Terror project, a countdown of the 100 best horror films of the last 100 years, culminating on Halloween. You can see the full list in the master document, which will collect each year's individual film entry as it is posted.
The Year
If you're looking for a pertinent theme in 2019 horror cinema, consider the prominence of high-profile "second acts" we witnessed this year. Robert Eggers followed up The Witch with the claustrophobic bleakness of The Lighthouse. Jordan Peele followed his Oscar-winning Get Out screenplay with Us. Ari Aster went from Hereditary to Midsommar. Jennifer Kent, after a bit of a long wait since The Babadook, delivered the horror-adjacent The Nightingale. Rarely has one year's horror output so revolved around sophomore features, and most of them have lived up to the expectations set upon them.
In terms of pure volume, we're closing out the decade on a high note. This has been another prolific frame for the genre, and the year isn't even over yet—we still have films like Mike Flanagan's Doctor Sleep looming on the horizon. There shouldn't really be any question: The 2010s have been one of the best decades ever for horror. If your friends claim otherwise, point them toward this project, because we have some films to recommend.
Us was now released long enough ago that it almost feels like a 2018 film, although perhaps that's just the rigors of this 100-day series of essays talking. Jordan Peele's doppelganger satire is a film that is ultimately about privilege and the American psyche, much as Get Out was before it, but where Get Out speaks more to cultural appropriation and the legacy of racism, Us feels more like a commentary on the utter lack of empathy so often present for those beneath us. Peele has described the film as an acknowledgement not just of the existence of privilege but the American expectation that we deserve good things, simply by virtue of existing, rather than acknowledging we have so many of them simply thanks to the circumstances of our birth. As he put it, "for us to have our privilege, someone suffers," and Us brings its characters face to face with those who suffer.
Midsommar, meanwhile, curiously seemed to be described by some critics as a major departure for director Ari Aster, blinded as they may have been by its visual iconoclasm, but it is very much the sister film to his own Hereditary. Both are deeply focused around the intense, soul-eroding grief being experienced by their central characters, as those characters either crumble or come to embrace the insanity around them as a form of horrifying rebirth. To listen to Aster tell it in interviews, his next project is likely to leave horror behind entirely, lest the typecasting become inescapable, but the one-two punch of Hereditary and Midsommar have shown him to be one of the better visual artists working in the genre today at the very least. In particular, the maypole sequences of Midsommar have remained prominent in my mind in the months since.
The Lighthouse, meanwhile, feels like perhaps the most willfully esoteric of the major "sophomore" horror films of 2019, short on conventional plot and heavy on apocalyptic imagery. Robert Eggers' second movie veers wildly from grim silence to genuinely laugh-out-loud humor at any given moment, dementedly careening from scene to scene like one of its two drunken lighthouse keepers. Some may be frustrated by its priority on evoking mood and sensation over narrative development, but the transcendent quality of its two central performances make it impossible to tear your eyes from the screen. Willem Dafoe in particular turns in as strong a performance as the genre has seen in recent memory, slipping from crusty, flatulent muttering into grand, cacophonous oration as the ocean continues its inexorable march to claim both men as its own.
But 2019 wasn't only a year for second acts. Tigers are Not Afraid earned praise for director Issa López and very obvious allusions to the early career of Guillermo del Toro, The Devil's Backbone in particular, as it told a fantasy tinged story that pitted Mexican street urchins against a vicious cartel. Ready or Not delivered visceral, popcorn-munching fun in a vicious hide-and-seek game that is considerably more brutal than even genre fans may be expecting. Little Monsters contributed a frequently hilarious zom-com starring none other than Lupita Nyong'o (two horror movies in one year!), fully usurping attention that otherwise would likely have been spent on the long-awaited, ultimately disappointing Zombieland sequel. And Alexandre Aja put himself back into the good graces of horror fans with an old-fashioned creature feature in the form of Crawl.
And then there's the year's highest-profile commercial horror release: It: Chapter 2, the sequel to 2017's highest-grossing movie in horror history. It seems almost predestined at this point that any adaptation of the "Losers as adults" portion of Stephen King's source material will suffer in comparison to the childhood portion of the story, and not even the high-profile casting of Chapter 2 can really ward off that feeling. Feeling both overlong and diminished, Andy Muschietti manages to recapture the vivacious spirit of the first film in fits and spurts, and Bill Skarsgård is as mesmerizing as ever, but Chapter 2 ultimately lacks some measure of the original's potency.
Finally, allow me to pay homage to the delightful One Cut of the Dead, a film that could have been an unorthodox challenger for the #1 spot, if only one could primarily label it as "horror" in a more genuine sense. Instead, this film is something ultimately more satisfying than just another low-budget zombie flick—rather than an exercise in throwing blood and guts around, it's a heartwarming dedication to the spirit of indie filmmaking itself. Following a Japanese crew of low-budget filmmakers as they attempt to bring together an indie zombie film shot in real time, it beautifully weaves each character's arc into the behind-the-scenes chaos, packing every frame with storytelling. It very much feels like it has all the markings of a cult film in the making, where, a few years from now, a guy will ask his friend "Did you ever see that movie One Cut of the Dead?", and the other guy will reply by enthusiastically thrusting his arms up in the air and going "POM!"
There are, of course, even more 2019 films of note that I didn't get a chance to mention, but let's get to the main course.
2019 Honorable Mentions: One Cut of the Dead, Us, Midsommar, The Lighthouse, Tigers are Not Afraid, Little Monsters, Ready or Not, Hagazussa: A Heathen's Curse, I Trapped the Devil, Crawl, It: Chapter 2, Nightmare Cinema, Knife + Heart, The Hole in the Ground, Child's Play, Scary Stories to Tell in the Dark, Head Count
---
The Film: In Fabric
Director: Peter Strickland
Peter Strickland is a cinematic aesthete; an artist who is both beguiled by and displays a mastery over the slightest and most ephemeral elements of production design, visuals, texture and sound in his films. In 2012's Berberian Sound Studio, he first applied this degree of hyper-attention toward the psychological horror genre, setting his story within the world of film industry foley itself to provoke audience reflection on sound and the nature of reality. In 2019's In Fabric, meanwhile, he once again returns to core influences that range from Italian giallo to 1970s European erotic thrillers, but suffuses them with a gauzy style that is all his own. His films are sumptuous experiences that stimulate every sense one can use to appreciate cinema.
In Fabric is one of those films where the premise could just as easily be applied toward a five-minute horror short as it could a feature film. You can say it in a couple words: "A haunted dress ruins people's lives." That sounds like source material easy to envision within the context of a cheesy horror anthology, like something from England's Amicus Productions in the 1970s, but in Strickland's hands it becomes the basis for a phantasmagorical descent into a certain, lushly appointed style of madness. In Strickland's world, you'd end up stark raving mad in a room with padded walls, but they'd feel amazing to the touch.
Into this topsy-turvy world, Strickland brings two central characters who seem to have originated from outside it, "regular" people who are frequently just as confounded as we would be by the bizarre behavior of those around them. One, single mother Sheila (Marianne Jean-Baptiste), just wants to get back out there into the dating game, only to find herself as seemingly the only sane individual in a world full of totally irrational people. Her supervisors chide her about utterly insignificant infractions like her style of waving hello, and probe deeply into her personal life, including even the content of her dreams. She reacts with flustered confusion that is perfectly natural, but still can't turn down their bizarre requests, even as she begins to suspect that her beautiful new red dress (in a tiny catalog detail, we see its color listed as "artery") contains a malignant presence. Perhaps she should have been more unnerved when buying it from the witchy, sinister store clerk Miss Luckmoore (Fatma Mohamed, spouting some of the craziest dialog of the year), a character who looks like she leapt straight out of the unconscious mind of Dario Argento.
Strickland conveys this story with the dreamy excesses and mood projection of Nicolas Winding Refn in the likes of Valhalla Rising, but somehow manages to dive even deeper into its aural aspects than he did in Berberian Sound Studio. This is some of the most vibrant sound design I've ever experienced, regardless of its aim in any given moment. It can be alluring, or soothing, or gratingly irritating in terms of texture, boring its way into your brain like some kind of parasite. When it desires to do so, the tones of In Fabric draw the audience in, enrapturing them with sensual, ASMR-like luxuriance, as in a sequence of a coat being zipped up with what has to be the most appealing zipper noise that has ever been captured on film. In other moments, the film pivots, bombarding the audience with sensation until you just can't take it anymore. You have almost no choice but to submit to the howling, discordant static.
There's a message buried in here as well of course; a commentary on consumerism that presents shopping and browsing for "life-improving" consumer goods as something like an ecclesiastical (or pagan, more likely) religious experience, but it's the all-encompassing aura of In Fabric that makes it stick in the mind. It perfectly captures specific moods familiar to its audience; universal experiences that have been given supernatural portent. There's the pain of shattered expectations on a terrible first date. The rote sexual congress of a long-time couple, long since reduced to a series of mechanical motions. The disorienting quality that a disturbing dream has on coloring a person's experiences in the waking world. Strickland presents it all, and more, in 2019's most deeply effective horror film.
In Fabric is in theaters Dec. 6, 2019, and on demand days later, starting Dec. 10.
---
Jim Vorel is a Paste staff writer and resident horror guru. You can follow him on Twitter for more film and TV writing.