Chris Hemsworth Will Play Hulk Hogan in the Weirdest Netflix Biopic in Memory
Photos via Getty Images, Kevin Winter, Carlos Alvarez
Movies
News
Hulk Hogan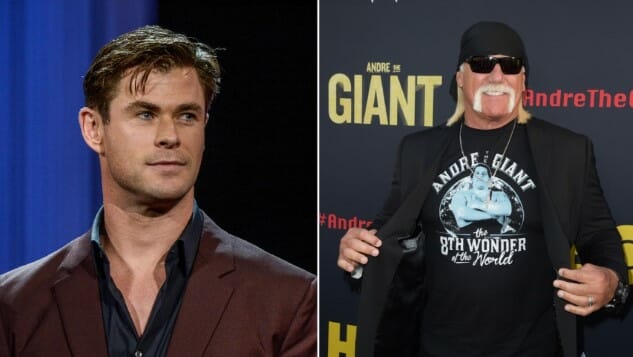 Gunning for the title of 2019's strangest casting news is this particular nugget: Chris Hemsworth of all people will reportedly be playing pro wrestler Terry Bollea, aka Hulk Hogan, in a Netflix biopic directed by Joker's Todd Phillips. The film will be written by John Pollono and Scott Silver, who also wrote Joker, and is produced by Michael Sugar and his Netflix-based Sugar 23, Phillips and Bradley Cooper's Joint Effort, and Hemsworth, along with … World Championship Wrestling's Eric Bischoff?
Everything about this news seems preposterous, starting with why Hemsworth, one of the biggest male stars in Hollywood today, would want to tackle a biopic about Hulk Hogan's early life and the rise of Hulkamania. And then there's Hemsworth's age—at 35, he's arguably too old to be portraying Hogan's early career and rise to fame, which happened in his 20s. And finally: How does Hemsworth even propose to adequately portray the steroid-induced bulk of mid-1980s Hulk Hogan, when he bragged in every promo of having the "largest arms in the world"? Even at the height of Hemsworth's muscular bulk while portraying Thor in the Marvel Cinematic Universe, he's never become half as swollen with muscle as '80s era Hulk Hogan. To watch him attempt anything like it is going to be one hell of a weird experience.
In more recent years, Hogan has of course been in the news more often for topics entirely unrelated to professional wrestling. His public sex tape scandal led to a years-long lawsuit that directly led to the downfall of Gawker Media when they were ordered to pay Hogan $140 million in damages, altering the internet media landscape in the process. The Netflix biopic, on the other hand, will reportedly instead focus on Hogan's rise to fame, being described as "an origin story of the Hulkster and Hulkamania," according to The Hollywood Reporter.
It's very difficult not to return to the simple question of "Why does Chris Hemsworth want to do this?", beyond the obvious paycheck. Has he secretly been a massive, old-school WWF mark this entire time? Does he just think it will be fun to recreate some of the craziest, coked-out wrestling promos of the '80s? We may never get the answers to these questions, and it saddens me.
Check back here for what will surely be one of the weirdest promotional images ever released, when we get our first look at Chris Hemsworth as Hulk Hogan. In the meantime, enjoy Hogan ranting about Donald Trump, way back at Wrestlemania IV in 1988.