Hilariously Generic Action Abounds in First Trailer for John Cena, Allison Brie's Freelance
Photos via Relativity Media
Movies
News
John Cena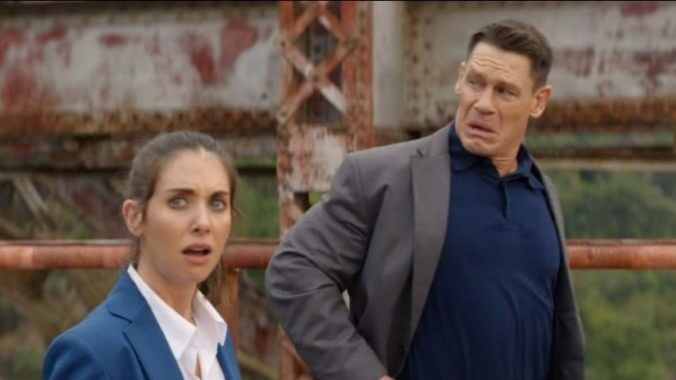 It's comforting, on some level, to know that even as streaming services like Netflix are committing insane dollar figures to increasingly shoddy original films and programming, there are still filmmakers out there making unapologetic cinematic rubbish intended specifically for theatrical consumption. It implies a certain audience that is still willing to trundle down to the local theater to see the occasional, shameless bit of garbage, and who among us can resist that clarion call? How else might one even describe upcoming John Cena/Allison Brie feature Freelance, a film that seemingly screams "direct to streaming" from every one of its pores? Just look at the first trailer below, if you want to bathe in some of the most perfectly generic action cheese of the last decade.
Freelance feels like a perfect, lazy amalgam of films past and present, borrowing the gender dynamic and tropical setting of last year's The Lost City while welding itself to the dumb throwback action machismo of the kinds of films Cena was making in the mid-2000s, like the original The Marine. Throw in the dangerous, peacock of a dictator cribbed from last year's The Unbearable Weight of Massive Talent, and you've got an "odd thruple on the run" story, although the trailer strangely goes out of its way to make us aware that Cena's character has a wife, and thus not to expect any genuine romance angle with Brie (who deserves far better than this). Or as the official synopsis puts it:
An ex special forces operative stuck in a dead-end desk job (John Cena) reluctantly takes on a gig to provide private security for a washed-up journalist (Alison Brie) as she interviews a ruthless—but impeccably dressed—dictator (Juan Pablo Raba). When a military coup breaks out just as she's about to get the scoop of a lifetime, the unlikely trio must figure out how to survive the jungle, the assassins, and each other in order to make it out alive.
Some of our favorite tropes are definitely present in Freelance, such as the nebulous South (or Central?) American nation being a composite that is apparently called "Padonia," evocative of Top Gun: Maverick's inspired choice to base an entire film around the idea of an antagonistic "enemy" nation that they never have the courage to actually name. Know that we're all anxiously awaiting the inevitable bit where Allison Brie's character successfully operates a firearm, shocking her male protectors who grudgingly admit that maybe "she can take care of herself."
Somehow, Freelance is arriving in wide release in theaters on Oct. 6, 2023. Check out the trailer below.