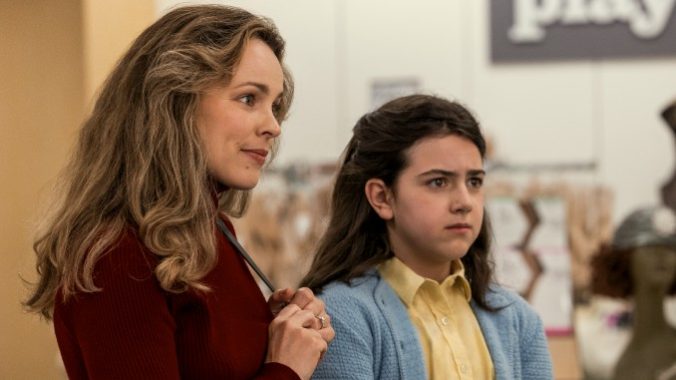 If there's one certainty amidst the chaos of puberty, it's that you're going to feel misunderstood. Misunderstood by your friends, your siblings, your sex ed teacher and, above all, by your parents. Indeed, when you start to undergo those pesky physical and emotional changes, it inevitably feels as though no one on this godforsaken planet can empathize with what you're going through–that is, of course, unless you're lucky enough to stumble across a Judy Blume book.
Rising to popularity in the 1970s, Blume was one of the first young adult authors to actually confront the nitty gritty of puberty—to write casually about breast size, periods, female masturbation. But the beauty of Blume lies foremost in the fact that, when you're an angsty young girl, opening a Blume book feels like someone putting their hand on your shoulder and simply saying, "I understand." For the first time, it feels like they actually do.
Given the weight that Blume holds for so many kids and former kids, embarking on a film adaptation of one of her works poses a challenge. I'm happy to report, though, that Kelly Fremon Craig's adaptation of the iconic 1970 novel Are You There, God? It's Me, Margaret delivers nearly flawlessly. Margaret follows the young Margaret Simon (Abby Ryder Fortson), whose parents Barbara (Rachel McAdams) and Herb (Benny Safdie) move her to a new school in New Jersey for her final year of elementary school.
Now, I don't care who you are, starting at a new school for sixth grade is always going to be quite the tall order. For Margaret, it's a considerably turbulent ordeal. She endures a healthy slew of existential crises: One about her lack of period, one about her flat chest, one about her religious identity. Brought up without faith by a Jewish father and an ex-Christian mother, Margaret begins to feel left in the lurch by God.
Margaret's journey of self-discovery is a fascinating and satisfying watch. Craig moves Margaret along at a gratifying pace. Just when Margaret's new best friend Nancy (Elle Graham) drops some bombshell news about her own experience of girlhood, for example, a major wrench is thrown into Margaret's personal life. It's a rocky ride, to say the least–but isn't adolescence?
Craig is also careful to balance out the heavy and sometimes somber subject material with a joyous and upbeat tone. Its sunny, pastel color palette, whip-smart comedy (a scene where Margaret and her mother discuss training bras deserves a spot in the Comedic Timing Hall of Fame) and ecstatic musical montages make Margaret an exhilarating, ecstatic and thought-provoking watch.
The upbeat atmosphere that Margaret bears for the majority of its runtime makes it so that Margaret's moments of crisis feel like total gut punches. Regardless of how small her problems might seem on the outside, dramatic cuts, a theatrical voiceover, and sharp musical cues bring us deep into the thrilling inner world of a 12-year-old. And there's no going back.
While Craig nails Margaret's storytelling and tone, this film simply wouldn't achieve such poignancy and empathy without the stellar lead performance from young breakout Fortson. The budding star is effortlessly funny and brings a stunning level of maturity to her voiceover; when she rattles off an astute, "adult" comment, it feels like she really means and understands what she's saying.
While Fortson is the backbone that holds Margaret together, she's not the only actor that brings something delightful and delectable to the table. Graham shines, playing the well-intentioned mean girl with masterful physical humor and surprising tenderness, while McAdams serves as Margaret's emotional core in her best major role in a while. She brings so much humanity and inner tumult to her character that the film becomes just as much about Barbara's growth as about Margaret's. McAdams' magnificent performance makes Craig's grasp on Blume's book even more clear: The 1970 novel was never just for young girls. It was, and remains, for generations upon generations of women. That's the true beauty of it. 
Girlhood is a fickle thing. It's tough to understand if you haven't gone through it and, if you have, it's even more difficult to convey. But like its source material, Are You There, God? It's Me, Margaret is fearless. It embraces humor, messiness and pain, and takes each bump in the road as seriously as the last. And, after going through the hellish trials and tribulations of puberty, I dare say it's the movie that we all deserve.
Director: Kelly Fremon Craig
Writer: Kelly Fremon Craig
Stars: Abby Ryder Fortson, Rachel McAdams, Elle Graham, Benny Safdie, Kathy Bates
Release Date: April 28, 2023
---
Aurora Amidon is a film journalist and passionate defender of Hostel: Part II. Follow her on Twitter for her latest questionable culture takes.