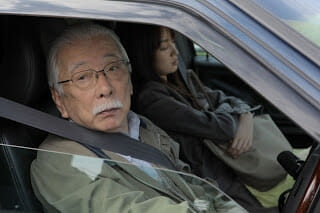 Masterfully beguiling, Like Someone in Love is a little gem of a film that explores how relationships and roles change depending on the needs, circumstances and desires of the people involved. Much like Abbas Kiarostami's previous effort, Certified Copy, his new film has its characters pretending to be people they're not and in the process, relationships deepen and evolve.
Set in Tokyo, a young, beautiful escort (Rin Takanashi) who has been estranged from her family for years, meets a new customer (Tadashi Okuno)—a lonely, elderly man and former professor. Their relationship becomes more than sexual and is further complicated by her overbearingly jealous boyfriend (Ryo Kase).
The relatively inexperienced actors all give thoroughly convincing performances. Rin Takanashi is doe-eyed and slightly clueless, despite her deceit. Tadashi Okuno is comforting and paternal but may have less virtuous intentions. And Ryo Kase is thoroughly frustrated and always on the verge of exploding.
Shot with stunning economy and an unflinching precision, scenes peel away layer upon layer, making the puzzle more clear as we reach denouement. Even the first shot has the audience guessing as we see a bustling cafe and hear a woman offscreen having a phone conversation. Elegantly and gradually, it's revealed where the voice is coming from, who she is talking to and why she's lying to the person on the other end of the line. The entire film is structured this way, which would make revealing more would spoil to much. Suffice it to say that the mystery/suspense never feels gratuitous, and it's always in the service of moving the story deeper in unexpected ways.
Perhaps it shouldn't be surprising that it works so effectively, considering it was conceived by the master filmmaker who brought us The Wind Will Carry Us and Taste of Cherry. What is surprising is that Kiarostami is able to pull it off in a foreign country, in a language he doesn't speak and with unseasoned actors. Some may come away from the film baffled, especially with its seemingly abrupt ending, but for those willing to invest the time and effort, Like Someone in Love is a beautifully constructed jigsaw puzzle.
Director: Abbas Kiarostami
Writer: Abbas Kiarostami
Starring: Rin Takanashi, Tadashi Okuno, Ryo Kase
Release Date: Feb. 15, 2013