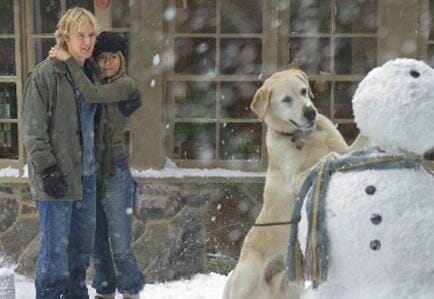 Release Date: Dec. 25
Director: David Frankel
Writer: Scott Frank and Don Roos (screenplay), Josh Grogan (novel)
Cinematographer: Florian Ballhaus
Starring: Owen Wilson, Jennifer Aniston, Eric Dane, Kathleen Turner, Alan Arkin
Studio/Run Time: Twentieth Century-Fox, 120 mins.
If the trailer and marketing for Marley & Me accurately portrayed the film, it would be about following a dog and its owners through a lifetime of misadventures.What the film's actually about is a pair of people who marry and soon afterward find themselves overwhelmed by the responsibilities of work and family, all of which is somewhat exacerbated by their ill-behaved pet.It's a big switcheroo, but Fox is smart and its choice of showcasing the attractive dog rather than the depressing realities of maturing is a big PR coup. Marley himself is the biggest MacGuffin this side of Hitchcock.
Starring in this family dramedy is Owen Wilson in his first fully three-dimensional role.He plays John Grogan, the newspaper columnist who wrote the book Marley & Me, who marries Jennifer (Jennifer Aniston) at the beginning of the film.Afraid that she may want children, he buys her a dog to keep her occupied.Their love for the dog blossoms into the need for a real family, and the rest of the film simply documents their life and the sacrifices they withstand for the sake of, at least according to the film, the greater pleasure of family. 
Marley & Me isn't just odd in terms of an award-season or family film; it's odd for a studio film in general.The movies features no real plot and is content to plod from one set-piece to the next as the family members go along with their lives. Marley & Me's storytelling coasts on the talent of its leads who, perhaps surprisingly, flesh out their characters in robust if occasionally cliché ways.It's a form of cinema derived not from the large-scale turns that make up a typical screenplay, but instead on the small frustrations of everyday life.The whole thing is a bit like a play, with its only truly cinematic moment unabashedly stolen from Roger Avary's Rules of Attraction.

Because of this structure, Marley & Me contains a uniquely plot- and-character-driven rather than stylistic sense of realism.It dips a little too deeply into unnecessary sentimentality and ends on a gimmicky note, but all of its faults don't detract from a whole that's deeply concerned with its characters.That the dog never becomes particularly relevant is no big loss.