Surprise! Infinity War Will Be the Longest MCU Film(s) Ever
Art by Ryan Meinerding/Marvel Studios
Movies
News
Marvel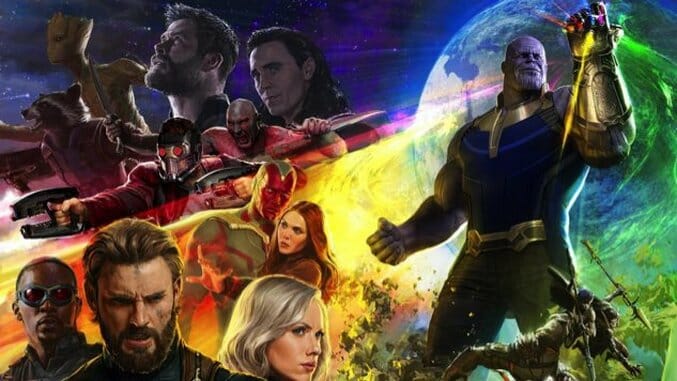 While it's already been confirmed that the next Avengers film will include dozens and dozens of characters, some real tear-jerking deaths and stunts crazy enough to break all of Hawkeye's arms, there hasn't been much info on just how long the movie will be. After all, most blockbusters sit around two hours, but there could reasonably be a case made for turning these movies into six-hour epics, given the amount of content they need to cram in there. Fortunately, it's not quite that extensive.
Joe Russo told Collider in an interview:
The current cut is over two and a half [hours] … Most of it's a movie you could show, but there's still a lot of work left to be done, I still have a couple of scenes that we haven't finished from Avengers 3 that I'm shooting in the next few months with my brother, and it's certainly gonna be a film that lives in the two and a half hour, two and a half hour-plus range.
Honestly, that doesn't sound too bad. If anything, it almost feels like it'll err on the short side, given that we live in a post-Lord of the Rings world where people happily paid for tickets to see films in the three and a half hour range (well, three hours of movie, 30 minutes of hugging and crying and saying goodbye).
As if that length needed any justification, Russo felt the need to explain further:
We have to, I mean it's a culmination event. We've gotta take 10 years of storytelling in this Marvel narrative experiment that's been going on since Iron Man, and we have to take all these disparate tones, disparate themes, motivations, and we have to pull them together in a unified narrative and write the final chapters of the book. There's no way you could do that with all these characters in under that running length.
And then he touched briefly on the next film—the hotly anticipated Avengers 4—and its expected length:
It's hard to say because we haven't shot it yet, but I think again because these are complex movies with a lot of characters, it's hard to imagine—now look at me I'll look like an idiot in a couple of months when it's two hours and twenty minutes, but it's hard to imagine these movies being short films.
We agree, Russo. Now get out there and break some Jeremy Renner arms (for luck).
Infinity War is due out on May 4, 2018. Stay tuned for a trailer … any day now … and feast your eyes on the film's glorious Comic-Con poster below—click to enlarge.