Michael Fassbender, Oscar Kightley, Kaimana on Next Goal Wins: "The Truth Makes People Laugh"
Photo by Searchlight Pictures / Todd Williamson
Movies
Features
Michael Fassbender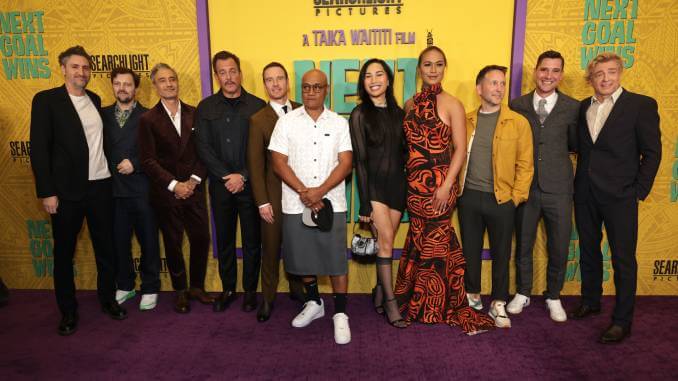 Like the characters in any good sports biopic, the latest comedy from New Zealand filmmaker and actor Taika Waititi was something of an underdog long before it premiered at the Toronto International Film Festival in September. Led by Michael Fassbender, Oscar Kightley and newcomer Kaimana, and based on the 2014 documentary of the same name, Next Goal Wins tells the real-life story of American Samoa's national soccer team and the Dutch-American coach who helped them regain their dignity following an infamous 31-0 loss against Australia during the 2002 FIFA World Cup qualifications. Facing a similar uphill battle, Waititi's first non-Marvel film since 2019's Jojo Rabbit carried the weight of the world on its shoulders, burdened by a number of challenges almost immediately after wrapping up its production in January 2020. Knocked from distributor Searchlight Pictures' release calendar as one of many titles affected by the COVID-19 pandemic, the film also underwent re-shoots in 2021 to replace Armie Hammer with Will Arnett in the wake of the former's sexual assault scandal—all before facing two release delays this year. Our interview with the cast of Next Goal Wins made it clear that the comedy inadvertently embodies some of its production difficulties.   
In describing Next Goal Wins' draw as an underdog story that doesn't necessarily end in victory, Fassbender provides the perfect parable for a movie that, at one point, seemed unlikely to reach the finish line at all.
"I think that is the challenge of life: it's the idea of what success is, and failure—the ability to get back up, go again, try again," Fassbender told Paste. "The spirit and the energy you put into something is the success. Certainly, that's what I tell myself whenever I lose."
Of course, these difficulties aren't unique to Next Goal Wins in a year where labor disputes and the strikes that followed delayed many projects—some in development and some already completed. Perhaps a nod to the low morale which permeates our society at a time when most of us would rather die than hear of another "unprecedented event" ever again, the film's simple tagline ("Be happy.") promises a soothing balm for hardships both personal and collective, universal and industry-specific.
Working in Next Goal Wins' favor is a robust team of performers with diverse backgrounds. Kaimana, who plays Jaiyah Saelua, the team's star defender, is originally from Oahu, Hawaii. Like her character, Kaimana is fa'afafine, a third gender present in Samoan society. She tells Paste never had plans to become an actor before friends and family clued her into a Facebook casting call.
"I actually decided to go for it just to get everyone off my back—so that I could say I did it," she quips. "And yeah, it went a lot farther than I initially anticipated it would! Here I am, with Michael Fassbender."
Equal parts gentle and headstrong, Jaiyah is the sprightly foil to Fassbender's short-tempered coach Thomas Rongen, with their paternal bond acting as the film's emotional crux. In real life, the actors' camaraderie resembles that of their characters, as they congratulate each other on their firsts (forays into acting, forays into comedy, etc.) and rib each other gently.
"Kaimana did an amazing job, Fassbender said. "Just a natural, you know, every scene that she comes into—it's just got real truth to it. It was really evident when we were shooting together, and it's there on screen as well." 
As the interview comes to a close, he quips to her, "You know, you go on so much—I've said this to you before. Nobody gets a chance to speak." In other interviews, Kaimana jokes she only knew Fassbender from X-Men before working with him on set.
Though comedy isn't as common a vehicle for sports biopics as drama, it's hard to imagine Next Goal Wins taking a different path, even if its lead is better known for such harrowing films as Inglourious Basterds (2009) and Shame (2011), as well as this year's The Killer. According to Kightley, who plays Tavita, head of the American Samoa Football Federation, Fassbender's committed foray into comedy was key to the film's success.
"Michael was awesome…Everyone knows what a great actor he is in drama, but he had the hardest job, I think," he says. "While we had all those years of working with and knowing each other, he was kind of the fresh face—kind of thrown in at the deep end. I thought he nailed it." 
Kightley, who previously worked with fellow Kiwis Waititi and co-star Rachel House in 2016's Hunt for the Wilderpeople (as well as fellow supporting actors David Fane, Beulah Koale and Semu Filipo in local theater productions), also points out how having friendly faces on-set can make a breeze out of the potentially draining process that is filming for long hours and repeating takes.
"It made it so easy, the fact that we were working with such familiar faces from back home, and it engendered a trust between us." Kightley says. "A lot of people might think comedy is being quirky, but one thing you learn doing theater is that, actually, it's playing it for real—like it's drama. Because it's the truth part that makes people laugh."
Maybe it's the slapstick sensibilities that characterize failed attempts at an activity as physical as soccer, or maybe it's just schadenfreude, but only in sports do losses as devastating as the one that opens Waititi's film elicit laughter.
Even before they bore the worst defeat in the history of international soccer with their 31-0 loss in 2002, the American Samoan national team had lost every official match they'd ever played up until then. In fact, they had never even scored a goal. Their attempt to redeem themselves at the 2014 qualifications doesn't revolve around winning the World Cup. It doesn't even mean qualifying for the Cup. All they want is to win a competitive match. Waititi's film doesn't seek to patronize the people it's based on by "celebrating" their failures. Instead, it celebrates their passion and commitment—their willingness to improve and their philosophy that, at the end of the day, it's just a game.
"I love watching documentaries like Last Dance, about Michael Jordan and other incredible athletes—people that have reached the pinnacle of what they do," says Fassbender. "But they're rare. Most of us mortals experience failure a lot." 
Kightley concurs. "​​When you look at sports films, the key performance metric is always a victory on the field. Usually, that's the form," he explains. "This was a true story that happened—and that was the inspiring thing."
As such, both Kaimana and Kightley have also spoken to the importance of doing right by the story they adapted, while highlighting the necessity of taking creative liberties with the material when appropriate. In particular, the former recalls an anecdote about meeting the real Jaiyah a couple of days before the project's launch party and how that helped to relieve some of the pressure of portraying a real person.
"She had told me 'Girl, don't worry, I understand that this character that you're going to be playing—it's going to be an amalgamation of me, and my story. It's also going to be a mix of you, and what you bring in, and it's going to be a mix of Taika and his version of the character,'" Kaimana explains. "And so, it's all three of us together, creating this character…It was probably the greatest piece of advice that I got before filming."
Her words echo Waititi's own character—a fictional priest who narrates the story throughout, admitting to "a couple of embellishments along the way" early on. Likewise, Kightley maintains that feature films based on true events can and should exist in tandem with the stories they're based on. In the case of this story, he considers the original Next Goal Wins an important work in its own right, and one whose existence paved the way for this new project to develop a shape of its own.
"The cool thing is that everybody's already seen the doco—the real story with all the real faces in the real people. So I was able to have a lot more fun with this and kind of just go a bit crazy," he says. "What really wins you over after you see that original doco is the heart of the American Samoans…I think the same care was taken with making sure that those same elements were captured, and I think audiences will be surprised, and delighted, and entertained by that."
Next Goal Wins is in theaters now.
---
Ursula Muñoz S. is a critic, journalist and MFA candidate at Boston University who has previously written for news and entertainment outlets in Canada and the United States. Her work has appeared at Xtra, Cineaste, Bright Wall/Dark Room and more. For further reading, feel free to follow her on Substack and X, where she muses about Taylor Swift and Pedro Almodóvar (among other things).