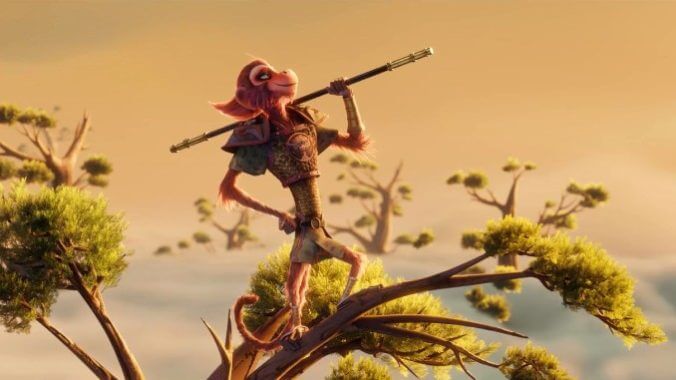 The Monkey King journeys to the Western streaming services once more with Netflix's animated adventure from director Anthony Stacchi (The Boxtrolls, Open Season). As a notorious trickster figure of Chinese mythology, The Monkey King's story is told time and again. His appearance in the 16th century epic Journey to the West, in which he atones for his misdeeds by aiding a Buddhist monk traveling to India in search of scriptures, makes him a mischievous yet reforming character who models and satirizes ancient Chinese values. Along with his trusted staff, The Monkey King awakens every so often to battle through a contemporary zeitgeist.
Netflix's delightful retelling of The Monkey King's story takes place before the events of Journey to the West. Hatched from a rock as a baby monkey with laser vision, our hero quickly learns he doesn't fit in with the other monkeys. But tricksters are all outsiders, and The Monkey King (Jimmy O. Yang) embraces his liminal status, striking out on his own to meet his destiny. (Re)united with his staff, named Stick for this retelling (with sentient throat-singing by Nan Li), he foils the Dragon King (Bowen Yang) and sets off on a quest to join The Immortal Ones. But The Monkey King never ventures alone. This time he's accompanied by Lin (Jolie Hoang-Rappaport), a headstrong young villager who is a bit of an outcast herself. Together they'll journey to hell, heaven and back again, with a bit of havoc along the way.
Fans of executive producer Stephen Chow's 2013 version of the Journey to the West will undoubtedly feel a kindred spirit with this version. Though aimed at a slightly younger audience, The Monkey King still has the mix of high-stakes peril and high-reward comedy that has become part of Chow's signature style. The Monkey King is as much a loving homage to him as to Chinese action and mythology, with winking references to Chow's blockbuster hits like Shaolin Soccer and Kung Fu Hustle. Like those films, The Monkey King has barrelfuls of sharp satire, high-flying action, and lyrical sentimentality that are as shifting and entertaining as the myths they celebrate.
By fusing Chow's sensibility with the animation experience brought by Stacchi and writers Stephen Bencich, Ron J. Friedman and Rita Hsiao, The Monkey King becomes a work of cosmic color that changes form almost as often as its main character. The animation styles whiz by in kaleidoscopic fashion. We break from Netflix's house style of a smooth, rounded, Earthly world into a montage inspired by classic Chinese brushwork during a fantastical training sequence. Each realm Lin and The Monkey King encounter in their quest through the cosmos has its own distinct style. The animation of Hell's bureaucratic order stamps a rigid, square aesthetic, while Jade Heaven has delicate soft free-forming cloud architecture. 
It's not just the scenery that transforms through its multiple genres. The few songs written by composers Toby Marlow and Lucy Moss are just as eclectic as the animation styles. Fresh off their Broadway smash SIX: The Musical, Marlow & Moss have proven their skills at changing genre on a dime, and they fully succeed here. The Monkey King's theme is a properly tongue-in-cheek pastiche of heavy metal, and The Dragon King gets a comedic cabaret number, with driving pop interpolations glittered throughout.
The composers perfectly tailored the songs to the voice performance that they support. Jimmy O. Yang voices our trickster hero with a fitting power and mischievousness. His smart and winking choices allow The Monkey King to be broad and comedic while also reflecting a very contemporary kind of psychology that is a bit cynical and highly referential. His characterization is a fine mix of ancient hubris and present-day irony.
We can say the same about Bowen Yang's performance as the Dragon King. What he achieves with this character is nothing short of robe-dropping. It's a wry and riotous performance that is as leveled and varied as the story's remarkable worlds. He imbues his Dragon King with a camp mania and cadence that brings to mind some of the best queer-coded villains in animated history, such as Disney's Jafar or Hades. This Dragon King deserves a chaise lounge in that pantheon. Having grown up blending their Asian heritage with North American sensibilities, both Yangs can embody the biculturalism that Netflix and Stephen Chow aim for with aplomb. 
For as much as The Monkey King rapidly shifts genres and styles, it also frequently redirects who it's addressing. Those who have grown up steeped in Chinese mythology and iterations of The Monkey King's story will catch the continual references to other chapters in his saga and Chinese mythology in general. They will experience the joy of re-telling, of recognizing clues and story beats, sometimes before they happen. Yet what aids and limits this film are the attempts to make the story familiar to (younger) Western audiences. In some ways, The Monkey King story works in a Western paradigm because it's a story of ego and redemption through sacrifice. But in leaning into this tracing of the mythic story, we lose some of the more precious community-oriented aspects of the fantastical tale, downplaying Lin's struggle to save her village against her individual self-realization.
Still, The Monkey King feels like a proper place for experiments in cross-cultural entertainment because Journey to the West is a story of cultures mixing and learning. But make no mistake, just because this film is a fusion of China and the West doesn't mean the source gets lost or fully diluted. Far from it. The Monkey King is trying to share its story and heritage with the globe while retaining and celebrating the ornate complexities of the Taoist, Buddhist, and Confucian cosmologies that compose the Chinese mythos. It took a gargantuan leap of faith from The Buddha's palm to make this palpably passionate project a reality. The Monkey King is an enjoyably swinging adventure across time, worlds, and cultures. It's an enchanting reminder that mythology can be diplomatic and a wonderful way to venture into new worldviews.
Director: Anthony Stacchi
Writer: Steve Bencich, Ron J. Friedman, Rita Hsiao
Starring: Jimmy O. Yang, Bowen Yang, Jo Koy, Stephanie Hsu, BD Wong
Release Date: August 18, 2023
---
B.L. Panther is a culture writer, scholar and Pisces from Northern Illinois. B! writes for outlets such as Honey Literary Journal and The Spool. A champion hermit, they enjoy reading, the indoors, afternoon naps and doing nothing at all.