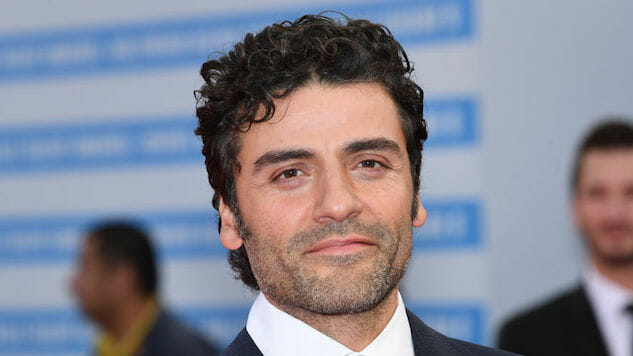 Wow, this is going really well: Oscar Isaac is in talks to join Denis Villeneuve's Dune, according to Variety. Isaac will play Duke Leto in the newest adaptation of Frank Herbert's beloved 1965 science-fiction novel.
This addition to the bill comes after several exciting announcements, including the casting of Timothee Chalamet as Duke Leto's son Paul Atreides, Rebecca Ferguson as Lady Jessica, Dave Bautista as Rabban and Stellan Skarsgard as Baron Harkonnen.
To the uninitiated, confused at recent surges of rabid excitement among Dune fans, know that an adaptation's production going so swimmingly is rather unheard of. Famous failed adaptations of Dune include a Ridley Scott double-feature, and a 14-hour epic from Chilean-French visionary Alejandro Jodorowsky that was set to be scored by Pink Floyd and star Salvador Dali, Orson Welles and Mick Jagger (this scrapped production volleyed its scripts and production design to a movie that would later become Alien). David Lynch managed to eke out an adaptation in 1984 that proved controversial at best among serious fans, before several more decades of fall-throughs and production hells.
But since securing the rights to Dune properties from Herbert in 2016, Legendary has seen smooth sailing. Villeneuve stepped up to the daunting task following an ambitious and well-received addition to the beloved Blade Runner universe, and for good reason. In a February 2017 interview with Variety, Villeneuve mentioned that Dune has been has favorite book since he was 12, and that adapting the work would be a dream come true. "I can't say no to that," he said. "I have images that I am haunted by for 35 years. I will not say no to that. That's going to be the project of my life."
Isaac will fit Dune into a busy schedule that includes his recent work on Ben Affleck's Triple Frontier for Netflix, not to mention the next Star Wars film. Academy Award-winning Forrest Gump screenwriter Eric Roth and Prometheus penman Jon Spaihts will co-adapt the new Dune alongside Villeneuve. The Revenant's Mary Parent will produce alongside Villeneuve and Pacific Rim Uprising's Cale Boyter, while Frank Herbert's children Kim and Brian are among the list of executive producers.
Explore everything else we know about the forthcoming Dune movie here.