Oscar Isaac Shot The Last Jedi and Annihilation Simultaneously, Sometimes on the Same Day
Images via Paramount Pictures
Movies
News
Oscar Isaac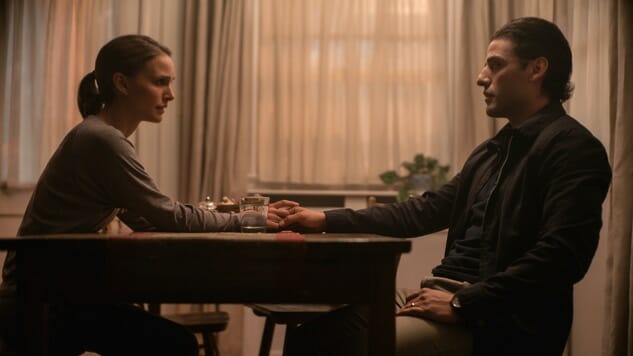 In case you doubted Oscar Isaac's talents as an actor, it turns out the Star Wars: The Last Jedi and Annihilation star shot those two high-profile sci-fi films simultaneously, sometimes even filming scenes for both films in the same day. "I would shoot something in the morning and then have a little bit of down time and then switch it up," Isaac told /Film. "So that was wild."
Isaac recalled filming Rian Johnson's The Last Jedi and Alex Garland's Annihilation on the same studio lot in London, adding that he would visit the Annihilation set while still dressed as X-wing pilot Poe Dameron. "It was pretty wild," Isaac said. "It reminded me a little of Pee-Wee's Big Adventure, when he's on the lot and you see all the different actors walking around. There was something very classic about it."
As a result of his jam-packed shooting schedule—not to mention the marked difference between the two roles, as Poe is a charismatic hothead, while Isaac's Annihilation character is decidedly more taciturn—Isaac was behind the eight-ball as far as preparing for his small, yet critical role in Annihilation. He credited Natalie Portman, who plays the film's protagonist and the wife of Isaac's character, as making the hectic process easier:
So there was very little time, and not a lot of rehearsal time, and Natalie and I didn't know each other. It happens in movies, obviously—you have to suddenly be very intimate with someone very quickly. I think the fact that she was willing to trust me and I was trusting her, and we just went in there and did it and tried to find a real intimacy. Which is always a weird, awkward, strange thing to do suddenly in front of a bunch of people. But we found that, and I really enjoyed those scenes with her. She is very focused, but also in those scenes, very emotionally available as well, so I really enjoyed that.
Garland, who worked with Isaac on his breakthrough film Ex Machina, followed up on the actor's revelations by expressing his gratitude to The Last Jedi's director Johnson and producer Ram Bergman, recalling, "Here they are making like the biggest movie of all time, and they were unbelievably helpful and accommodating to us. And they really didn't have to be at all. Most big productions would not even dream of doing that." Garland chalked up the pair's courtesy to their indie film background, noting that "they went out of their way—whilst making fucking Star Wars, for Christ's sake—to help this really small movie next door."
Annihilation, which Garland adapted from Jeff VanderMeer's novel of the same name, is a really small movie indeed compared to the latest installment in Disney's ever-expanding juggernaut of a franchise, but early indications suggest a film just as compelling and artful as Johnson's The Last Jedi, if not more so. Watch the Annihilation trailer here and revisit the film's first teaser here.
Garland and Isaac's film has at least one high-profile fan already: Rian Johnson.
Still reeling from @AnnihilationMov last night. So many things at once, layered and rich but also a gut punch. See it in the loudest theater you can…

— Rian Johnson (@rianjohnson) February 14, 2018