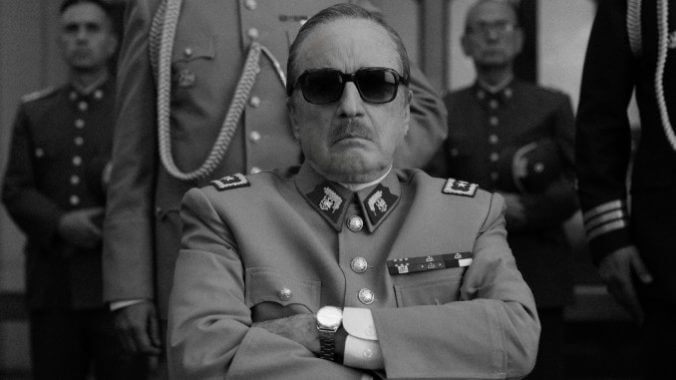 In his latest amalgam of fact and fiction, director Pablo Larraín leaves behind the embattled women of Western monarchies in favor of a political figure much closer to home—one whose presence in Chilean culture bears influence on his earlier work. Would-be dictator Augusto Pinochet overthrew Chile's democratically elected Salvador Allende in a coup d'état on September 11, 1973, hurtling the South American country into a nearly 20-year reign that was marked by thousands of executions, tortures, imprisonments and various financial schemes in order to accumulate personal wealth, until he was forced to step down in 1990 following a national plebiscite in 1988. Though he was ultimately arrested for human rights violations, tax evasion and embezzlement, he died in 2006 with still hundreds of charges pending against him for the atrocities he committed during his tenure.
However, El Conde (translation, The Count) offers an alternate timeline in which Pinochet never passed away in 2006—in fact, he faked his own death (and not the first time he'd done it) to get out of the charges against him towards the supposed end of his life. This is because he's actually an immortal vampire. Larraín imagines Pinochet (Jaime Vadell) as a 250-year-old ghoul who's been biting necks since birth, beginning his life as a French orphan and growing into a young man who fed off the flesh and pain of others. As he progressed through his unending existence, he searched for places in which he could fulfill his desire for blood and for inflicting suffering before eventually landing on the poor country of Chile, a country in which he still dwells unseen in the outskirts on a sprawling and vacant ranch. There, he lives with his exasperated wife Lucia (Gloria Münchmeyer), who is having an affair with his devoted Russian servant Fyodor (Alfredo Castro), a sadist who was rewarded with eternal life for his service and shared joy in torturing and plundering.
El Conde has a plot as light as the air upon which Pinochet dances through the pitch-black sky, as he travels from his place of exile to the city of Santiago looking for fresh hearts to rip out and turn into ghastly smoothies. However, the first occurrence of this macabre task is not actually Pinochet, while it certainly seems like it—the real Pinochet had resolved to let himself die after more than two centuries wreaking havoc, though he is having trouble doing so. He's weaned himself off of blood to weaken his body and eventually decay, yet alive he still frustratingly remains. His five adult children come to visit to see exactly why they've heard tell of poor civilians with their hearts extracted in Santiago if their beloved father did not want to keep on keeping on.
Pinochet reveals his intentions to leave his fortune to Lucia and his children, a 50-50 split. He allows his offspring to dissect his papers in order to find his hidden millions (the hiding spot of which he's long forgotten), with the help of a nun (Paula Luchsinger), who has inexplicably been hired by one of Pinochet's children under the guise of an accountant but with real orders to exorcize the evil from him. Shenanigans ensue, to the point where any semblance of reasoning and logic within the course of the plot is tossed out the window. Of course, the narrative is mostly negligible (the film was curiously awarded the honor for Best Screenplay at the recent Venice Film Festival), but events continue to unfold in ways which are neither logical nor very funny or entertaining, though both Castro and Luchsinger chew the scenery and command the screen with every moment they're on it.
Not successful, or seemingly intentional, as a dense political takedown, El Conde is premised on a single joke meant to carry the entire film: What if this blood-sucking dictator was actually a bloodsucker? It concludes on a punchline that presupposes evil is not simply born but carried, reinforced and passed down through generations—an idea not unique as is, but its execution is so absurd, grating and shallow that I'm certain I yelled out "Oh, come on" at the screen. 
In the style-over-substance debate, the former is very much the best thing going for El Conde, and the richly shot, haunting black-and-white scenery courtesy of Ed Lachman has the perfect atmosphere for a chilly, mid-October watch. In particular, the most visually thrilling sequences are the ones in which the caped vampires soar fluidly across the night, accompanied by a dreadful, eerie silence; the nun's first flight after being bitten is simply captivating as she floats clumsily through the air with the deep gray skies hanging above her. 
It's a shame that the "spooky vibes" are just right with El Conde, because everything else is so dreadfully dull. The concept behind the film is an amusing, if obvious, one-note gag stretched out to nearly two hours, and not a gag that's particularly novel or one that offers Larraín much to expand upon. As a would-be political satire and a vampire film, El Conde simply doesn't have much (sorry, sorry, I know) bite.
Director: Pablo Larraín
Writer: Pablo Larraín
Starring: Jaime Vadell, Gloria Münchmeyer, Alfredo Castro, Paula Luchsinger
Release Date: September 15, 2023 (Netflix)
---
Brianna Zigler is an entertainment writer based in middle-of-nowhere Massachusetts. Her work has appeared at Little White Lies, Film School Rejects, Thrillist, Bright Wall/Dark Room and more, and she writes a bi-monthly newsletter called That's Weird. You can follow her on Twitter, where she likes to engage in stimulating discussions on films like Movie 43, Clifford, and Watchmen.