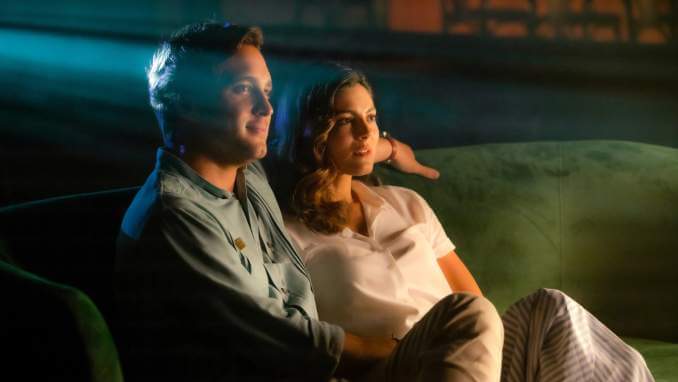 On some level, predictability is a feature, not a bug, in the realm of romantic comedies. Fans of the genre, myself included, watch these films for a certain degree of comfort and warmth, and much of that derives from knowing that we're going to see some kind of joy emerge at the end. There's even pleasure in the ability to see the tracks laid out in front of you well before you reach your destination. Longtime students of the rom-com will be able to decipher the structure well before it's revealed, but that doesn't detract from the enjoyment. We don't watch these movies to find out if the happy ending is coming. We watch them to find out if the happy ending is earned.
That means much of the burden when it comes to crafting a good romantic comedy lies not in creating the unpredictable, but in making the predictable worth watching through beautiful scenery, beautiful stars and plenty of laughs. At Midnight, from director Jonah Feingold, begins that journey on solid footing, then falters on the way to its foreseeable conclusion. The result is a film that, even by romantic comedy standards, feels just a little too staid, despite the valiant efforts of its charming, promising leads.
The film takes its title from the nighttime rendezvous between superhero blockbuster actress Sophie (Monica Barbaro) and ambitious hotel manager Alejandro (Diego Boneta). She's staying at his gorgeous Mexican resort while shooting the final scenes of her new movie, where she's forced to pretend things are all good with her cheating co-star boyfriend (Anders Holm). Alejandro's got his eyes on bigger career moves while his boss forces him to focus entirely on keeping the movie stars in their midst happy. After a meet-cute in which he accidentally glimpses her naked, Sophie takes a liking to Alejandro, and sees in him a chance to escape the forced posturing of her daily celebrity life. Despite his initial reluctance and awkwardness, Alejandro is more than willing to show Sophie a good time. Soon the good times become something more, and both their futures are upheaved.
Again, if you're a seasoned rom-com viewer, you can probably plot the rest of this course out blindfolded, throwing in all the requisite curveballs—Alejandro's boss has a rule against sleeping with hotel guests, Sophie's supposed to stay with her boyfriend until the movie comes out, etc.—along the way. And there's nothing wrong with that. There's comfort in the familiar, and Feingold and his co-writers Maria Hinojos and Giovanni M. Porta understand that. We know they understand that, because they've thrown in sassy best friends for Sophie (played with relish by Catherine Cohen and Casey Thomas Brown) and a scene-stealing Whitney Cummings as a sharp Hollywood agent, along with a sexy tango number, a few food scenes and many other classic rom-com trappings. If nothing else, At Midnight roots its story in a play-the-hits mentality that makes the film watchable even when it starts to flag.
It's hard to tell whether it happens because the film got overambitious, the writing gets scattered or the studio started making calls to tweak this element or that, but at a certain point, At Midnight starts to feel less like one movie and more like a few movies spliced together. Feingold uses his opening credits, a sweeping score and certain key transitional devices to evoke an old Hollywood feel, painting in stylistic choices that may have worked just as well for Barbara Stanwyck and Henry Fonda back in the day. But as welcome as these choices are, At Midnight quickly and readily drops them when it needs to make a self-aware joke that winks at the audience, or move the camera in the way that suggests something more contemporary. There's nothing wrong with classic or contemporary, but they don't mesh here, and it leaves the film feeling caught in a time warp, unable to pick a stylistic lane. The same is true of the script, which flip-flops between earnest and ironic in jarring ways, leaving the actors to try and sell both sides of a tonal dance that doesn't always come across with grace.
Thankfully, Barbaro and Boneta remain bright spots, even when their film can't decide what it wants to be. They're both beaming, bright and effervescent, and they can both sell jokes and romance with equal deftness. There's star power here, even when the movie falls into shadowy middle ground.
That middle ground is enough to relegate At Midnight to the realm of watchable-but-not-memorable romantic comedies, but that's not to say there's nothing worth remembering here. Thanks to its two young stars, At Midnight shines just bright enough to keep us watching, and sometimes that's all we really want.
Director: Jonah Feingold
Writer: Jonah Feingold, Maria Hinojos, Giovanni M. Porta
Starring: Monica Barbaro, Diego Boneta
Release Date: February 10, 2023 (Paramount+)
---
Matthew Jackson is a pop culture writer and nerd-for-hire who's been writing about entertainment for more than a decade. His writing about movies, TV, comics, and more regularly appears at SYFY WIRE, Looper, Mental Floss, Decider, BookPage, and other outlets. He lives in Austin, Texas, and when he's not writing he's usually counting the days until Christmas.