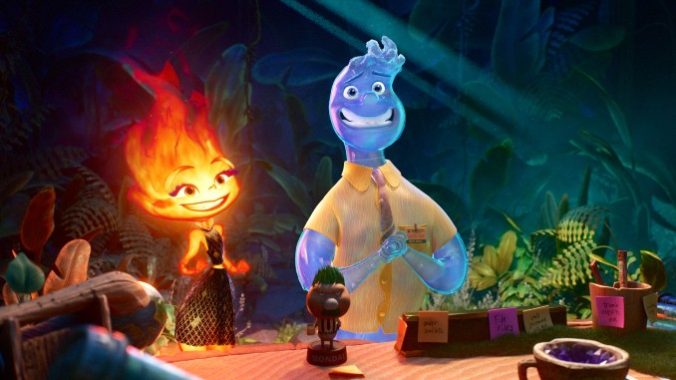 Back in 2009, Peter Sohn directed the Pixar short Partly Cloudy, which played in front of the emotionally rich Up, the story of a man, a boy, a dog and a balloon house that, for many, is considered among the best the studio ever produced. Sohn's story—of anthropomorphized clouds that generate babies of various kinds to be delivered by storks—is exactly the kind of whimsical yet effective tale that long characterized the company, with the short films being incubators not only for ideas that worked as dialogue-free stories, but also for advances in animation technology.
Cut to over a decade later and Sohn again has his head in the clouds, this time with Elemental, another bold, impressive feat of technical animation prowess with an emotionally rich storyline that runs throughout. At its heart, Elemental is a cross-cultural love story, a tale of immigrant tenacity and struggle, and a movie about the challenges of cultural siloing and the responsibilities to respect the sacrifices of those that came before us.
All this is heady stuff in what is ostensibly characterized as children's entertainment, but Pixar films have rarely shied away from more adult, or at least adolescent, concerns. Elemental owes much to the likes of Amélie with its wide-eyed sense of romance, but also more than a bit of Guess Who's Coming to Dinner? and a dash of In The Heights—or even more tragic tales like the Shakespeare-redux West Side Story, where differing individuals react strongly to those outside their circle interacting, and star-crossed lovers must overcome the prejudices of those around them.
Ember Lumen (Leah Lewis) is a hot-tempered resident of Fire Town. She works at her father's store, where Bernie (Ronnie del Carmen) has spent years waiting for the day to pass it onto the new generation and keep the flame alive. He and his wife Cinder (Shila Ommi) immigrated, and her reticence to accept other elements has made her protective of her community and her daughter's outlook.
When a water element bureaucrat named Wade Ripple (Mamoudou Athie) unexpectedly enters Ember's life, things truly start to boil as the two of them are forced to cooperate to solve an existential issue for Fire Town. Along the way they are drawn closer despite their obvious differences and encounter other, more earthy and airy characters, with each contributing their own aspect to the greater community.
Spelled out this way, this appears to be an overly simplified message movie about cross-cultural meeting points and various forms of prejudice and small-mindedness, yet to Elemental's credit, it doesn't play as a didactic message of togetherness. There are real, motivated reasons for the responses, particularly those of the older generation, and if anything, the empathy of the film works throughout all the elements, which come to understand everything from a boisterous response during a game to the very real concerns both for heath and heart to keep the spirit of a unique community from being flooded out.
Elemental requires dramatic events to escalate, of course, and the more one calculates what transpires and the ease with which these real consequences are overcome does make the plot feel a bit more pat than it should. The third act is brisk but doesn't quite have the bite it might have had in another context, but it still does well to move the narrative along and at least give a sense of real travails being overcome.
The middle act, where the two elements are connecting, is extremely effective, and there's a genuine feeling of affection drawn from these characters. The voices do much to provide real chemistry, but there's some absolutely sublime animation at play as well, using the dynamics of flame and water in ways that—for anyone familiar with the challenges of bringing this stuff to life using the tools of polygonal manipulation—feels like magic given the technology of only a few years ago. We take for granted that anything one can imagine can now be seen on screen, yet there are some artistically bold ways of making the water and especially the wispy, organic flame shapes of Ember and her family come to life.
Elemental may not rise to the heights that Up soared to, but the ingredients of Elemental combine in ways that are both satisfying and even moving. It's a tonally challenging film to get right, and easily could have devolved into something either too straightforward or overly strident in its messaging. Instead, we're granted a movie that rises and lowers in intensity, flowing along with a confident trajectory that speaks to larger issues without ever drowning in overt messaging. 
In addition, Elemental may not have the built-in draw of pre-existing characters, yet its world-building reminds of another underappreciated gem under the Disney umbrella, Zootopia, itself a beautifully animated story integrating not dissimilar narrative elements. Yet Elemental manages to build its own path, employing a predictable yet satisfying story structure and subtle yet spectacular character animation to bring this latest tale to life. The results, like the romance itself, may be mixed, but there's much to celebrate about Elemental. 
Director: Peter Sohn
Writer: John Hoberg, Kat Likkel, Brenda Hsueh
Starring: Leah Lewis, Mamoudou Athie, Ronnie del Carmen, Shila Ommi, Wendi McLendon-Covey, Catherine O'Hara, Mason Wertheimer, Joe Pera, Matt Yang King
Release Date: May 27, 2023 (Cannes)
---
Jason Gorber is a Toronto based film Critic and Journalist, Editor-in-Chief at That Shelf, the movie critic for CBC's Metro Morning, and others. He is a member of the Toronto Film Critics Association and voter for the Critics Choice Awards Association. He also knows for a fact that CASINO is Scorsese's masterpiece, and has a cat named Zissou.