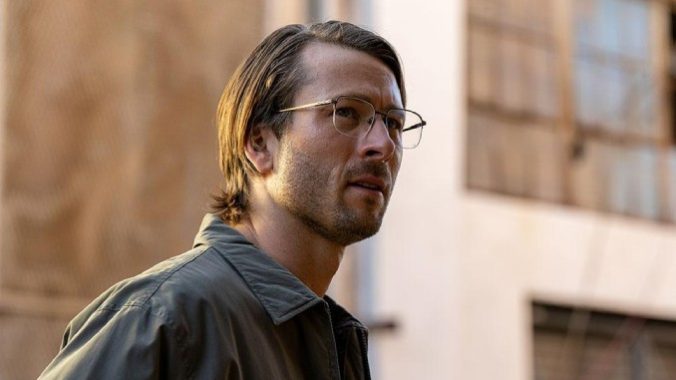 Glen Powell possesses an irrepressible old Hollywood charm. It's not just that he is classically handsome—which, obviously, he is—but that he knows how to signal his attentiveness to a scene partner. His micro-expressions, writ large on the open planes of his face, signal a heady degree of focus, the kind of intensity which used to be wielded by the great leading men of classic Hollywood, but has been frustratingly resigned to fewer and fewer actors in recent years. Powell has sharpened this charm in smaller projects across the years, eventually rocketing to success in 2018 with the (only good) Netflix romantic comedy, Set It Up. Since then, he has steadily climbed the Hollywood ranks. Armed with the kind of star wattage capable of outshining his co-stars, he has cemented himself as a leading man. With the raucous comedy Hit Man (which he co-wrote with director Richard Linklater), Powell crafts a character that can ground its delightful and relentless series of plot twists.
While Linklater and Powell's last collaboration worked under the guise of an ensemble in Everybody Wants Some!!, Powell is the definitive protagonist of Hit Man. Gary (Powell) is a bumbling, lovable philosophy professor who works part-time with the undercover division of the New Orleans police department. He loves his cats, has a good relationship with his ex-wife and drives a sturdy, practical Honda Civic. When fellow detective Jasper (Austin Amelio), undercover as a hitman, is pulled from a case for misbehavior, Gary steps in, relishing the chance to immerse himself in another life, free from moral reasoning and the trappings of normality. Once he encounters the sweet and desperate Madison (Adria Arjona), who wants to rid herself of an abusive, domineering husband, his life spins into chaos. 
In his director's statement, Linklater described Hit Man dropping into multiple genres ("comedy, noir, thriller, psychological study"). While the film weaves together colorful, tonally specific threads with relative ease, it is dominated by its romantic and comic impulses, following Madison and Gary's relationship with unwavering focus. This requires unbidden chemistry between the two leads, a multi-hyphenate source of energy that both insulates them and propels the story forward. Powell and Arjona are up to the task, gravitating towards each other and leaning into every suggestive conversation with startling ease. It helps that they are both superstar-beautiful, the kind that doesn't believably translate into everyday life—the kind that draws people to cinemas in the first place. 
Gary's lessons in philosophy slowly coalesce with his personal experiences in Carrie Bradshaw-esque fashion. It is here that Hit Man feels somewhat shallow and underdeveloped, trying to shoehorn grander life lessons into a relatively simple relational set-up. While the ambition of such a storytelling move isn't totally unwelcome, it does take the audience on an unnecessarily bumpy ride, forcing them to ascribe deeper meaning to a purely physical, chemistry-riddled expression of cinema. As Gary explains in a voiceover, his job requires him not "to debunk the fantasy but become the fantasy." With these pseudo-philosophical musings, it feels like Linklater is trying to have it both ways, neatly playing out such conventional story tropes while also commenting on where they come from and how they transpire, from lofty heights. 
Arjona and Powell leave as the victors of this light excursion, following in the footsteps of Henry Fonda and Barbara Stanwyck, with shades of Cary Grant coloring Powell's playful physicality. He is spry and breezy, thriving in the informality of the silly premise he and Linklater rip from real life (Hit Man is based on a Texas Monthly article by the same man who covered Bernie's real-life inspiration). With such charming old-school performances, Hit Man peels back the layers of genre to reveal something alive–lovely in its full-bodied animation.
Director: Richard Linklater
Writer: Richard Linklater, Glen Powell
Starring: Glen Powell, Adria Arjona, Austin Amelio, Retta
Release Date: September 4, 2023 (Venice Film Festival)
---
London-based film writer Anna McKibbin loves digging into classic film stars and movie musicals. Find her on Twitter to see what she is currently obsessed with.