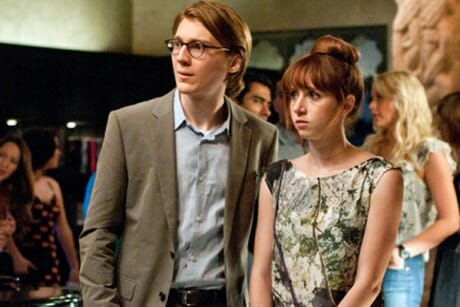 Given her lineage, it's no surprise that Zoe Kazan's debut as a screenwriter results in a charming, heartfelt romantic comedy that is nothing less than sheer pleasure to watch from start to finish. Inspired by the Pygmalion myth, it also doesn't hurt that Kazan's script is directed by Jonathan Dayton and Valerie Faris, the duo that brought us the unexpectedly extraordinary Little Miss Sunshine six years ago. Although not in the league of the indie masterpiece that was Sunshine, Ruby Sparks delivers an unpredictable, feel-good experience that manages to remain surprisingly sincere despite a plot that sometimes reads like a would-be Jim Carrey vehicle.
Calvin (Paul Dano), a former boy wonder who managed to top The New York Times bestseller list at 18 years young, is in the midst of his tenth year of writer's block. Now 28 and unable to produce a follow-up novel, Calvin stares at his typewriter day in and day out, desperate for inspiration. Unfortunately, rather than being struck by ideas and inspired into action, Calvin is instead frequently pestered by his excessively urinating dog, Scottie.
It isn't until his therapist (played by the always on point Elliott Gould) assigns him a writing assignment that Calvin is lifted from his funk. With her vibrant hair and piercing blue eyes, Ruby Sparks (Zoe Kazan) greets Calvin in a dream. Her ethereal beauty shocks him awake, immediately propelling him into a writing frenzy. As Calvin goes at on his typewriter, he also begins to fall in love with his fictionalized leading lady and ideal mate, someone his brother Harry (Chris Messina) describes as "a girl, not a person."
Then Ruby magically emerges from his kitchen one morning after an idyllic dream. Nervous and shaky (something Dano plays to perfection), Calvin begs his brother to believe that his typewriter has essentially birthed his dream girl, but, why would he? They put this claim to the test and voila! 'Tis true! Ruby is the product of Calvin's words. He has creative control over his girlfriend; anything about her can be changed with a mere pounding of the keys. Here's where audiences may roll their eyes and assume they know exactly how the remaining scenes will play out, but here is also where they'll be wrong.
After swearing off further writing and tweaking of his girlfriend (and masterpiece), Calvin and Ruby embark on a true human relationship, with all its ups and downs, highs and lows. It isn't until things start to get sour that Calvin toys with the idea of a brief revision of sorts. Predictably, this bit of god play leads him into a land of trouble.
Dano and Kazan's on-screen chemistry is electric, something that can be attributed to the fact that they have been in a committed relationship for years. A film that may otherwise be obscured by the inundation of fall- and winter-release independent films, Ruby Sparks has the potential and guts to sit nicely in the summer box office among the caped crusaders and costumed villains. Call it the summer's superhero movie for the indie set, satisfying the artistic and literary alike with smarts and fantasy wrapped up into a neat, quirky little bow.
Directors: Jonathan Dayton & Valerie Faris
Writer: Zoe Kazan
Starring: Paul Dano, Zoe Kazan, Chris Messina, Annette Bening, Antonio Banderas, Elliott Gould
Release Date: July 25, 2012