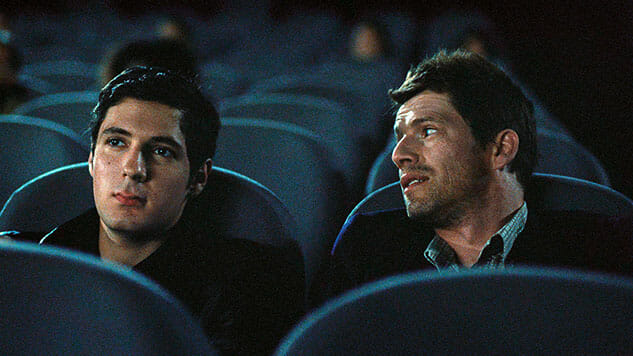 The world stops and starts and stops again when you're in love. After younger-than-he-actually-feels-at-39 writer Jacques (Pierre Deladonchamps) makes up his mind to invite the somewhat-younger-than-he-acts-at-22 Arthur (Vincent Lacoste) to the hotel room that he hates, we see the two sprawled on the bed, the morning light sneaking in, painting the room in hues of light blue. Jacques is spread across the bed diagonally and Arthur lays on the former's stomach, nearly creating a cross section. The two met the previous evening during a screening of Jane Campion's The Piano, a film about sex and communication and sex as communication, and then spent the night wandering around the streets talking about who they are and who they might be and who they once wished they could be. In the morning, though, they part, and while Jacques says he might call Arthur, Arthur has his doubts.
Sorry Angel takes place in France in 1993, and Jacques' success is apparently a thing of the past. Now content to think about freelancing, only to probably take a secretarial job, Jacques keeps the ones he loves or those that love him at a distance, including his son Loulou (Tristan Farge). He cages AIDS—his own diagnosis and that of a former lover, Marco (Thomas Gonzalez)—at the perimeter of his life, as if to pretend it does not exist. Arthur is further west in Brittany, and he strikes a funny balance between mature and impetuous, his desires for his then-girlfriend Nadine (Adèle Wismes) increasingly coming into conflict with his escapades with men. The two live (separately), revel even, in indecision, but Arthur recognizes a spark when he feels it, and he feels it with Jacques.
Jacques is basically alone; though he lives with his friend Mathieu (Denis Podalydès), the men in his life (a boy at the beginning of the film named Jean-Marie, Marco, anonymous lovers) don't stay for long, and maybe he's fine with that. Beneath a rather laissez-faire approach to intimacy is resentment and sadness. He tells Arthur at night that is he "is a boy whose parents don't love him, and siblings either"; "a boy who rushes from lover to lover"; "a man who feels like a boy." The thrill, and heartbreak, of Sorry, Angel lies in gambling, betting on whether, as per the original French title (Plaire, aimer et courir vite), Jacques will stay put with Arthur (or somebody), learning to love, to settle in pleasure, or if he will "run fast." He thinks Arthur's initial proposition to take a car out to Mont St. Michel is mawkish, but the smirk on his face implies he's not as opposed to it as he acts. There's curiousness there, like he's possibly willing to let himself fall for this rash, college-aged boy.
Director Christophe Honoré, who has excelled at considering bittersweet questions of love and death in work like Love Songs, might as well have turned Sorry Angel into a musical, fueled with '90s jams ("Pump Up the Volume" makes an amusing needle drop). Honoré directs as if placing his lead character at the precipice of mounting a French production of Stephen Sondheim's Company, whose lead Bobby could be described as a "complicator," one who complicates relationships. That 1970 musical also had a successful 35-year-old with fleeting loves and a fear of commitment at its center, and the propulsion of Honoré's film, its sprawling sense of emotional scale, almost begs for Jacques to end the film singing "Being Alive."
Deladonchamps' faux-modesty regarding his age makes you want to reassure him that he is far more attractive and charming than he gives himself credit for being, which also makes him unbearably attractive. His charisma could easily be weaponized, with his, as the mother of his son says, compartmentalization of his life brandished like a shield. Which is also why his alternately hot and cold treatment of Arthur is so devastating. Arthur's father died when he was 15, and the man, sweet and kind of naïve in spite of his snobbish affect, clasps onto transient intimacy when he sees it. The notion of fucking in a bathroom seems exciting and adventurous to Arthur when it might seem unappealing to other queers. He knows, as clandestine lovers often do, that Jacques needs love and intimacy more than Jacques thinks he does. Honoré eschews reducing Jacques' contradictory actions to simple self-loathing, but one does sense that AIDS, for Jacques, is the perfect excuse not to get too close to Arthur, even after it's too late, and too late to "die young," he jokes to Marco in the middle of the film. He and Arthur are, for much of the film, far away from one another, yet so close. Their serodiscordance is never explicitly mentioned.
Honoré's most impressive gambit is negotiating the emotional scale of the film. In truth, Jacques and Arthur aren't actually together, or in the same physical space with one another, for most of it. Their lives go in separate directions, Arthur preoccupied with friends and a job at a day camp for kids, as Jacques takes care of his ill friend and his son and not his health. But the two remain connected, their electricity transcending that distance, making the push and pull between them all the more feverish. Several visits don't come to fruition; calls are purposely missed and postcards are delivered without a reply. The film remains grounded in watching Jacques and Arthur figure out how to be with one another, within geographical proximity and otherwise. Perhaps one of Sorry Angel's central conflicts is how willing each man is or isn't to put their life on pause for the other—sans maudlin clichés.
Space is obviously important to Honoré, and he makes the most of it. In one scene, Arthur goes out for a late night gallivant, to find himself cruising and being cruised. The sureness of his fluency in this language of queer desire plays out like a mutually understood dance, slick and reflexive, memorized even. By contrast, the bracing clumsiness Arthur displays when he's with Jacques—he tumbles into Jacques like a ragdoll—lines the film with such fragile beauty, making its conclusion all the more emotionally cataclysmic.
What hangs in the air when the film is over is the kind of beautiful cruelty, the alluring and attuned sadism, that is reminiscent of Happy Together and The Bitter Tears of Petra von Kant. It's hard loving someone. Loulou quotes Rimbaud in the film, reciting to Arthur on a hospital visit to see Jacques, "The sleep of love still lingers…" It's hard to shake this film, hours after one leaves the theater; it's like trying to wake up from a vividly detailed, heartbreaking dream. Honoré's understanding of space tinges Sorry Angel with loneliness, Jacques or Arthur frequently the only person in the frame. Each moment of togetherness quakes with feeling, but when they're alone again, Honoré makes it so the world seems ready to break forever apart.
Director: Christophe Honoré
Writer: Christophe Honoré
Starring: Pierre Deladonchamps, Vincent Lacoste, Thomas Gonzalez, Denis Podalydès, Tristan Farge, Adèle Wismes
Release Date: Screened at the 2018 New York Film Festival