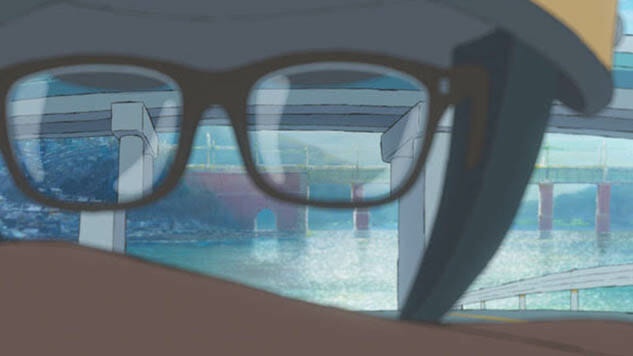 Short film anthologies are some of the most impressive showcases of boundary-pushing visual storytelling in animation, let alone Japanese animation. A cursory glance of anime anthologies produced within just the last 30 years is enough: From Masao Maruyama and Rintaro's 1987 film Labyrinth Tales (known in the West as Neo Tokyo), to Katsuhiro Otomo's 1995 film Memories, to even the 2003 American-Japanese co-production Animatrix, anthologies stand the test of time not only as landmarks of anime history, but as a vital venue through which to facilitate the introduction of new and exciting talent into the animation industry. With a few exceptions, the format has been somewhat neglected as of late, one of the many casualties in the anime industry's increasing push to produce tailored content specifically for digital distribution services such as Netflix and Crunchyroll.
With this mind, director Hiromasa Yonebayashi, along with former Ghibli animators Yoshiyuki Momose (The Tale of The Princess Kaguya) and Akihiko Yamashita (Howl's Moving Castle), have pooled their significant creativity to create a new installment in the storied lineage of prestige anime anthologies: Modest Heroes, the first volume in Studio Ponoc's series of animated short films.
If you're at all familiar with the goings-on of contemporary Japanese animation, you might recall Studio Ponoc as the name of the animation house responsible for producing the 2017 film Mary and the Witch's Flower, released in the West just this past year. Named for the Croatian word for "midnight," a euphemism for both the so-called "magical witching hour" and "the dawn of a new day," Studio Ponoc formed out of the closure of Studio Ghibli's production department following the release of When Marnie Was There in 2014. After the release of Mary and the Witch's Flower, the studio's first feature-length animated film, Studio Ponoc's staff were exhausted from the effort and the studio was forced to rethink its approach with the well-being of its animators in mind. Thus, the first installment in the Ponoc Short Films Theatre was born.
"Kanini & Kanino," directed by Hiromasa Yonebayashi, is the first and most explicitly "Ghibli-esque" of the anthology's three shorts. Following the story of a pair of anthropomorphic crab children living at the bottom of a riverbed, the short could be interpreted as something of a reprise of Yonebayashi's directorial debut, the 2010 film The Secret World of Arrietty, although this time conceived and written entirely by himself. Separated from their father in the wake of tumultuous storm, the twins must set out into the wilds beyond their home in the hopes of rescuing their loved one. As a coming-of-age fantasy adventure, "Kanini & Kanino"'s animation and set-pieces are visually impressive, if nothing else. Not surprising, given that much of the film's staff, the largest number devoted amongst the three shorts, had just worked with Yonebayashi on Mary and The Witch's Flower. Its underwater environments, filled with teeming microbial life forms and majestic CG-animated wonders, are dazzling, in addition to the above ground scenes, packed with stampeding animals amid vibrant flora and fauna.
Where the short falls, well, short, unfortunately, is in its narrative. Confining the character's dialogue to a terse, almost monosyllabic language is an interesting choice, placing emphasis on Kanini and Kanino's physical animation, which are, again, impressive. But this choice doesn't help the film's deus ex machina conclusion, wherein an ostensibly important character inexplicably returns after being whisked away earlier in the short through equally inexplicable means. It has the feel of a unflatteringly truncated pilot short created to gauge interest for a much larger film. Beautiful though it is, "Kanini & Kanino" succumbs to many of the same pitfalls as that of the studio's previous film, albeit in this case concentrated within a much tighter, shorter timespan.
The anthology's second short, directed by Yoshiyuki Momose, is the volume's most poignant installment and, arguably, the true namesake of Modest Heroes. "Life Ain't Gonna Lose" tells of a young mother and her son Shun, a happy and otherwise unassuming little boy born with a debilitating food allergy to eggs. As his mother pushes against a recalcitrant school system and society to provide a normal life for her son, Shun is forced to navigate the socially isolating effects of his condition. Boasting a staff of key animators, such as Hiroyuki Okiura and Bahi JD (both credited for their outstanding work on 2017's Blade Runner 2022), the short is flush with breathtaking animation and charming depictions of the most modest yet intricately rendered behaviors of everyday life. Whether Shun's hanging from a monkey bar in the school playground or his mother's rehearsing for a dance recital, "Life Ain't Gonna Lose" is packed with moments that will delight as certainly as they will surprise. Of particular note is the short's art style, a chalky pastel color palette courtesy of Art Director Kaori Hino and an accompanying team of talented background artists, each of whom are credited for having previously worked on Sunao Katabuchi's 2016 In This Corner of the World, this short's closest aesthetic contemporary aside from perhaps that of the late Isao Takahata's 1999 classic, My Neighbors the Yamadas.
"Life Ain't Gonna Lose" sets a high bar for the film going forward, but the anthology's final short, "Invisible," manages to meet and yet even surpass those expectations. Directed by Akihiko Yamashita, known not only for his prior work on Howl's Moving Castle, but also as a character designer on Yasuhiro Imagawa's Giant Robo: The Day the Earth Stood Still (one of Paste's top 50 anime series of all time), "Invisible" follows the story of a man who struggles with a condition that seemingly renders him completely unnoticeable to every person he comes across. The film resonants as a magical realist allegory of the struggles of living with depression, more akin to Ralph Ellison's 1952 novel Invisible Man than that of H.G. Wells' sci-fi horror story or its 1933 adaptation.
The Invisible Man's worldview is a drab and beleaguered one, perpetually overcast by clouds brimming with the threat of an oncoming storm, torrential rain beating against the perforated surface of asphalt roads that snake across the town's winding hills. One could be forgiven for assuming, given the almost uncanny wraith-like nature of the Invisible Man's gestures and the short's exhilarating climactic sequence, that master animator Shinya Ohira or Kazuto Nakazawa (Kid's Story) might have had a hand in "Invisible"'s production. Surprisingly, this is not the case, though the film's key animation staff is certainly packed with talent through the likes of Shinji Hashimoto (Paprika), Takeshi Inamura (Neon Genesis Evangelion), Naoya Wada (Devilman Crybaby) and even Hiromasa Yonebayashi himself. All of these elements add up to the sum of a short that's sure to stand out as not only one of the year's most impressive productions, but perhaps even a cult classic in its own right.
That's to say nothing of Modest Heroes's bookend animations and intertitles, depicting a whimsical theme park-slash-airship projector beaming each of the anthology's three installments onto a nearby screen encircled by a canvas of clouds, complete with windmills, hot air balloons and nighttime fireworks. That director Takuya Okada and his staff of background artists manage to do so much with so relatively little time is only further testament to the level of craftsmanship and attention Studio Ponoc's staff brought to Modest Heroes.
The film ends with a dedication to Isao Takahata, one of Ghibli's co-founders and producer Yoshiaki Nishimura's one-time collaborator and friend, who passed away this past April. In a statement distributed via the film's press release, Nishimura ruminates on Japan's collective uncertainty as to what the future holds for the country following the 2020 Olympics. "We looked into what we can show the world, and in particular children, living in this era," Nishimura writes. "We believe that by drawing someone who shows us courage, we may eventually lead the development of courage and hope in Others." Modest Heroes is a satisfying sophomore effort from Studio Ponoc, a collection of shorts that, together, resonate with the sentiment of that most joyous and courageous of adages made famous by the likes of Rod Serling: "…there's nothing mightier than the meek."
Directors: Hiromasa Yonebayashi, Yoshiyuki Momose, Akihiko Yamashita, Takuya Okada
Starring: Fumino Kimura, Rio Suzuki, Machiko Ono, Maggie Q, S?ta Shinohara, Kentaro Sakaguchi, Joe Odagiri, Min Tanaka
Release Date: January 10, 2019