Queer Icon The Babadook Gets Pride-Themed Blu-Ray Makeover
Image via IFC Films/YouTube
Movies
News
The Babadook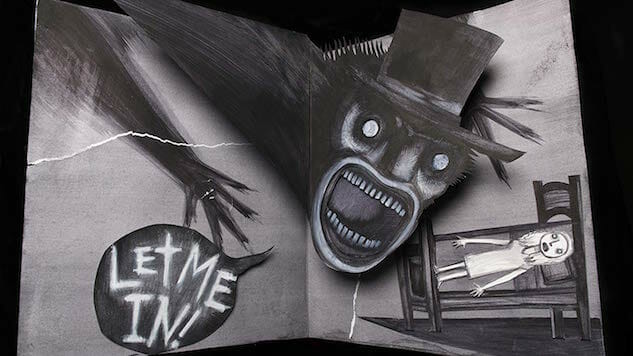 Tall, dark and talon-fingered horror haunt The Babadook is cementing its status as the queer icon we didn't know we needed this Pride Month with a Pride-themed Blu-ray makeover.
Shout! Factory is rolling out a special two-week sale of Pride-themed offerings, but the crown jewel is clearly the limited-edition, rainbow slipcover Babadook packaging. Get them while they're hot, because only 2,500 will be made.

After enthralling critics and horror fanatics alike in its 2014 theatrical run, Jennifer Kent's The Babadook wandered into its new role as an ambassador for gay pride two years ago after Netflix accidentally classified it as an LGBTQ film.
When Tumblr users discovered the mishap and insisted the spooky being was gay, the happy accident birthed an iconic meme and the Babadook's strange ascent to queer stardom.
The B in LGBT, one Tumblr user pointed out, stands for Babadook, after all.
And, of course, the internet rolled with it, pumping out memes funny enough to make anyone Baba-shook and eventually making the top-hatted demon a staple of Pride parade outfits and Halloween costumes. Miles Jai even dress up as the queer legend on 2017's finale of RuPaul's Drag Race.
current favorite meme is the lgbt community insisting that the babadook is a gay icon pic.twitter.com/jetZomtDzd

— jen (@jennafenwick) June 11, 2017
While the film doesn't give us much (read: anything) on the Babadook's sexual orientation, it does feature him literally coming out of closets from time to time, prompting tongue-in-cheek "Baba-discourse" analyzing the film's queer subtext. Many meme-lovers eventually concluded that the shadow-y big bad is really just a gay man wanting to live a peaceful life in Australia.
my new favorite Tumblr meme is insisting that The Babadook is gay pic.twitter.com/Id1PJpkkgX

— Ryan Broderick (@broderick) February 15, 2017
And thankfully for the LGBT community and allies, the Babadook seems to have traded his habit of haunting houses and terrorizing single mothers for warding off homophobes and transphobes at Pride parades.
Breaking News: @HRC to honor The Babadook with the Visibility Award pic.twitter.com/IO0VXYlqEG

— andy 😉 (@AndyRockCandy) June 7, 2017
We believe in equal rights for everyone — and we mean everyone. Happy #Pride2017#Babadookpic.twitter.com/So6jdIyIbf

— Maura Healey (@MassAGO) June 10, 2017
openly gay and with an affinity for hats and drama, the Babadook was the first time I saw myself represented in a film

— JuanPa (@jpbrammer) April 19, 2017
— This is horrible (@melongifts) June 4, 2017
no cops at pride just the babadook warding off homophobes and transphobes

— asamr (@samiamrosenberg) June 3, 2019
In similar news, the dapper demon is also rumored to be dating Pennywise the Clown from 2017's It, prompting flurries of Ttweets and even fan art of the hottest queer couple to hit the horror villain world.
Pennywise and his boyfriend, The Babadook are off on a date to get crepes and terrorize some kids. pic.twitter.com/eakshrfkN7

— koomi @ AUGUST (@koomiarts) September 12, 2017
The Babadook and Pennywise are the LGBTQ couple we need, but don't deserve

— nat (@retrogeckos) September 12, 2017
Pennywise and the babadook are in a queer relationship pass it on

— Snufkinkin (@CalChuchesta2) September 13, 2017
pennywise and the babadook are gay lovers, the sequel to both their films is about their fight to get married in 2009, no one better deny it

— fat spanner spencer (@spennettmctwaty) September 12, 2017
2006: aww, Zac Efron and Vanessa Hudgens are a cute couple

2017: THE BABADOOK AND PENNYWISE THE CLOWN SHOULD FUCK

— trevør (@jonestm97) September 13, 2017
when you realize people have to resort to shipping the babadook and pennywise because we have so little actual lgbtq representation pic.twitter.com/HTQLfQHc7L

— bailey troy (@funksocks) September 13, 2017
And if you need any more incentive to snatch up the limited-edition Blu-ray, Shout! Factory will donate a percentage of all sales during the month of June to the Los Angeles LGBT Center. You can support the organization directly here.