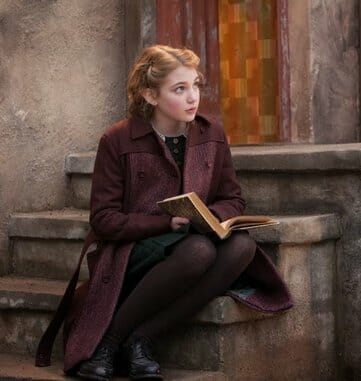 The first thing you'll notice about this big screen adaptation of the beloved 2006 novel by Markus Zusak is that it's hitting theaters from a major studio. Even during the hustle and bustle of awards season, it's a risky move to release a Holocaust-themed drama, especially without any genuine Hollywood star power behind it. In the case of The Book Thief, the legions of fans of the original novel lessen that risk somewhat, but it still may take some well-deserved Oscar nominations in January for the film to be successful in an industry that focuses so much attention on opening weekend grosses.
Zusak's original novel uses a unique storytelling device that was probably heavily debated for this adaptation—the story is narrated by "Death." He's never identified, but it doesn't take long to determine that we're hearing the perspective of the Grim Reaper himself. It perfectly sets the tone for the sadness that is about to come, but balances out the innocence of our lead protagonist.
Canadian actress Sophie Nelisse (Monsieur Lazhar) gives a star-making performance as Liesel Meminger, a young German girl whose mother gives her up for adoption in early 1938. We don't know exactly why this woman is abandoning her children, but it's possible that she's headed to prison for being a Communist. Liesel is brought to the home of Hans and Rosa Hubermann (Geoffrey Rush and Emily Watson, both uniformly superb), who were also expecting Liesel's younger brother, who has died during the lengthy journey.
Rosa is a stern and seemingly unkind woman who does not initially take well to her new daughter, but Hans becomes immediately protective and nurturing towards her. Liesel is shy and inquisitive, but is embarrassed when her new classmates find out that she cannot read. In a new home without any reading material, Hans teaches her with a book that she stole during her brother's funeral: The Grave Digger's Handbook. By the end of the first year in her new home, the political climate has changed drastically within Germany, and the family watches with confusion as the Kristallnacht attacks begin to clear Jewish residents out of the area.
In the Spring of 1939, an injured man shows up at the family's door. He is Max, the Jewish son of a somebody who Hans once fought in the war with and who saved his life. Even though there is great risk to taking in Max, Hans simply argues, "I owe his family everything," and decides that it is the right thing to do even though he could be bringing his own family harm. Max is eventually hidden in the basement where the family works to bring him back to health.
Brian Percival (an Emmy-Award winning director of Downton Abbey) utilizes a remarkable self-control over the material. There is a surprising amount of levity here, including an indoor snowball fight, that helps to lighten the mood. Despite the heavy subject matter, we are still experiencing the story through the eyes of a child. The film avoids strict melodrama, building to an emotionally resonant crescendo (with the help of a remarkable score by the legendary John Williams). The audience is spared a non-stop tearjerker, but Amour is the last time I was in a screening where you could palpably feel that every person in the room was sobbing in unison.
With its muted cinematography and a fairly slow-paced story, The Book Thief isn't the flashiest of potential awards contenders this year, but it's one of the most genuine.
Director: Brian Percival
Writer: Markus Zusak (novel); Michael Petroni (adapted screenplay)
Starring: Sophie Nelisse, Geoffrey Rush, Emily Watson
Release Date: Nov. 8, 2013