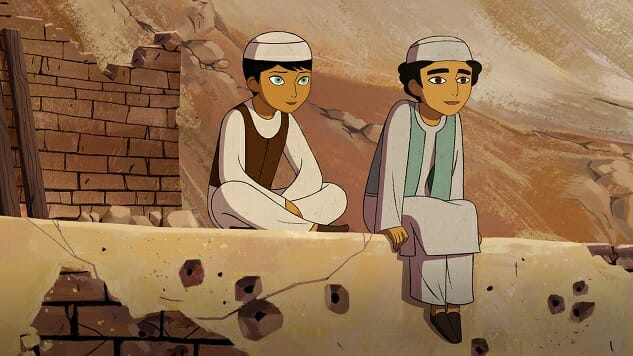 There may be no more appropriate a time for Cartoon Saloon's The Breadwinner to land in theaters than now. We're close to a watershed cultural moment in which we're talking more openly about matters of sexual misconduct, of misogynist entitlement, of patriarchal oppression. As victims of harassment by powerful men in the entertainment industry (and elsewhere) come forward to tell their stories, discourse concerning ingrained and systemic injustice against their gender has, perhaps, led to a slow shift toward believing rather than rejecting the victims' stories. (Granted, "slow" is generous—"glacial" may be more precise.)
That may sound like a lot of pressure to put on a single film, even a film as beautiful and assuredly made as The Breadwinner. But in 2017's assemblage of women-led movies, Nora Twomey's first solo directorial effort occupies a position of esteem: It's the third feature Cartoon Saloon has released to date. Its last two, The Secret of Kells (2009) and Song of the Sea (2014), were Academy Award nominees, and one of its executive producers is Angelina Jolie. (You could pair Jolie's latest film, the Netflix-backed First They Killed My Father, with The Breadwinner as a double feature, despite their obvious differences in scale and geography.) The prestige buttressing Twomey's work feels downright poetic.
The Breadwinner is more than the sum of its backers, of course. Having worked on both The Secret of Kells and Song of the Sea, Twomey has taken a different tack than her Cartoon Saloon cohort, Tomm Moore, departing the mythology-rich shores of Ireland for the mountains of Afghanistan, focusing on the region's own folklore against the backdrop of Taliban rule. The film is based on Deborah Ellis' 2000 novel of the same name, the story of a young girl named Parvana who disguises herself as a boy to provide for her family after her father is seized by the Taliban. Being a woman in public is bad for your health in Kabul. So is educating women. Parvana (Saara Chaudry) understands the dire circumstances her father's arrest forces upon her family, and recognizes the danger of hiding in plain sight to feed them. Need outweighs risk.
So she adopts a pseudonym on advice from her friend, Shauzia (Soma Bhatia), who is in the very same position as Parvana, and goes about the business of learning how to play-act as a dude in a world curated by dudes. As much as The Breadwinner emphasizes women's plight living under the heel of male dominion, the film's portrait of gender inequality is multi-dimensional. The trouble isn't only that women in Parvana's world have limited rights, it's that men have an overabundance of them. Being a man literally opens doors. Shauzia teaches Parvana a valuable early lesson in the proper application of bravado and swagger: Boys are entitled to free passage anywhere they like, as long as they carry themselves with proper self-assurance. Having control over your identity is nice and all, but it's a gift to go as you please without fear of violent reprisal.
Parvana's embrace of familial duty is narrated concurrently with a story she tells to her infant brother, about a young boy who vows to reclaim his village's stolen crop seeds from the Elephant King and his demonic minions in the Hindu Kush mountain range. If there's a link that ties The Breadwinner to Moore's films, besides appreciation for fables, it's artistry: Like The Secret of Kells and Song of the Sea, The Breadwinner is absolutely gorgeous, a cel-shaded stunner that blends animation's most traditional form with interspersed cut out animation. The result mixes the fluid intangibility of the former with the tactile quality of the latter, layering the film's visual scheme with color and texture. Twomey gives The Breadwinner ballast, binding it to the real-world history that serves as its basis, and elevates it to realms of imagination at the same time. It's a collision of truth and fantasy.
It's also endlessly complex. Invoking the "not all men" hashtag feels like a faux pas, except that The Breadwinner, without taking away from its central theme of gender discrimination, nestles subtle and not so subtle points about male victimization and male complicity. Parvana's father isn't a misogynist, for instance, and yet he engages in oblivious misogyny after a frightful encounter with an angry young Taliban officer toward the film's start: "Are you alright?" father says to daughter. "Yes, papa," she replies. He smiles, telling her, "That's my girl." Maybe both of them know that she can't damn well say she isn't, but the exchange dovetails with language used today in expectation that women don't, won't or shouldn't complain when confronted by hostile misogyny. Even good men can propagate sexism.
Contrast this with Parvana's unexpected friendship with Razaq (Kawa Ada), another Taliban soldier, who quietly agrees to help find and rescue her imprisoned father. Razaq's story suggests that stifling gender laws subjugate women while also constricting men. Through Parvana's eyes, we see Razaq's innate goodness, and we see how he, like every man who refuses to help or talk to Parvana before she chops off her hair, lives with his own unspoken fears. The Breadwinner never loses its focus on Parvana's journey. She is the film's heart and soul, and her arc is its reason for being. But Twomey wisely complements Parvana's growth by couching her struggle in a wider cultural scope. As a result, we better appreciate the severity of her situation, just as we appreciate The Breadwinner for the strength of its presentation. Like the film itself, Parvana is more than up to the task of shouldering an outsized burden.
Director: Nora Twomey
Writer: Anita Doron, Deborah Ellis (screenplay & novel)
Starring: Saara Chaudry, Soma Bhatia, Kawa Ada, Ali Badshah, Shaista Latif
Release Date: November 17, 2017
---
Boston-based pop culture critic Andy Crump has been writing about film and television online since 2009, and has been contributing to Paste since 2013. He also writes words for The Playlist, WBUR's The ARTery, Slant Magazine, The Hollywood Reporter, Polygon, Thrillist, and Birth. Movies. Death., and is a member of the Online Film Critics Society and the Boston Online Film Critics Association. You can follow him on Twitter and find his collected writing at his personal blog. He is composed of roughly 65% craft beer.