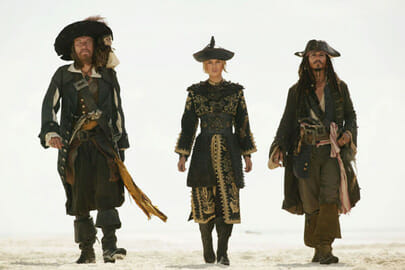 Director: Gore Verbinski
Writers: Ted Elliott, Terry Rossio
Cinematographer: Dariusz Woski
Starring: Johnny Depp, Geoffrey Rush, Keira Knightley, Orlando Bloom, Bill Nighy
Studio/Running Time: Walt Disney Pictures, 168 mins.
"I was drowned, I was washed up and left for dead…
But it's all right, I'm Jumping Jack Flash."
-The Rolling Stones "Jumping Jack Flash"
There comes a critical point in the creation of film sequels when, if said sequel wants to succeed, it must traverse into areas yet unexplored. In other words, go dark. Harry Potter did it in The Goblet of Fire, and more recently, we witnessed Spider-Man 3's journey into the depths of Peter Parker's psyche. Even Shrek the Third dealt with some imaginary horrors of parenthood. Pirates of the Caribbean: At World's End crosses into this dark-side territory, but it is also incredibly different compared to typical sequel fare.
The same core cast from the first two films has returned, but with many additional characters with competing agendas. This is both the film's weakest aspect and its greatest attribute. Weak in that trying to decipher the myriad plotlines can be extremely confusing, but strong in the manner of a Hitchcockian who-done-it where discussion continues long after the closing credits roll.
Johnny Depp proves once again why he is a box-office magnet here, walking the fine line between inanity and insanity in his portrayal of loose-cannon pirate Jack Sparrow. Now living in the world of Davy Jones' locker, Sparrow and his ship are stranded on a desolate piece of land with an entire crew of Jack Sparrows, an occasionally-cheap sight gag pulled off with aplomb. Sparrow is at his battiest, and his encounter with a "rock" is fabulous fun. His sometime-friends Will (Orlando Bloom), Elizabeth (Keira Knightley) and Captain Barbossa (Geoffrey Rush) arrive to rescue Sparrow, each with a separate motive for doing so. Chow Yun-Fat plays Captain Sao Feng, who has a personal vendetta against Sparrow (But who doesn't, really?) and the whole lot of them, along with the British fleet, head to Shipwreck Island for a meeting of the pirate lords. Meanwhile, Keith Richards shows up, guitar in hand, for a memorable cameo as the keeper of the pirate code.
As performances go, the scenes between Rush and Depp are especially praiseworthy. And Knightley has come a long way since her first Pirates appearance as a teenager by giving her best showing of the sequels. But the remarkable, never-ending, senses-assaulting string of battles, explosions, creatures, storms and eye-popping effects give Pirates of the Caribbean: At World's End the edge over every other so-called summer blockbuster this year.