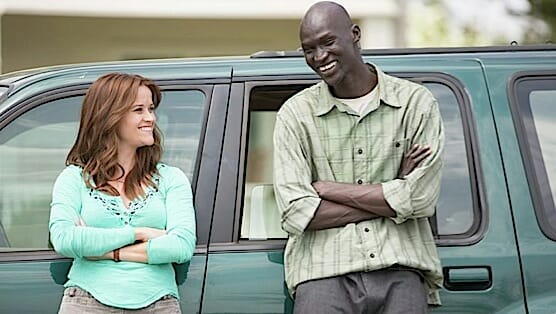 It's Friday, and the local theater's poster cases are refreshed with this weekend's new offerings. Reese Witherspoon's mug takes up almost a 1/3rd of her latest movie's poster. When I read the synopsis of The Good Lie, it centered on the saga of the Sudanese diaspora often referred to as the Lost Boys. Three tiny figures are overshadowed by Witherspoon's face, their backs turned to the viewer. Oh no, not another white savior movie.
Marketing blunders aside, The Good Lie is not about benevolent Americans (although, they're here, too), but rather the harrowing journey of four orphans from their obliterated village to a Sudanese refugee camp just over the Kenyan boarder. The movie begins with a brief overview on the civil war that disrupted the lives of millions and ended others. Thirteen years later, the four now grown siblings of Mamere (Arnold Oceng), Paul (Emmanuel Jal), Jeremiah (Ger Duany) and Abital (Kuoth Wiel) are bound for the United States amid difficult stipulations and new cultural situations. Soon there are three, as Abital is taken to a different city since no family in Kansas City offers to sponsor her. (Women could not vouch for themselves and could only be housed with foster families.) To help assimilate the trio, enter Reese Witherspoon as Carrie, a messy and seemingly disgruntled headhunter given their case to help place them into jobs. Single and feeling sympathetic for a change, she becomes personally invested in their well-being, launching into a new kind of a story.
As it becomes a shared narrative, the tone changes from dour (we don't see much of the characters' pre-civil war life) to hopeful, if still bitter at times. Not all of the young men fit into the workforce so easily, and internal conflict arises when childhood power struggles resurface under pressure. Oceng is a powerful screen presence, embodying his character's inner-strife of being forced to become a caretaker so early in life. He shoulders responsibility for his family both emotional and financial, including potentially confronting his brothers like when prankster Paul (Jal) falls into bad company and skips work. Witherspoon is in and out like an INS-fighting Erin Brockovich-esque babysitter. At first, she's babying the boys' cultural ignorance, but then realizes how badly the government (and the immigration lockdown post-9/11) is affecting their attempt to reunite their family. Her turn to advocacy is mirrored in the film's closing credits with a call to action to find out more about the Lost Boys and where to donate.
Director Philippe Falardeau (Monsieur Lazhar) is known to dabble in sentimentality without turning it into a melodrama. Here, he's careful to make sure the narrative belongs to the featured characters not shown in the poster. It's their story, their struggles. Although the cinematography is a bit on the sloppy side, the music is in tune with the cultural exchange, playing Western songs while in the Africa flashback and spinning African music in the brothers' Kansas City sojourn. Writer Margaret Nagle contextualizes the Sudanese conflict aptly, given the short time to move the kids along into adulthood. Though I think Carrie begins to crop up too much in the second half of the movie (including bailing out one of the brothers from police custody), the story remains predominately within the point of views of Marere and his siblings.
In a rare Hollywood bid for authenticity, three of the main protagonists were Sudanese Lost Boys themselves, and Oceng was the child of Sudanese refugees. They have just as much a personal stake in the story as their characters.
It's a shame—if a predictable one—that we're still at a place where distributors fear a tale as important as that of the Lost Boys can't be "sold" to American audiences without Witherspoon's dominating head on the poster (or Chris O'Dowd standing before the titular girl group The Saphires). Nonetheless, The Good Lie is a good attempt to tell the lost stories of the Lost Boys to those who might have come expecting another iteration of the Blind Side, Sudan edition.
Director: Philippe Falardeau
Written by: Margaret Nagle
Starring: Reese Witherspoon, Arnold Oceng, Ger Duany
Release Date: October 3, 2014
Monica Castillo is a freelance film critic and writer based in Brooklyn. You can usually find her outside of a movie theater excitedly talking about the film she just saw or on Twitter.