Everything We Know about A24's New Movie The Green Knight So Far
The official trailer will be released on Thursday, Feb. 13
Photo by Tim P. Whitby/Getty
Movies
Features
The Green Knight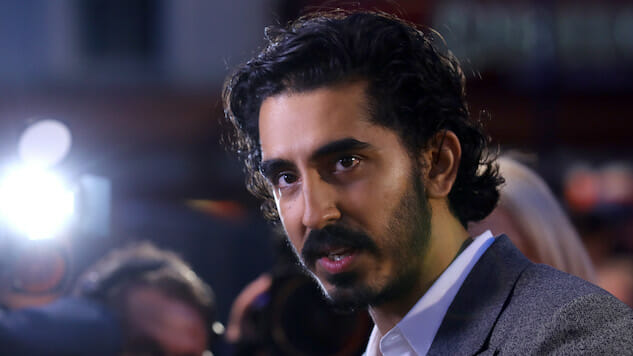 "Everything We Know about … " is Paste's series of deep dives into the forthcoming projects we're most excited about. Explore them all here.
You've heard of King Arthur, now it's time for The Green Knight. A forthcoming fantasy film from A24, The Green Knight follows the medieval tale of Sir Gawain, a knight of King Arthur's Round Table who embarks on a journey to test his loyalty and courage.
The film, to be directed by David Lowery (The Old Man and The Gun, A Ghost Story, Pete's Dragon, Ain't Them Bodies Saints), is on the slate of A24's several soon-to-be released films, which also includes First Cow, Zola, Minari and Saint Maud.
Lowery won't be the first director to tackle the epic story, but he will be the most recent. Stephen Weeks directed Gawain and the Green Knight in 1973, and took up the subject again in 1984 with Sword of the Valiant, which starred Sean Connery as the Green Knight. In 1991, John Michael Phillips directed the TV movie Gawain and the Green Knight.
Here's everything we know about Lowery's new project for A24 so far.
---
Timeline
Deadline first reported on the forthcoming film on Nov. 5, 2018, announcing that Lowery was signed on to the project. The Film Stage reported on Nov. 6 that Terrance Malick was originally in talks to develop The Green Knight. That's particularly apt, because, according to Jordan Raup, with Lowery's "lattermost break-out [Ain't Them Bodies Saints] earning comparisons to Terrence Malick, it's only fitting that for his next project, he's taking on a film that was once developed by" Malick himself. On March 4, 2019, Variety reported that Dev Patel (Hotel Mumbai, Lion, Slumdog Millionaire) would star as the (gallant?) Green Knight, and that production "was set to start" sometime in April 2019. Although it hasn't been confirmed, IMDb shows that the film is currently is post-production.
Plot
A24's synopsis reads:
An epic fantasy adventure based on the timeless Arthurian legend, The Green Knight tells the story of Sir Gawain (Dev Patel), King Arthur's reckless and headstrong nephew, who embarks on a daring quest to confront the eponymous Green Knight, a gigantic emerald-skinned stranger and tester of men. Gawain contends with ghosts, giants, thieves and schemers in what becomes a deeper journey to define his character and prove his worth in the eyes of his family and kingdom by facing the ultimate challenger. From visionary filmmaker David Lowery comes a fresh and bold spin on a classic tale from the knights of the round table.
Aside from that, not much is currently known about the plot of Lowery's film. But in the epic poem, the ever-enigmatic Green Knight challenges one of King Arthur's knights to strike him, so long as the Green Knight can strike in return a year and a day later. Gawain takes up the task and successfully decapitates the Green Knight, who, miraculously, picks up his own head and says that he will return and uphold his promise. The tale follows Gawain in the year that follows as the knight examines his chivalry and sense of duty.
The film seems to be in good hands. Lowery, who directed the meditative A Ghost Story, also from A24, has cultivated a diverse body of work, including the live-action Disney film Pete's Dragon and The Old Man and The Gun, about a "gentleman" robber played by Robert Redford. Through Lowery's lens, viewers of The Green Knight may be in for the unexpected.
Cast
According to IMDb, Patel will star as Gawain, with Alicia Vikander as "Lady / Essel," Sean Harris as "King" (presumably King Arthur) and Ralph Ineson as the Green Knight. Joel Edgerton, Sarita Choudhury and Kate Dickie will also appear in the film, depicting "Lord," "Mother" and "Queen," respectively.
Producers & Distributors
A24 is distributing the film, which makes sense as Lowery and A24 teamed up for A Ghost Story, which is now streaming on Netflix. Lowery, James M. Johnston and Toby Halbrooks from Sailor Bear will be producing alongside Ley Line Entertainment producers Theresa Steele Page and Tim Headington, Variety reports.
Premiere Date
An official date for the film has not yet been announced. The poster lists a very vague "this summer" for the release. IMDb says that the film is expected to premiere on May 29, 2020, although that has not yet been confirmed.
The Latest
A sleek yet sanguine poster was released Feb. 12, showing a knight (presumably Gawain) with his back turned and a quasi-halo emerging from a gold crown. Text in Gothic script, reading, "When honor was everything" and "When courage made kings," flanks Gawain on both sides. On social media, A24 announced that they will be releasing the official trailer for The Green Knight on Feb. 13.
#TheGreenKnightpic.twitter.com/6xIOVW7G94

— A24 (@A24) February 12, 2020
A24 has since retweeted a post that shows the same film poster, with the same eerie tags, "When honor was everything" and "When courage made kings," but written in Comic Sans instead of Gothic script.
— Diego Maclunkey (@DiegoAlexio) February 12, 2020
As promised, the film's first teaser trailer arrived on Feb. 13, with A24 confirming the film's May 29 release date and revealing that Barry Keoghan is also featured in the cast.
---
Watch this space for further updates about The Green Knight.