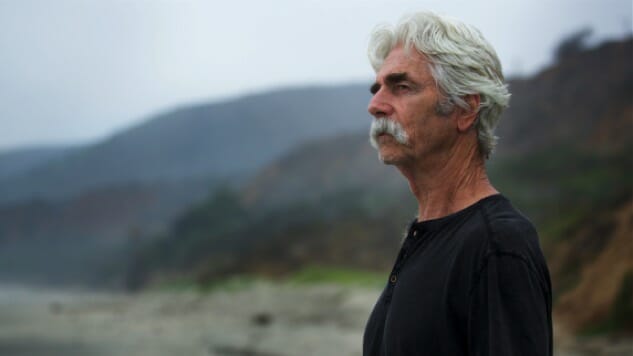 One of the pleasures of Brett Haley's previous film I'll See You in My Dreams was its elevation of Sam Elliott to romantic leading-man status. The relish with which Elliott (a veteran who has mostly been typecast as cowboys and authority figures throughout his career) tackled this rare dreamboat role was sparklingly palpable throughout, and his performance exuded seemingly effortless charisma and gravitas in equal measure. It was enough to make us all wonder why it had taken so long for anyone, in Hollywood or outside of it, to see his potential in movie romances.
In his follow-up, The Hero, Haley gives Elliott a showcase all his own, and he comes through with a performance that is similarly dazzling in its easy authority and emotional breadth. This shouldn't be a surprise, really, especially because of the way Haley has drawn on the actor's own life in conceiving of Lee Hayden, the character Elliott plays here. First introduced in a soundstage repeating the same voiceover line for a beef commercial, one immediately senses that Lee is, to some degree at least, meant to be reflective of Elliott himself, especially once we get to know the character more. Lee is an actor who is still being celebrated for the iconic Western roles in his past—in particular, his performance in the motion picture that gives Haley's film its name—even as he enters his twilight years and finds parts harder to come by. Elliott himself may not be in the same boat professionally—a quick glance at his IMDb page indicates he's definitely still keeping busy—but the connections Haley evokes between Lee and the actor playing him gives Elliott's acting a touching metatextual layer, the feel of an actor reflecting on his own life through this performance.
The Hero is Haley's second film in a row to focus on the physical and emotional struggles of elderly protagonists, and it confirms that he has a knack for doing so with empathy, sensitivity and affection. If anything, he could be accused of having a bit too much affection. I'll See You in My Dreams came close to veering into full-blown romantic-fantasy territory with the introduction of Elliott's character, the cigar-donning single man Bill, into the life of its aging female heroine, Carol (Blythe Danner); he at times seemed too good to be true, an impression only bolstered by the character bearing the same first name as Carol's late husband. And yet, even as Haley flirted with whimsy, he and co-writer Marc Basch kept things grounded in a palpable sense of the inevitable regrets and thoughts of mortality that come with growing older.
Haley tries to pull a similar trick in The Hero, but is a bit less successful this time around. Most questionable is the May-December romance he introduces, as Lee develops a romantic affection for the much younger Charlotte (Laura Prepon), the friend of his neighbor/former co-star/weed dealer Jeremy (Nick Offerman). Though Haley treats this potentially dicey plot development sensitively (with Lee himself commenting at one point about how "weird" the relationship is), his best efforts don't quite banish the sense that the film is essentially a male fantasy, with a self-pitying mess of a central figure at its heart. There is no scene in The Hero as comparable in insight into how people deal with the indignities of old age as that long exchange between Carol and the younger Lloyd (Martin Starr) in I'll See You in My Dreams back at Carol's house after their night at karaoke, in which Carol articulates her impressions and regrets with brutal honesty.
Still, if The Hero works at all, it's because Elliott brings a measure of emotional truth to even the most sentimental of plot developments, and because Haley exudes such warm patience for his lead actor's rhythms and cadences. Perhaps the real hero here is Haley himself, who deserves plaudits for giving veteran actors like Elliott opportunities to address their age and mortality with grace and beauty.
Director: Brett Haley
Writer: Brett Haley, Marc Basch
Starring: Sam Elliott, Laura Prepon, Nick Offerman, Krysten Ritter, Katharine Ross,
Release Date: June 9, 2017
---
Kenji Fujishima is a freelance film critic, contributing to Slant Magazine, Brooklyn Magazine, The Playlist and the Village Voice. He is also Deputy Editor of Movie Mezzanine. When he's not watching movies and writing and editing film criticism, he's trying to absorb as much music, art, and literature as possible. He has not infrequently been called a "culture vulture" for that reason.