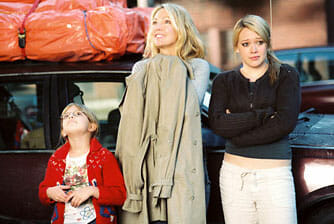 The Perfect Man isn't really about "the perfect man" so much as it's about running away from problems, though ultimately, the solution to ridding oneself of insecurity and fear is gaining the love of said man.
Starring Hillary Duff as Holly, the daughter of relentlessly relocating Jean (Heather Locklear), the movie follows the single-parent family as it moves cross-country to Brooklyn, N.Y., after a philandering beau dumps Jean. This is not the first time the family has packed up and shipped out; this apparently happens every couple months. (You wonder how they ever manage to secure a lease with a history like that, yet they arrive in Brooklyn not to a shoddy weekly rental, but a quaint brownstone.)
Holly starts at a new school, soon attracting the attention of sweet and spunky Amy (Vanessa Lengies) and quiet, mysterious Adam (Ben Feldman), who furtively draws comics starring Holly as a princess. Meanwhile, Jean starts working at a bakery—she's an exceptionally talented cake decorator—and attracts the attention of hard-rocking, Firebird-driving Lenny. Knowing her mother won't be happy until she finds the perfect man, Holly takes a cue from Amy's handsome restaurateur uncle Ben and sends some orchids to her mom with a card from her "secret admirer." The charade soon spins out of control, however, and Holly must go to new lengths to keep it going, including sending a picture of Ben to Jean as proof that the admirer really exists. All the while, Holly is discovering that Ben is actually the perfect man for her mother, as he a) does the New York Times crossword in pen, b) has the perfect kitchen in his apartment, and c) knows that the moon is "more than just a rock." There's only one problem: it appears that Ben is engaged to be married.
Here the story begins to unravel: a potentially disastrous meeting between Ben and Jean—who believes he's the dream man who has been emailing her—is averted, but only after Holly sets off the sprinklers in Ben's high-end restaurant—presumably creating a very costly mess—and clears everyone out of the building. Later, she desperately rushes to disrupt the wedding ceremony where she tells Ben he can't get married, because Jean is the perfect match for him. There she learns that Ben isn't getting married, he is only catering the reception. It's unclear how Holly could've made this mistake, as she is best friends with Ben's niece and laments to her the unfortunate circumstances of his engagement. Amy also seems to be under the impression Ben is getting married, despite being close enough to her uncle to regularly visit his restaurant and bother him at all hours of the day. But no matter, as Holly has bigger problems: coming clean to Jean about the perfect man she fabricated through email and impersonated phone calls, and packing up all her things so the family can move again after Holly gets her feelings hurt when Adam calls her standoffish.
The film relies heavily on email and instant messaging to set Jean up with the perfect suitor, a trick that worked far better in You've Got Mail. Here it seems outdated, though the blog Holly keeps ("Girl On The Move") is an appropriately casual way to narrate the story. Hillary Duff is cute, though flat, and isn't interesting enough to carry the film. Locklear's portrayal is equally empty, and the sassiness of her performances as a pharmaceutical sales rep on Scrubs is missing here. Chris Noth, however, tones down his arrogant Sex and the City persona to play a good guy and is a convincing romantic hero—kind and good-looking, but not over-the-top.
The movie falls prey to stereotyping, and uses a silly caricature to get some laughs. Carson Kressley of Queer Eye For the Straight Guy exaggerates his flamboyant personality to play a fashion-loving bartender at Ben's restaurant, and the result is one-dimensional and casts the only gay person in the movie as empty-headed and flaky. Jean's knucklehead suitor, Lenny (Mike O'Malley), isn't much deeper; it's as if director Mark Rosman gave O'Malley a handful of superficial qualities to focus on (you like '80s hair bands, you treat your car like a child, you take all your romantic cues out of Say Anything) and let it lie.
In the end, the movie takes the easy way out. Instead of giving Jean the opportunity to sort out her problem-avoiding tendencies, it delivers the answer in the form of Prince Charming. The Perfect Man, as it turns out, is predictable, lazy and boring.