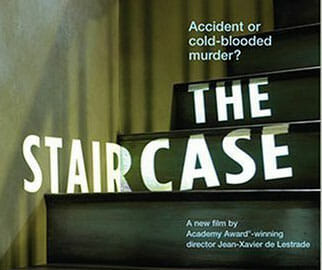 Murder case begs the question, "What is justice?"
In 2001, Kathleen Peterson was found in a puddle of blood at the base of a staircase in her home. Police pronounced the death, originally declared accidental, as a murder, and charged her husband, author Michael Peterson. As Oscar-winning director Jean-Xavier de Lastrade–who was granted remarkable access to the defense team and Peterson family–captures the tense and fascinating preparations and trial, he raises serious concerns about the effectiveness of the American justice system.
The Staircase reveals that when every second of courtroom proceedings is carefully orchestrated following months of focus-group research, witness coaching and logistical reenactments, it indelibly blurs the line between testimony and theatrics. Similarly, the media hype surrounding the trial is rife with conjecture and rumor, forcing average citizens to draw their conclusions from 15th-hand information. Most disturbing is the knowledge that justice, whatever that may be, is completely relative.
Somewhere between strategy and spectacle, the original issue–Kathleen's death–is seemingly forgotten. Michael Peterson even says it himself: "Truth is lost in all of this now. Truth is of no meaning whatsoever. This has become a show."