New Red-Band Trailer for Three Billboards Outside Ebbing, Missouri Arrives in All its Profane Glory
Image via Fox Searchlight Pictures
Movies
Video
Three Billboards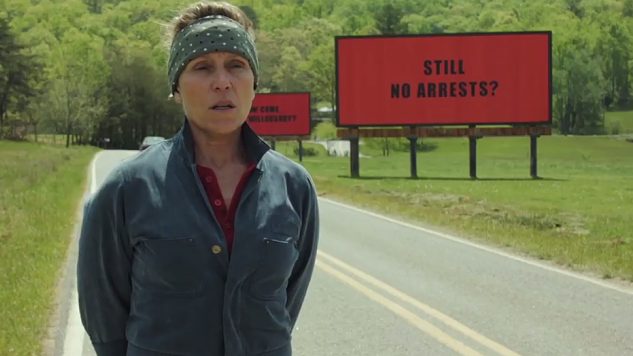 It's been nearly 10 years since its release, but In Bruges remains one of this millennium's most distinctive cinematic discoveries. A potty-mouthed, screwball tragicomedy about two hitmen who loaf around in the surrealistic Bruges awaiting their next assignment and wallowing in guilt, the film introduced Martin McDonagh to the movie world. His follow-up Seven Psychopaths was met with somewhat less enthusiasm but still general praise, cementing his role as one of modern cinema's preeminent humorists. Now, a new red-band trailer for his third movie Three Billboards Outside Ebbing, Missouri has debuted in all its profane glory, reminding us just how much we've missed the guy's films.
In the trailer, the chief distributor of expletives is Frances McDormand, who here plays Mildred Hayes, the mother of a murder victim. Incensed that months have passed without her daughter's killer being found, Mildred uses the billboards of the film's title as a way to publicly condemn the police and spur them to action. As the headstrong Mildred persists in her agenda, the trailer chronicles all sorts of escalating lunacies that range from a Molotov cocktail to the groin-kicking of adolescent pranksters, to a dentist who has his dental drill unexpectedly turned against him.
Through it all, McDormand maintains a grimly serious expression that at most points is played for comedy, but also seems to register the deeply felt pain of a grieving woman. In Bruges was brilliant not only because it layered on the laughs, but also because it articulated its characters' hurt amidst all the craziness. From the Three Billboards trailer, which can be viewed above (plus the film's poster below), it looks like McDonagh's forthcoming film just might take a similarly multi-layered approach to representing the human condition in all its anguish and absurdity.