Thalassophobes, Beware: Kristen Stewart Finds Oceanic Scares in Underwater Trailer
Images via 20th Century Fox, YouTube
Movies
News
Underwater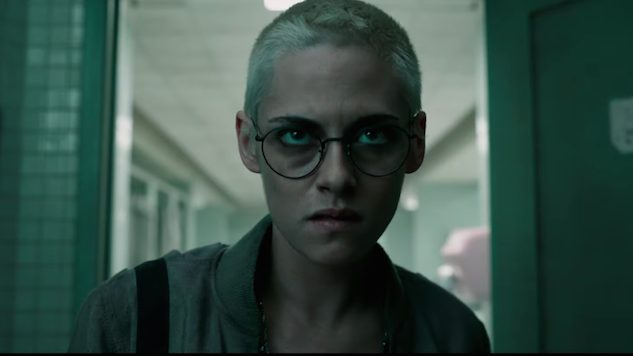 Take a little of James Cameron's 1988 sci-fi classic, The Abyss. Now, add a healthy helping of Ridley Scott's haunted-house-in-space nailbiter, Alien. Sprinkle in some Kristen Stewart, Vincent Cassel and T.J. Miller—before the bomb threats and sexual assault allegations. Whisk, bake into a slick PG-13 thriller, and baby, we've got a stew going.
At least that's what director William Eubank and writers Brian Duffield and Adam Cozad hope with a trailer for their new flick, Underwater. The action-thriller—filmed in early 2017 and finally seeing a Jan. 10, 2020 release—follows a team of scientists in a subterranean base 5,000 miles from land and 7 miles down. It doesn't take long for all hell to break loose after a catastrophic earthquake unleashes… something.
"We drilled to bottom of the ocean," Jessica Henwick's Emily states ominously, "and we don't know what came out."
Spooky!
A closely-shorn Stewart plays jaded badass Norah Price and recently told EW Underwater aims for something deeper (heh) than a straightforward boom-and-gloom popcorn affair:
It's a really dark, scary meditation on isolation. Basically, it's like a survival movie about a bunch of people that don't know each other, and the strange, occasionally existential conversations that ensue, and the weird relationships being formed really quickly. The underlying story of [disrupting] something that really should be left in its natural state, and what you can unearth—that's what keeps it scary.
Everyone start practicing your breath-holding abilities now. Watch the trailer below: