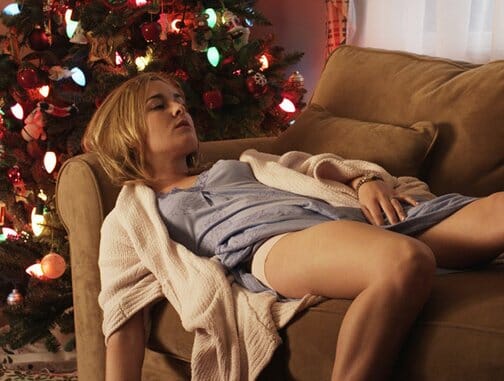 With White Reindeer, director-writer-editor Zach Clark has devised an atypical entry into the Christmas-movie genre, one characterized by both a genuine affection for the spirit of the holiday and a thorny character-study plot that, as is to be expected with Clark, contains its share of edgy material. Following an initially context-free opening image of serene clouds, palm trees, and a vast body of water, Clark assertively dresses his film in Christmas iconography: trees, scarves, stockings, ornaments, candy canes, holiday-themed jewelry, adorable e-cards. The clash between these traditionally uplifting signifiers and the narrative's tough, confrontational detours provides the movie with its central tension. Clark's idiosyncratic tone skillfully resists resting on one side in this tricky balancing act, although it's a testament to his careful modulation that White Reindeer somehow arrives at a catharsis that feels of a piece with the lore of Hollywood melodrama. (Clark has cited Douglas Sirk's All That Heaven Allows, from 1955, as a prime influence here.)
White Reindeer begins in late November: the temperatures are dropping, and Christmas sweaters bedeck the inhabitants of the film's suburban-Virginia setting. Real-estate agent Suzanne Barrington (an exquisite Anna Margaret Hollyman) has just sold a house (in very close proximity to her own, it turns out) to a charming matching-wardrobe couple (played by Joe Swanberg and Lydia Hyslop, one of the stars of Clark's previous Vacation!). Suzanne is married to Jeff (Nathan Williams), the popular local meteorologist; after what seems like a typical night of kitchen lovemaking (complete with Jeff's play-by-play commentary) and dinner conversation, Jeff announces to Suzanne that he's been offered a new job in Hawaii. With the new position set to begin in January, Jeff and Suzanne vow to make the most of their "last Christmas in Virginia."
However, unexpected tragedy dawns on Suzanne when she arrives home one evening to find Jeff dead from a horrific gunshot wound to the head. The subsequent scenes—a funeral plagued by a poor microphone, a gathering at the house, a dream of a beach—play out in a sustained fog, Suzanne's consciousness still reeling from the shock of the incident. She is revived, at least a little bit, when a friend (Mark Boyett) awkwardly confesses to her a transgression in Jeff's past. This sends her on something of a scavenger hunt that, naturally, begins on the computer; while browsing through the Internet history on Jeff's account, she comes across a link to a pornography website. In one memorable comedic image—which encompasses despair, confusion, disorientation and embarrassment—Suzanne watches the pornography while eating a salad.
As with Clark's previous two films, Modern Love Is Automatic and Vacation!, White Reindeer is about being jolted awake from the routines of one's lifestyle by a sudden, unforeseeable shift in one's circumstances. In 2009's Modern Love, aimless twenty-something nurse Lorraine (Melodie Sisk) rejects her heretofore adrift, affectionless lifestyle and starts moonlighting as a dominatrix, slapping and insulting leather-clad men in motel rooms while still maintaining her signature disinterested expression. In 2010's Vacation!, a group of four old college friends take a weeklong trip to North Carolina's Hatteras Island only to be shaken into oblivion when one of the girls turns up dead in a swimming pool. But whereas the dead-friend plot point in Vacation! didn't arrive until well into the picture—resulting in a seismic tonal shift that didn't quite work—Jeff dies only minutes into White Reindeer, shrouding the vast majority of the film in a kind of post-traumatic frame that allows Suzanne ample time to work through her many conflicting emotions.
In Modern Love Is Automatic, much of the Sisk character's arc grew out of her interactions with her new roommate, played by Maggie Ross. (Amusingly, both actresses have cameos in White Reindeer: Sisk as a magical cashmere-sweater model, Ross as a grocery-store cashier.) Likewise, in White Reindeer, Suzanne's experiences are influenced greatly by her unlikely friendship with Fantasia (striking newcomer Laura Lemar-Goldsborough), a 22-year-old stripper and single mother. That one-line character description of Fantasia reads like a laundry list of indie-film clichés, but the rapport developed between the two actresses—culminating briefly in an extraordinary scene of dialogue in which the characters, both cloaked in black sweaters, put all their cards on the table, revealing their personal histories—is anything but rote. That Suzanne also relies on Fantasia for a form of escapism—cocaine-fueled dance-club sessions, aluminum-foil-aided runs of shoplifting at Macy's—further exposes and enriches Suzanne's psychological journey.
Like a number of his contemporaries in the American independent cinema—David Gordon Green, Chad Hartigan, Aaron Katz, Jeff Nichols—Clark is a graduate of the North Carolina School of the Arts. But where films like Hartigan's This Is Martin Bonner, Katz's Cold Weather, and Nichols's Shotgun Stories are aiming to achieve a certain brand of naturalism, Clark's films (especially the earlier ones) are highly mannered, garishly colorful exercises in outré comedy. White Reindeer, however, while retaining traces of that heritage (a Joe Swanberg-hosted sex party, to provide one example), nevertheless projects a different overall ambition; returning cinematographer Daryl Pittman, shooting on the Red Epic, exchanges the bright pinks, purples, blues and yellows of Modern Love and Vacation! for a balmy, cream-colored palette that appears formidably muted by comparison. The result is at once Clark's finest and most emotionally direct film to date—a mature, grown-up, abnormal character study that improves on the director's previous work while still feeding off the same recognizable worldview.
Director: Zach Clark
Writer: Zach Clark
Starring: Anna Margaret Hollyman, Lydia Hyslop, Laura Lemar-Goldsborough, Joe Swanberg
Release Date: Dec. 6, 2013