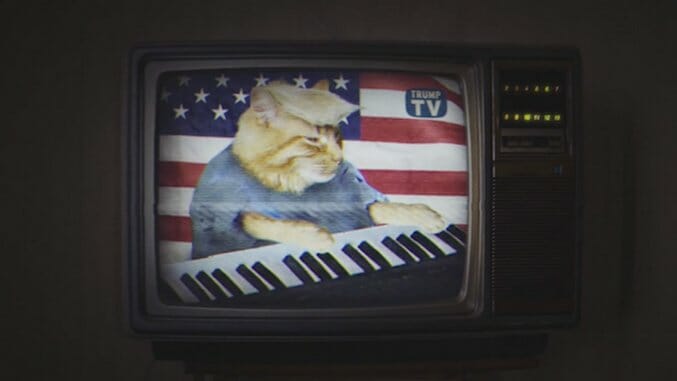 It's a twofer today. The anti-Trump protest song project "30 Days, 30 Songs" has released a pair of songs in its ongoing campaign to keep Donald Trump from becoming president.
The first is a remix of Ledinsky's song "DonaldTrumpMakesMeWannaSmokeCrack" which comes with a music video of Ledinsky knocking down Trump's border wall. And while the song is mostly catchy and lighthearted, Ledinsky's statement with the song is much more foreboding:
It has become a sport to quote Donald Trump and make fun of his inconsistencies and lies. It makes us all feel good: we're comforted by the idiocy of his infantile rhetoric. But we shouldn't forget that, while he is just one man, his followers are legion. The work doesn't stop when he's gone. There will be another one. He is dangerous, no doubt, but imagine an equally petty and megalomaniacal politician who had skill and intelligence. It's a horrifying scenario and history is full of them. Donald Trump is a wake-up call, and if getting rid of him in November comes to represent the end of the frustration and distress we've felt this year, we will have failed.
The second is a new song called "Backwards Blues" from up-and-coming singer/songwriter Adia Victoria. Victoria's song laments the cultural shift backwards that Trump has caused. Her statement is below:
Perhaps the greatest irony is how a campaign fueled by outright lies reveals a deep-seated kernel of truth of what far too many Americans hold up as sacred: massive wealth, the sway of celebrity, branding, power, and greed.
I don't want to say that he's the president we deserve, yet here we are.
You can watch Ledinsky's video above. Victoria's song is embedded below.