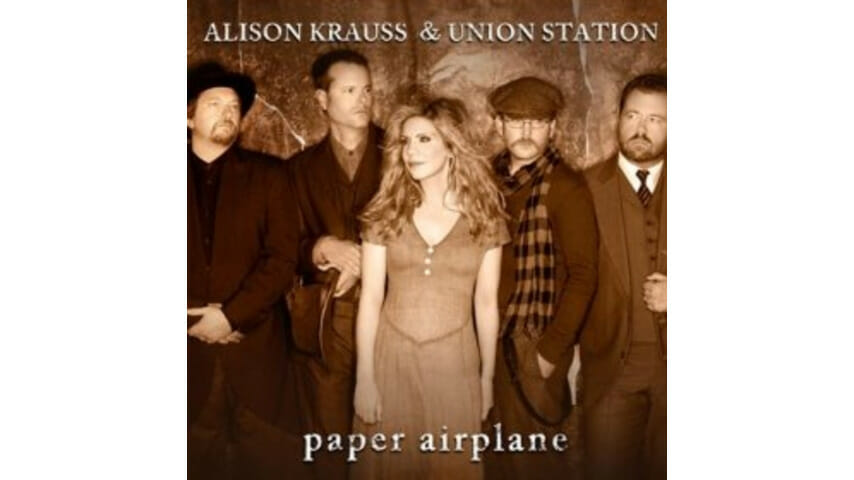 If Alison Krauss felt any pressure when she went in to record Paper Airplanes, her follow-up to 2004's triple Grammy-winning Lonely Runs Both Ways and Raising Sand, her collaboration with Robert Plant — which went on to garner an additional six Grammys – it is impossible to hear it anywhere on the album. Whatever blood, sweat and tears were shed during the creation of this beautifully realized cycle of songs are invisible as each performance comes off as exhilarating, natural and blissfully unforced. In every instance, Paper Airplanes rises to the impossibly high bar set by its predecessors to form what may well be the finest album Krauss has ever released.
The sound Alison Krauss and her longtime bandmates in Union Station create continues to express an intuition and flow that is rarely heard in country music. Dan Timinski's pristine guitar playing and worn-in vocals are as essential and impressive as ever, while bluegrass legend Jerry Douglas' dobro playing is stellar throughout. But, not surprisingly, Krauss' vocals are the centerpiece, and her mezzo soprano has never sounded as pure as it does on this new set of songs. Her range continues to stagger, and nowhere is this more evident than it is on her cover of Richard and Linda Thompson's "Dimming of the Day." While she wisely chooses not to descend into the heart of darkness that washed over the original version, Krauss effortlessly holds each note as she pulls off the long phrases and diabolical range required without ever faltering, effortlessly walking the line between sugary sweetness and tragic desperation to bring the song home.
This song alone is reason enough to buy the album, but it would be a mistake to characterize Paper Airplanes as a one-hit wonder. Some will love the traditional vibe of "Lay My Burden Down" while others will gravitate more to the interpretive skills she brings to bear on a stunning version of Jackson Browne's "My Opening Farewell." Paper Airplanes features a stellar set of songs that should continue to expand upon Alison Krauss' already-great reputation.