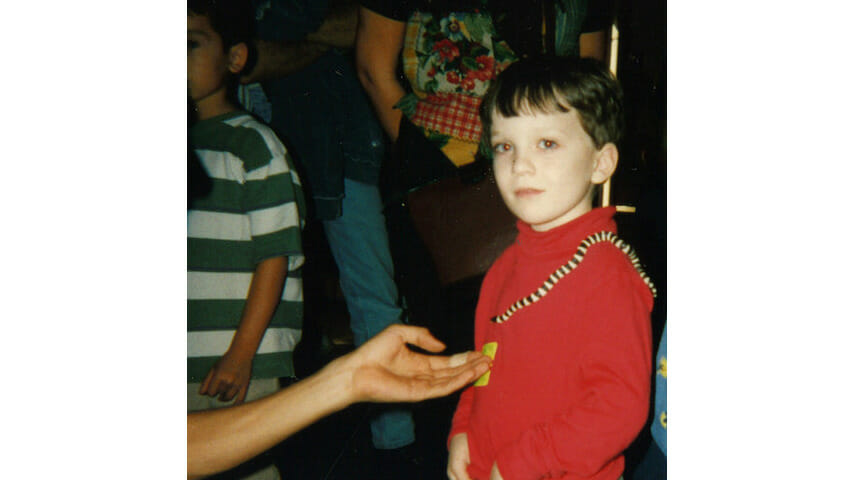 Few artists can quiet a room quite like Angelo De Augustine. Of the small handful of times I've had the chance to catch the LA-based singer-songwriter live, I've been struck by the intimacy of his music; from his hushed whisper-vocals to the gorgeous fingerpicked acoustic guitar, he can make a music venue feel like a living room, demanding the audience's full attention by simply refusing to raise his voice.
It's that stunning Nick Drake-esque charm that initially caught the ear of Sufjan Stevens, who signed him a couple years ago to his own label, Asthmatic Kitty, which released Angelo de Augustine's sophomore effort Swim Inside the Moon in 2017. A bedroom artist technically recording in his bathroom – bathtub specifically – he channeled his mentor's gentle '04 record, Seven Swans, losing none of the intimacy of his live set with the album's DIY techniques.
When the news of Augustine's new record, Tomb, hit, it was announced that he was working with Thomas Bartlett aka Doveman, a renowned musician and producer who helmed recent records by St. Vincent, Rhye, Glen Hansard and Stevens. If a lot of why Swim Inside the Moon was so heartbreakingly striking stemmed from its rough and lo-fi recording, how would a studio-produced release even remotely capture this same closeness?
By and large, Bartlett's cleaner mix works wonders for De Augustine. With cleaner vocals and an emphasis on a variety of instrumentation, Tomb is more direct than anything De Augustine's released prior, while remaining as nostalgic and longing as ever. The title track, which opens the album, provides the perfect example. Gone is the lo-fi hiss of his previous releases, but Augustine's front-and-center vocals make him feel closer than ever. His arpeggiated bandurria flicks hit like soft raindrops on an autumn day while Bartlett's gorgeous piano swirls add to its beauty. Tracks like "You Needed Love I Needed You" and album closer "All Your Life," follow suit, offering an update on Swim Inside the Moon tracks like "Haze" and "Crazy, Stoned, and Gone," both among the prettiest songs of 2017.
De Augustine doesn't stop there, complimenting his updated sparse acoustics with something that more resembles the sound that Sufjan has been honing in on since 2015's Carrie & Lowell and his contributions to the Call Me By Your Name soundtrack – part folk singer, part futurist R&B with icy and distant synths. Occasionally he reaps the rewards for his efforts to evolve his sound; the atmospherics throughout "Somewhere Far Away From Home" only add to Augustine's tear-jerking lyrics, an extra oomph to the song's refrain, "Oh baby, you tried."
But the results are mixed when he tries to translate that distant sound elsewhere. "I Could Be Wrong," complete with its bizarre staccato bass mix, drum machine riff and upbeat synth lines, misses the mark almost entirely, threatening to derail the album's flow and overall direction. Shuffled around instrumentally, the song could work (its "I could be wrong if I think I'll forget about you" refrain is catchy as hell), but it feels entirely out of place here, breaking up two of the more delicate acoustic tracks on the record.
Evolving as an artist is tough work; the constant pressure to find the right balance of growth and experimentation without losing one's initial identity can drive the most ambitious of artists insane. By adding cleaner production, synth and string flourishes alongside poppier and catchier refrains, De Augustine largely hits the mark on Tomb. With a few curveballs thrown throughout, the warm and comforting lull of Swim Inside the Moon is long gone, replaced by a fascinating record that updates his prior work without losing any of its intimacy.