Knee Socks & Interstellagator-Skin Boots: A Decade of Arctic Monkeys' AM
We're looking back on the Sheffield band's fifth studio album, one of the most important rock projects of the century, on its 10th anniversary
Photo by Steve Jennings/Getty Images for CBS Radio, Inc.
Music
Features
Arctic Monkeys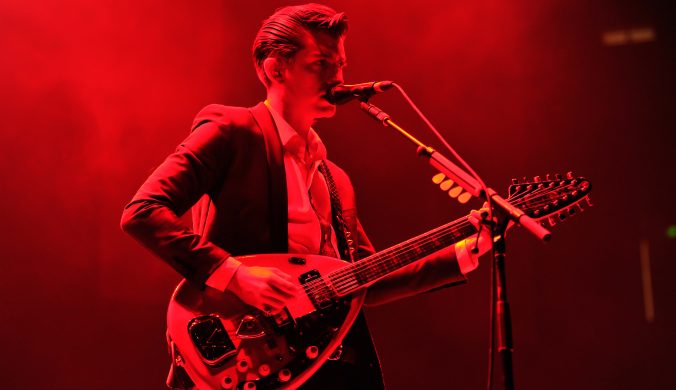 Today marks the 10-year anniversary of one of the most influential indie rock albums of this century. A timeless compilation of lust-filled tracks, Arctic Monkeys' AM solidified the band's rockstar status beyond the UK and across the world. Not only was it their most successful album to date, it helped birth the iconic, definitive Tumblr aesthetic, reshaped music discovery and has remained a time-capsule for generations of angsty teens' first loves, heartbreaks and emotionally turbulent adolescence.
The simplicity of the album cover first caught my eye—an amplitude modulation soundwave forming the letters "AM" in the center, perfectly designed for hazy backdrops at stadium shows. Its edginess was effortless and could fit anywhere, be it a blog feed or floating on the lockscreen of an iPod touch. Following The 1975's self-titled debut and The Neighbourhood's I Love You, AM added fuel to the fire that was indie music's soft-grunge obsession.
But the recent resurgence of AM—and the accompanying Alex Turner fancam edits—has made me feel ancient. Walking into Boston's TD Garden on September 3, I found myself lost in swarms of teenagers fawning over the enigmatic frontman. Dressed in fishnets paired with pleated skirts and baby tees, it's almost difficult to distinguish these newer fans from my teenage self. Admittedly, I'm re-entering my own fangirl phase, awing alongside them like I did on Tumblr a decade ago. Arctic Monkeys dominated the app at the time, with lyrics from "Knee Socks" plastered across black-and-white photos with checkered overlays flooding feeds. Open my timeline and you'll still find "I Wanna Be Yours (5% Slower)" reblogged from nearly 10 years ago.
Where I had Tumblr, today's teens have TikTok. Scattered across my For You page are fit checks to "Why'd You Only Call Me When You're High?" (now using the "nightcore version" rather than "slowed and reverbed") as fans queue outside venues as early as 2AM. When I saw Arctic Monkeys five years ago, "venue camping" wasn't on anyone's mind—I missed my train and showed up at Brooklyn Steel towards the very end of Cameron Avery's opening set. I was alone, but soon got absorbed into the crowd of Brits as the strides of "Do I Wanna Know?" filled the steel factory. By the end of the night, I was placed by the front of the crowd for the electric "R U Mine?" encore and felt embraced by the comradeship shared by loyal fans. At TD Garden, I thought I'd feel a disconnect between myself and their younger audience—concert culture is changing, and Arctic Monkeys have since released two new albums—but as soon as the first inkling of "Snap Out of It" poured into the arena, I knew the magic of AM hadn't gone away. If anything, newer fans have only reminded us veterans of how potent the album still is.
While the band's debut album, Whatever People Say I Am, That's What I'm Not, had already propelled them to fame in the UK in 2006, liking them in the US in the 2010s still felt niche—and that's how we preferred it. I could talk about the band without anyone else knowing who they were, which made the fandom feel like a secret society. My love for music had always been lyrically driven, and AM excelled in that department. The way Turner created worlds around the complexities of unreciprocated desire, hushed postgame flirtations and—what today would be labeled as—"situationships" made it easy to escape teenage mundanity and place my reality into theirs.
Listening to AM felt like a two-way confessional. In-between showing my mom videos of Matty Healy downing a bottle of whiskey on stage (and telling her that I simply had to go see this live), I'd put Arctic Monkeys' lyric videos on the TV in the family room, praising Turner as a "lyrical genius" on par with the greats of my parents' childhood—like Billy Joel and Neil Young. When my first high school crush rejected me at a Halloween party, I could chalk it up to finally relating to lyrics like, "Drunken monologues, confused because / It's not like I'm falling in love, I just want you / To do me no good / And you look like you could."
And in the same way that AM helped me deal with rejection, it also soundtracked falling in love for the first time. Within that "secret society," I found someone else who shared this affection for Arctic Monkeys, and texting nonstop about rumors of the band's post-AM return slowly transpired into texting nonstop about everything. "No. 1 Party Anthem"'s grip loosened as songs like "Knee Socks" took its place—celebrating this winter love that felt so beautifully consuming and powerful at the time. Though the connection between us grew beyond music, AM was, without a doubt, its starting point—and a throughline for the next few years.
So how did Arctic Monkeys go from being a band for the UK fratboy, to becoming beloved by indie teens and music lovers across the globe? With a flawless run of six #1 albums on the UK's Official Albums Chart, the influence they've had on the European music scene—and beyond—is undeniable. Marked by the organized chaos of Jamie Cook's guitar riffs and the cheekiness of Turner's lyricism—delivered, of course, in a thick Sheffield accent—their debut album still encapsulates the band's explosive success. Talk of the band circled in the UK as a result of constant gigging around Sheffield and the assistance of MySpace, the largest social networking platform from 2005 to 2009 and a haven for music discovery.
Before the band landed on any press outlets, homemade demo CDs had already been uploaded to the site and dissected on message-boards. Backed by this blooming fanbase, their debut single, "I Bet You Look Good on the Dancefloor," went straight to #1 in the UK upon its official release in October 2005. The anticipation paved the way for Whatever People Say I Am, That's What I'm Not to become the fastest selling debut album in UK history. As one of the earliest bands to blow up via MySpace and actually garner enormous mainstream success, Arctic Monkeys helped merge the disconnect between the internet as a sales tool for the music industry and a social space.
Many songs on the album tell stories of trivial experiences, like the clubbing experience in Sheffield ("From the Ritz to the Rubble") and picking up girls at bars ("The View from the Afternoon"), but charming songs like "Riot Van" showed listeners that there was more to the band that met the surface—both sonically and as storytellers. While their OG sound carried over to Favourite Worst Nightmare in 2007, their next two albums—Humbug in 2009 and Suck It and See in 2011—progressively explored a more nuanced and sophisticated sound through lovesick ballads and an old-school atmosphere. Soft rock bangers that appealed to their established fan-base, such as "Crying Lightning," "Pretty Visitors" and "Library Pictures," were sprinkled in and have since remained fan favorites, but Suck It and See marked a distinct switch in the band's trajectory, foreshadowing their later albums like Tranquility Base Hotel and Casino and The Car.
The first hint that AM was en route was the release of "R U Mine?" as a single in 2012, which was originally recorded in the Suck It and See era. In June 2013, "Do I Wanna Know?" was released and, nine days later, the band played three new songs ("Do I Wanna Know?," "Mad Sounds" and "R U Mine?) at Glastonbury—the biggest headlining show of their career by that point. Not only was this show an introduction to new music, it marked a stark shift in the band's image and a new chapter for Turner and co. Gone were the four lads staring at their feet dressed in baggy hoodies and scruffy jeans; in their place returned four seasoned performers. Leather jackets and Turner's absurd amount of hair gel became their staple, and accompanying the new greaser-style was a rejuvenated electricity on stage.
AM was a return to the basics but continued to incorporate a maturity that the Arctic Monkeys had acquired over seven years of commercial success—along with an understanding of pop music's equilibrium and the foundations of chart-topping sensibilities. The average track on AM fell just past the three-minute mark, arriving like short-fused capsules of lush lyricism with a meticulously crafted atmosphere that returned to the party scene—but this time, the songs centered around intricate narratives inside the club, rather than from the space of still working your way in.
The album's success was booming. Upon its release, it went to #11 in the UK and 10 other countries, and earned their highest ranking in the US, reaching #6 on the Billboard 200. It was the band's biggest breakthrough since their debut album—and a gateway for worldwide discovery of one of the UK's greatest modern bands. "Do I Wanna Know?" hit US radio stations, landing itself into the music libraries of listeners who had been inundated by The Neighbourhood's "Sweater Weather." Even today, Arctic Monkeys still have three albums ranking in the Top 100 of the UK's Official Albums Chart, including Whatever People Say I Am, That Is What I'm Not and Favourite Worst Nightmare. AM has spent almost 10 consecutive years in the UK Top 100, charting as high as #7 this summer. "Do I Wanna Know?" just passed 1.8 billion Spotify streams, rapidly climbing the charts as their US shows feature upwards of seven songs from AM each night. As of August 31, 2023, "Do I Wanna Know?" ranked at 65 in the 100 most streamed songs on Spotify—just four spots below The Killers' "Mr. Brightside," enduring as one of just a handful of rock tracks from the 21st century on the list.
Already in the height of Tumblr's reign over social media, AM naturally entered the growing aesthetic of "Tumblr girls." X's on your hands were cooler than 21+ wristbands, and knee socks paired with black docs were considered peak fashion. An unsaturated, hazy photo of a cigarette between chipped black nail polish with the lyrics "Why'd you only call me when you're high?" was bound to get 100,000 notes. Depression, unfortunately, was in—which meant the yearning on AM hit new fans harder than their debut album had seven years prior. It made the album accessible to a larger audience—not everyone can relate to being denied from a bar three hours outside of London, but can't we all remember our first crush or our first bout with unrequited love?
Going from MySpace message-boards and Sheffield's local pubs to TikTok virality and three consecutive sold-out shows at London's Emirates Stadium in 2023, the constant revival of AM speaks to Arctic Monkeys' role in changing the game for modern alternative rock and music discovery altogether. Regardless of what the prominent social media platform of the decade is or which is generation using it, people still flock to AM and, in turn, find the rest of Arctic Monkeys' discography. 20 years ago it was MySpace, 10 years ago it was Tumblr and, today, it's their newfound popularity on TikTok. Message-boards and notes have morphed into comment sections, and as Arctic Monkeys sell out arenas on worldwide tours, every bit of it is broadcasted online—including videos of what emerging European bands are opening each show (Fontaines DC, Inhaler and The Hives), placing their music in front a broader, bigger audience.
In the words of Alex Turner: "There is always that one band that comes along when you are 14 or 15 years old that manages to hit you in just the right way and changes your whole perception of things." For me, that was Arctic Monkeys. AM was a pathway to my own discovery of bands like The Strokes and Catfish and the Bottlemen—who my friends and I now coin as "the trifecta" of our youth. While sometimes it's weird seeing TikTok popularize your favorite songs in a new context, it brings comfort knowing that an album that changed my music taste (and, as undramatically as possible, my life) will live on forever.
Check out our recent ranking of the 40 best Arctic Monkeys songs here.
---
Alyssa Goldberg is a writer and photographer who recently moved from New York to Boston, where she is pursuing a Master of Science in Media, Medicine, and Health at Harvard Medical School. Her work appears in Teen Vogue, Sounds of Saving, Hobart After Dark, Melodic Magazine, Pleaser Magazine and elsewhere. Find her on Twitter @alyssaegoldberg or at alyssaegoldberg.com.