Be Your Own Pet Come Surging Back on Mommy
The Nashville garage rockers are as volatile as ever on their first LP in 15 years
Music
Reviews
Be Your Own Pet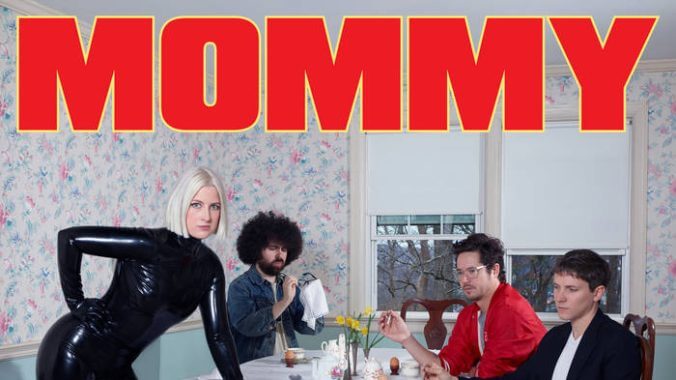 When Be Your Own Pet performed at Lollapalooza in 2006, the Nashville garage-punks played so hard that singer Jemina Pearl threw up midway through their noon-ish set. She was unfazed: After vomiting at the back of the stage, she looked cheerful as could be as she bounded up to the microphone to finish out the band's half-hour rampage.
The group has lost none of its intensity on Mommy, Be Your Own Pet's first new album in 15 years. After a solo album in 2009, and then a period away from music, Pearl still radiates a sense of volatility, like a cheerleader with a can-do attitude and a switchblade who is more than happy to rely on either one. Though she's a few years removed now from the teenager who was retching up something watermelon-flavored in the Chicago sun, she hasn't exactly mellowed. "I can't be that way no more / I got two kids and a mortgage," she declares on "Goodtime!" before adding, "What the fuck?"
Indeed. The song is a fast-paced rocker about not wanting to be left at home while everyone else is out having fun, but these 11 tracks sound like Pearl is the one at the center of her scene. Sometimes she's the hedonist letting loose, as on "Pleasure Seeker," where a filthy guitar riff supports her voice on the verse before she gives it her klaxon-like best on the refrain. Elsewhere, she's purging bad vibes: "Hand Grenade" opens on a jittery blend of bass, guitar and drums, and Pearl sounds like her own fuse is burning dangerously short on the chorus as she pushes back against the sexism that pressed down on her during Be Your Own Pet's initial tenure, "I'm not your victim / I'm my own person," she sings at full throttle as part of a call-and-response with her bandmates, who chant "I'm not afraid" like a mantra. It's a powerful paean to resilience, and stick-in-your-head catchy.
Musically, Be Your Own Pet blast through songs with the same feral energy as ever. Nathan Vasquez's propulsive basslines pair with Jon Eatherly's thunderous drums, with layers of guitars from Jonas Stein that alternate between chugging riffs and stinging lead lines. It's not far different from the way the band sounded when they were teens, but the songwriting is often sharper and more considered—there's a little more control amid the chaos. There's definitely still chaos on Mommy, and also some kink. Opener "Worship the Whip" cruises along on a breezy bassline topped with snarling guitar licks while Pearl wonders whether someone has mistaken BDSM-style punishment for love.
Either way, she's not judging. Rather, the return of Be Your Own Pet is more like a group catharsis, or an exorcism. Mommy flushes out all the misplaced pressure and instability that defined the group's first go-round, while making it clear that Be Your Own Pet remain a force to be reckoned with—but on their terms.
Read our feature on Be Your Own Pet's comeback here.
---
Eric R. Danton has been contributing to Paste since 2013. His work has also appeared in Rolling Stone, The Wall Street Journal, the Boston Globe and Pitchfork, among other publications. Follow him on Mastodon or visit his website.