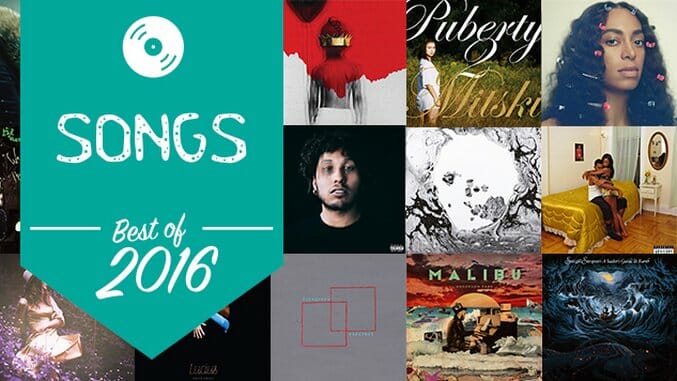 Sometimes it just takes a song to make a statement. Albums can be cumbersome, inconsistent; a song striking in three-and-a-half-minutes is much more concise. With social, economic, and political tensions riding high in 2016, musicians seemed to turn to their craft to comment, organize, and condemn. While not all of our top songs take political stances, we found that a higher percentage focused on current events than in previous years. From the mindless to the mindful, the poppiest to the deathly serious, here are Paste's 50 best songs of 2016.
50. Eric Prydz, "Last Dragon"
Eric Prydz's Opus was exactly that—a 19-song masterstroke in expansive electronic arrangements, complete with new material, unreleased work from the Swedish producer's DJ sets and a smattering of singles dating back to 2012. The entire album is worth hearing, but its crown jewel is the booming "Last Dragon," a nearly seven-minute-long big-tent anthem replete with urgent kick-drum thumps, twinkling keys and a deadly synth hook that could set the dance floor aflame faster than all three of Khaleesi's magical reptiles. —Rachel Brodsky
49. Alicia Keys, "Blended Family (What You Do For Love)"
The inspiration behind Alicia Keys' latest triumph was intensely personal, as the song is an apology to her stepson for all the drama that dusted up between the soul singer and her husband's ex. But with the addition of a cheeky guest verse from A$AP Rocky, it becomes anthemic, a call to all the children of divorce to hang tough and try to not let the problems between the grownups become their problems. It's a lovely sentiment that's carried further by the boom-bap of the beat and a wistful Edie Brickell sample. —Robert Ham
48. Wilco, "Locator"
"Even when the wheels are whining, something in the sky can find me," Jeff Tweedy belts on this gnarled noise-pop ditty—a 21st century man bowing to the GPS god in his jeans pocket. Is he outrunning the satellites that track his every move, or singing the praises of a damn good data plan? "Locator" was the first single from Wilco's irreverently titled 10th LP, Schmilco, and also the least likely candidate for that role: two minutes of John Stirratt's barking bass guitar, Glenn Kotche's restrained drum gallop and vibraslap, and several of Tweedy's signature twang-punk vocal hooks, unfurl in lazy sighs. "Hide, hide, hide," the frontman half-sings, his voices layered into dissonance. The paranoia is palpable. —Ryan Reed
47. Sylvan Esso, "Radio"
Sylvan Esso didn't release a new album in 2016 (even if their self-titled debut graced the top 10 of our Best Albums of 2014 list), but the North Carolina duo of Amelia Meath and Nick Sanborn did offer this single back in November. Luckily, "Radio" doesn't stray too far from the perfected formula of Meath's a cappella-worthy vocals over Sanborns melodic, yet synthesized beats. Closer to the disco jams of "H.S.K.T" than the snide cat-calling condemnation of "Hey Mami," Meath coos that she's a "slave to the radio." But if Sylvan Esso keeps this up for their next album, we'll be slaves to their tunes, too. —Hilary Saunders
46. Cymbals Eat Guitars, "Have a Heart"
"Can't believe the shit that we were promised really might exist," marvels Cymbals Eat Guitars singer Joseph D'Agostino on what is perhaps one of the Staten Island indie wailers' most traditional love ballads. Taken from 2016's standout Pretty Years, the vulnerable "Have a Heart" reveals further moments of wonderment that there might really someone who makes D'Agostino want to be a little less "young and evil." Over a jangling, distressed melody, he expounds on how the relationship is changing him: "Empathy, it never came so naturally 'til I met you." Of course he's still anxious that his lover may discover his "history of instability," but that's just the risk we all take when we find someone with whom to be "out of sync." —Rachel Brodsky
45. Kevin Gates, "Kno One"
Kevin Gates is the horniest rapper of 2016, claiming to go for hours, preferring the floor to the bed, and pledging a finger for every booty like Herbert Hoover promising a chicken in every pot. But he's sweet too: if your legs are on his shoulders, well, "my attention giving all of it to you." So call him a dog if you like, but get it right: he's a lapdog, in every moistened sense of the term. Writes a hell of a hook while he's down there too. —Dan Weiss
44. The Hotelier, "Piano Player"
There's a certain, cathartic kind of rock 'n' roll—anthemic and honest above all else, inspiring fist-pumps and throat lumps in equal measure, impossible to sit still to—that gets me every single time. Massachusetts indie-punks The Hotelier (formerly The Hotel Year) achieve exactly that with their ambitious third album, Goodness, and stellar single "Piano Player" is a case in point. The dynamic track starts at high speed, evoking the thrill of hitting the open road and seeing the world—it's no coincidence that's exactly what takes place in its visuals. The song's propulsive, driving guitars, humanized by lead singer Christian Holden's impassioned howls, are electrifying, the kind of musical kick in the ass that makes one want to get up and go live. —Scott Russell
43. Lizzo, "Good As Hell"
If I got to choose the motivational angel/devil combo on my shoulders, I'd pick rapper/singer Lizzo without a doubt. She exudes confidence in her body and her skin (check out moving single "My Skin" from last year's Big GRRRL Small World) and suffers no fools trying to diss either. With this track off this year's Coconut Oil EP, Lizzo confidently walks listeners through a break-up depleted of respect. "If he don't love you anymore / Just walk your fine ass out the door," she commands in the melodic hook. As the beat drops, she lists off, "Head toes, check my nails / Baby how you doin'?" before the communal response fires back, "Doin' good as hell!" It's the self-empowerment anthem that we need and deserve. —Hilary Saunders
42. Ages and Ages, "As It Is"
Ages and Ages' Something to Ruin is an incisive, passionate but calculated album of sonically adventurous choral pop that, while not quite as joyous as their 2014 head-turner Divisionary, displays every bit of the band's trademark positivity. At its heart is album closer "As It Is," which feels quite a bit like a spiritual successor to the thunderous anthem of "Divisionary (Do the Right Thing)," the song that became the band's breakout hit. In an album that seems to revolve around themes of leaving behind pain and baggage and forging forward in new beginnings, "As It Is" feels like a beacon begging its listeners to once again leave failure and infamy behind to begin again with a clean slate. When the full choir belts out that "you're gonna find your peace in anonymity," it's a zen-like promise of peace rather than true anonymity; a starting point to forge a life worth living. —Jim Vorel
41. Porches, "Be Apart"
New York-based synthpop artist Aaron Maine, who performs as Porches, released its second LP Pool this year. "Be Apart" the second single after "Hour," continues Maine's synth-indebted sound and also features Frankie Cosmos (who also happens to be Maine's partner) on backing vocals. Lyrically, the song deals with the duality of wanting to stay in, but grappling with unwavering FOMO. It's a feeling that's just little too real. —Alex Wexelman
40. Case/Lang/Veirs, "Atomic Number"
If Neko Case, k.d. lang and Laura Veirs had populated case/lang/veirs with album opener "Atomic Number," followed by 40 minutes of pure, unadulterated cacophony—dental drills whirring, infants screeching, vuvuzelas blaring—I would have bought the record without batting an eye. This song is that hauntingly beautiful. From the bewitching acoustic arpeggios and call-and-response verses to the soaring, spine-tingling chorus, "Atomic Number" is an arresting, even transcendent three minutes of singular indie folk from a supergroup with undeniable creative chemistry. If you feel nothing stirring inside you when Case, Lang and Veirs harmonize, "Latin words across my heart / Symbols of infinity," you simply are not alive. —Scott Russell
39. Big Thief, "Masterpiece"
With its opening surge of brawny guitars and Adrianne Lenker 's sweetly weathered voice, the title track from Big Thief's debut album feels like an enveloping hug from an old friend. Lenker extends the embrace with her lyrics, which start, "Years, days, makes no difference to me, babe/ You look exactly the same to me." It's a song about devotion and loyalty and nostalgia, and coming to terms with the discomfiting fact that life too often takes away loved ones before we're ready to let them go. "Masterpiece" mourns that fact, while celebrating whatever amount of time we were lucky enough to have had. "There's only so much letting go you can ask someone to do," Lenker sings toward the end, as if we have much of a choice in the matter. The trick, the song seems to say, is never taking those meaningful connections for granted. —Eric R. Danton
38. Andrew Bird, "Capsized"
Andrew Bird rarely marvels with groove. But the sumptuous "Capsized" marks a turning point for the singer-songwriter, emphasizing soul and downplaying verbosity. The first thing you notice is its sparseness: Bird croons bluesy licks—some nabbed from Charley Patton's 1920s spiritual tune "Jesus Is a Dyin' Bed-Maker"— over a laid-back rhythm section that recalls the strut of Herbie Hancock's "Watermelon Man" or Bill Withers' "Use Me." His trademark violin mostly hovers in the background—and even the chorus, with its spectral vocal harmonies—feels restrained. Bird's protagonist is so depressed that he finds comfort spooning a pile of dirty laundry. With its bare funkiness, "Capsized" radiates that same loneliness. —Ryan Reed
37. Parquet Courts, "Human Performance"
An overflowing ashtray, empty beer bottles, a sink full of dirty dishes – that's the scene of quiet, domestic despair painted by Parquet Courts' Andrew Savage in "Human Performance." With sweetly sighing melodies, a deliciously bobbing bass line, and a spiraling black hole of a chorus, the track is three minutes of bleary-eyed garage-pop perfection. But dig under the sing-song rhymes and aching chord progression, and you'll find this isn't a breakup song as much as it's a confession. Haunted by memories and dogged by doubt, the protagonist is left only with unanswered questions and all-consuming guilt. "It never leaves me / Just visits less often," he sings as the song winds to its uneasy conclusion. "It isn't gone and I won't feel its grip soften / Without a coffin." Yikes, man. —Matt Fink
36. Whitney, "No Woman"
When Max Kakacek and Julian Ehrlich pulled the plug on beloved Chicago indie rockers Smith Westerns and pulled up roots for Los Angeles, there was no reason to believe that they would land on their feet, let alone do so quite so quickly. "No Woman," then, is a statement of liberation of sorts, albeit one that feels more accidental than defiant. "I left drinkin' on the city train to spend some time on the road," Ehrlich sings in his most wistful falsetto over a soft bed of acoustic guitar strums. "Then one morning I woke up in L.A.," he continues, as if baffled by it all. The rhythms lope, the guitars twinkle and twirl, and some gauzy strings and trumpets crash around like in a Spaghetti western. As road songs go, this one is more of a slow train than a convertible with the top down. —Matt Fink
35. Hinds, "Bamboo"
A confession: I don't tend to over-analyze lyrics when I'm grooving my way through a Hinds album. This quartet of young Spanish women simply possesses an indefinable, nebulous "it" quality, a vibrancy and potency that is both a strength of their youth and distinctly beyond their years. Or put another way, Hinds has a weird way of making catchy songs sound really, really easy. "Bamboo" is that sort of easygoing triumph, an anchor of their full-length debut from this year, Leave Me Alone. The lyrics hint at fairly pedestrian relationship squabbles, but they're hardly the aspect that leaps out. Rather, "Bamboo" and Hinds songs in general tend to be vehicles for delivering the truly unique personalities of the band's members—from the squeaky, doll-like, wide-eyed grin of vocalist Carlotta Cosials as she sings to the wry, mischievous tone of Ana García Perrote. Their appropriation of '60s surf and garage rock with modern indie stylings likewise feels effortless and organic, totally unaffected. They play and perform as if they have no idea anyone is listening. —Jim Vorel
34. Brandy Clark, "Girl Next Door"
After many years of helping artists like Miranda Lambert and The Band Perry reach the heights of country music stardom as a songwriter, Brandy Clark set out to capture a little bit of glory for herself with her gritty and wise LP Big Day In A Small Town and its burning lead single "Girl Next Door." The tune, which snuck into some radio playlists, strikes a fist pumping, borderline classic rock tone as she reminds some unlucky lover that if they're looking for a "Virgin Mary metaphor" with "perfect hair and a perfect dress," they can see themselves out. Hell hath no fury like a woman who knows how to write a catchy kiss-off. —Robert Ham
33. Vince Staples ft. A$AP Rocky, "Prima Donna"
Vince Staples is a genius. There is no better way to describe the man behind the bars "All the homies say I'm different, police say I raise suspicion / Buy a million dollar home and blow my dome to paint the kitchen / Bitches like, 'Is that Venetian?'" In three lines he acutely describes: the doom-leaden racial tenor of Americ, the price of fame (both monetary and emotional), the very real plague of mental illness and suicide in our country, especially regarding racial inequality, the anti-intellectual tide usurping public discourse; and the surreal nature of celebrity. Meanwhile, A$AP Rocky stops by to repeat one line, his voice utilized to punctuate the rant Staples inevitably goes on, and that's all—which, it should be noted, is the precise way to best use Rocky's voice in 2016—and DJ Dahi lends elemental squees and coastal, seagull-infested found sound to a grim, feverish chronicle of existential, modern anxiety. All in service to Staples' brain, best left to twist and turn to its own devices until there's nothing left. That Staples finishes the song off with a sound byte of some home-recorded demo lyrics means that "nothing left" will be an impossibility for years to come. —Dom Sinacola
32. Blood Orange ft. Empress Of, "Best To You"
Blood Orange's Freetown Sound was littered with notable collaborations (Debbie Harry and Carly Rae Jepsen among them), but none felt as musically symbiotic as Dev Hynes's duet with Empress Of's Lorely Rodriguez on "Best To You." Hynes's cello lays down the canvas for Rodriguez's main character in this push/pull love song, before a marimba—a staple in both artists' productions—defines the beat. From there, it's just two vocalists on top of their game, having their way with a fine composition by Hynes. The fabulous bridge, with Rodriguez's catchy "I feel my bones, I feel my bones, I feel my bones crack in your arms" shows the pop structure mastery that sets Hynes apart from damn near everybody making pop music today and "Best To You" is a proverbial match-made in heaven; a treat for anyone who's followed indie music closely for the past five years. —Adrian Spinelli
31. Thao & The Get Down Stay Down, "Hand To God"
The crown jewel of A Man Alive sees Thao Nguyen bursting through the beautifully woven cathartic lament that is her band's fourth LP. The Merrill Garbus-produced record is Thao reconciling a life led in the shadow of the father who abandoned her and her family as a child, and on "Hand To God"—the album's penultimate track—she tears apart the final seams that hold together the rancor and pain she's held for her entire life. In fact, A Man Alive, is a timeline of these emotions and when "Hand To God's" bouncy bass line gives rise to its denouement—with Thao's empowered exit over a twangy guitar and Garbus's backing vocals hypnotically repeating the track's title. Thao's tears of resentment become tears of joy and salvation. —Adrian Spinelli
30. PWR BTTM, "Projection"
Although New York-based glam rock duo PWR BTTM released its debut Ugly Cherries in 2015, the band proffered joyful fans with two additional singles this year. "Projection" is the more upbeat of the two, compared to the somber "New Hampshire." While "Projection" begins softly, the song builds into the rollicking queercore that made folks love Ugly Cherries in the first place. With pinched harmonics and tapping solos carrying the tune, even the morbidity of lyrics like, "When the kids go out to play / I like to stay inside / Even though it looks like fun / I'd probably burn and die" can sound like a good time. —Hilary Saunders
29. Tacocat, "The Internet"
Whatever indifference you may have had earlier this year to a band called Tacocat doing a tune called "The Internet" should've crumbled after November 9, when a woman howling "What place do you have?" at her online harassers took on new resonance. What Tacocat's anthem against misogynist "vitriol" lacks in trenchant criticism is made up for in the heft of the guitars, the soar of the backing vocals, and the beauty of Emily Nokes' surprising hook. More trenchant is when the chorus changes to "What face do you have?" in a terrible time when the Ku Klux Klan is making a comeback. You can hate but you can't hide. —Dan Weiss
28. Sturgill Simpson, "In Bloom"
On Sturgill Simpson's sophomore record Metamodern Sounds in Country Music, he dutifully reimagined When in Rome's 1988 hit "The Promise," softening its synth-sharp edges with a balladeers perspective on bumbling romantic miscues. It was a bright spot in an album full of them, so it should come as no shock that Simpson's recast of a seminal teen-angst anthem in Nirvana's "In Bloom" achieve such rigorous and satisfying transformation. Adding the line "to love someone" following the lilting Cobain refrain of "knows not what it means" is a stroke of resolve in the face of the apathetic "meh" of the original, turning a classic touchstone of '90s grunge into something altogether cheerier. A cavalcade of peppy horns and lap steel pad the song's crescendo, accentuating the epiphany of compassion and patience and the importance of both while growing up in a weird, cold world. Cobain himself probably would have approved of such artistic liberty. —Ryan J. Prado
27. Courtney Barnett, "Three Packs A Day"
We didn't get a new Courtney Barnett album in 2016, but we were blessed to still get a rogue, unexpected song from the Australian lyricist extraordinaire. "Three Packs a Day" was written for Milk! Records' compilation album Good For You, and from the title would presumably hint at a typical musician's vice in tobacco, but knowing Barnett it's hardly surprising that she's being significantly more clever and cheeky. One quickly finds that the song is actually about her unabashed love for sodium-laden packages of instant noodles—Mi Goreng, to be specific. She somehow finds a way to dive into detail on both popular opinion and governmental, noodle-related warnings: "That MSG tastes good to me / I disagree with all your warnings / It can't be true that they use glue / To keep the noodles stuck together." Her ramen fascination is so intense that it apparently even ostracizes her from polite dinner conversation: "I withdraw from all my friends / And their dinner plans, I'm sick of lentils." The fact that Barnett can take such a silly joke and still make a song from it that you'll be humming two days later is a testament to her innate musicality. —Jim Vorel
26. Tegan and Sara, "Boyfriend"
It's thrilling to really consider what Tegan and Sara accomplished with a track like "Boyfriend." It is, somehow, simultaneously a catchy pop/dance track that sounds like it wants to be all froth and frivolity. But, like so many other great tracks from Love You to Death, the lyrics tell another story. "I don't wanna be your secret anymore," is a powerful message to send to a lover, and an even stronger message to send to a pop culture atmosphere that loves a lipstick lesbian, or prefers those women who dabble in queerness—but not so much as to repel the male, heterosexual gaze. Tegan and Sara are brilliant because, like a handful of artists who are in constant dialogue with their activism (who don't separate one kind of work from the other), they manage to both entertain and speak truth to power at the same damn time—and without losing the intimacy that makes their songs so relatable. "Boyfriend" does all of this beautifully and playfully; it insists on being both pop and political (all while telling a deeply personal story). You cannot help but dance to it, and you also cannot help but consider the greater themes of sexuality, relationships and the "othering" of queerness as the lyrics bop around the infectious beat. As kids today like to say, get you a pop song that can do both. —Shannon M. Houston
25. Danny Brown ft. Kendrick Lamar, Ab Soul, Earl Sweatshirt, "Really Doe"
On an album that breathes with all-out representation for a rapper's home turf, "Really Doe" is that boast made manifest, beaming to the brim with parochial loyalty made purely musical. That it's produced like a lost J Dilla Christmas Carol by Detroit's own Black Milk—the City's hardest working, beat-making cipher—is telling, because Milk is able to cater perfectly to Brown's swerving, haute couture cadence as well as Ab Soul's more militant backpacker flow, Earl's bleary-eyed comedown, and Kendrick's incessant melodicism, all the while sounding like someone never too far from his Slum Village roots. Kendrick is given the hook, as is right, but it's Brown who sets the tone for what they're attempting to accomplish: "You niggas don't even know / All that talk then no show / Cannot tell me nothin' / Show me somethin' I ain't seen before." Though the East Coast / West Coast divide has long been repaired, "Really Doe" proves two important things to hip hop in 2016: First, that regionalism has long been overtaken by the need to inject weirdness and experimentation and plasticity into radio rap, and, second, that in 2017 Black Milk should really produce some Kendrick cuts. Give us something to look forward to. —Dom Sinacola
24. Hamilton Leithauser + Rostam, "A 1000 Times"
"A 1000 Times" is, for all intents and purposes, I Had A Dream That You Were Mine's title track, opening with that confession before going on to reveal that "I've had that dream a thousand times." It's a classic tale of unrequited love ("if I had your number, I'd call you tomorrow"), and it's Leithauser's best post-Walkmen work to date.—Bonnie Stiernberg
23. The Avalanches, "Colours"
According to its creators, the sonic travelogue of the Avalanches' 15-years-in-the-making Wildflower was designed to capture the feeling of gradually moving from a surreal urban environment, through a pristine countryside, before ending up on a remote beach at sunset. If true, "Colours" falls squarely in the middle of that journey. Over a soft bed of gorgeously luminescent synths, tangled back-masked vocals, and chopped beats, Mercury Rev frontman Jonathan Donahue sings glossy-eyed lines about true love and joining mermaids in the "urban surf." This is The Avalanches at their psychedelic sun-bleached best, trading the kaleidoscopic R&B samples of their long-ago debut for full-on Beach Boys escapism. Then, as now, what remains underneath is an inimitable feeling of longing, of straining towards a hoped-for transcendence. "Everybody's got their somewhere," Donahue repeats dreamily on the chorus. Where that is he doesn't say, but it's obvious The Avalanches get there on this track. —Matt Fink
22. Savages, "Adore"
While Savages built their name on the unrelenting righteous fury of their in-studio and live performances, the most striking and intense moment of their sophomore album, Adore Life, actually occurs during a moment of silence. For the most part, the title track plays like a post-punk power ballad, with Ayse Hassan's lumbering bass placing a firm choke on Jehnny Beth's croons of carnal guilt. "In the distance there is truth which cuts like a knife/Maybe I will die maybe tomorrow so I need to say," Beth manages to gasp before she and her band disappear completely. "I adore life," she suddenly declares as the rest of Savages mount a caterwauling sonic assault to claw their way out of the ether. Even at their most life-affirming, Savages can't help but smile with a mouth full of blood. —Reed Strength
21. Anderson .Paak, "The Bird"
It's fitting that Anderson .Paak kicks off his excellent Malibu with "The Bird;" it's the kind of opening track that ensures—demands, even—that you stick around for the rest of the album, but it does so in such a smooth, effortless way that you don't even realize it's happening until you're already hooked and reeled in. All it takes is a few bars, maybe to the end of that first chorus or the first time that trumpet eases in, before you feel as though you've always loved this song. That "sweetness of a honeycomb tree" .Paak sings of is palpable, delivered with a warm familiarity. When he weaves in snippets of his life ("my sister used to sing to Whitney, my momma caught the gambling bug"), he ultimately draws the conclusion that "We see the same things/we sing the same songs / we feel the same grief / bleed the same blood." He's talking about a childhood friend, but the way he sings it, it feels like he's singing it to us, welcoming us in to his inner circle, inviting us to come in, kick off our shoes and stick around for the rest of the album. —Bonnie Stiernberg
20. Joey Purp, "Girls@"
"Girls@" is all chorus, a song whose cadence and couplet-ing makes for instant bliss on the backs of two emcees with a subcutaneous inkling of how integral flow and assonance are to an otherwise straightforward club track. The first emcee is Chance the Rapper, bound to be 2016's hip-hop MVP, lending his childhood friend a cursory verse as casually brilliant as anything he's leased other artists this year (see also Kanye's "Ultralight Beam" and even an otherwise unlistenable track from that Macklemore album that everyone has already forgotten because it's such a solipsistic mess). Chance admits he's more on the lookout for a woman in the club "reading Ta-Nehisi Coates / humming SpottieOttieDope" than one who prescribes to typical party life politicking, meanwhile unashamed of just how bad he is at posturing for a girl's approval: "I got a bed, no frame, just a mattress." The second emcee is headliner Joey Purp, Chance's cohort in Chicago's SaveMoney collective, who may or may not have "interpolated" 702's "Where My Girls At?" into this incessant bounce of a song. Granted, Joey's looking for perhaps a different pedigree of partner from his pal, but he's more than willing to celebrate all kinds of women, all kinds of folks, and it's an absolutely refreshing take on a standard Summer jam: "When they hear this jam they turn the lights out." After all, everyone looks the same in the dark. —Dom Sinacola
19. Drive-by Truckers, "What It Means"
Back in August—before the Truckers declared themselves an American Band, before America somehow elected a bigoted fool to its highest office—I saw Patterson Hood perform this song in front of a packed club in Birmingham, Ala. He was alone onstage, seated on a folding chair and playing an acoustic guitar, and he dug deep into the contradictions of race in America—one man's lonely plea for his country to come to its senses. Having never heard the song, the crowd leaned in, rapt and utterly, disconcertingly silent as Hood sung his throat raw, shredding those syllables until they were bloodied and pulped. It was no musical performance, more like an exorcism. Singing those words seemed to hurt Hood, and he emerged from the song somehow smaller, not proud but exhausted and empty. There was a beat of pure quiet as the last note faded, as everyone in the audience caught a glimpse of a much better world. When we finally burst into shouts and applause, we weren't clapping for Hood or even the song, but for American potential.
Three months later, "What It Means" has shed any idealism that might have clung to it. We have made the song a eulogy for an America that can never be exceptional again. —Stephen Deusner
18. YG & Nipsey Hussle, "FDT (Fuck Donald Trump)"
Produced by DJ Swish firmly in the tradition of the boiled-down G-funk heartbeat that's elevated YG to the same kind of "tell it like it is" reputation that's vaunted the subject of his song's ire, "FDT" revels in the plain, unmitigated details of Donald Trump's incomprehensible ascension. Whenever anyone points to the need for Democrats to bridge the gulf between the "voiceless" rural American contingency and the urban base perplexed that it come to this, I feel the need to point to this song, a righteous anger-made anthem. There is no compromise, no patience, no "fresh start" in this song, there is only the need, red-hot and ceaseless, to be heard: "We the youth / We the people of this country / We got a voice too / We will be seen, and we will be heard," YG declares before expressing his love for Mexicans and then giving Nipsey a chance to agree. They even imply that Bloods and Crips can come together in their hatred for Donald Trump. This, for a moment, and for now, is enough—to blast our depression and fear and rage into the cosmos so that it can ignite elsewhere. "I thought this Donald Trump shit was a joke," Nipsey exclaims, and we accept responsibility for feeling the same. "Surprised the Nation of Islam ain't tried to find you," YG muses, and we don't wonder how any of us could ever let this happen—we wonder how anyone could ever get over their anger that this has happened at all. —Dom Sinacola
17. Lucius, "Dusty Trails"
I first heard this song live about a year ago at Mississippi Studios in Portland. Lucius was playing a benefit show through Lagunitas and performed a number of songs off Good Grief, their second label release, which eventually came out this March. Leading ladies Jess Wolfe and Holly Laessig shared one mic and stunned the audience into silence with their gorgeous harmonies—often wider than those that marked 2013's Wildewoman. But while "Dusty Trails" is actually a semi-autobiographical tale of the band's ascent and subsequent frustrations and fears, the song also serves as a comforting mantra to all of us who wander, seeking solace in the large lonely world. This version of "Dusty Trails" recorded in our very own New York studios most closely resembles my memory of that perfect Portland performance. —Hilary Saunders
16. A Tribe Called Quest, "We The People"
Who'd have thought the most resonant protest song of 2016 would come from a 30-year-old hip-hop group that hadn't recorded together in nearly 20 years? "We the People," from A Tribe Called Quest's first album since 1998, clearly started out as a rejoinder to the dog-whistle campaign rhetoric of Donald Trump. After his upset (and upsetting) election victory, it's poised to become a resistance anthem, with a snapping boom-bap beat and layers of synthesizers framing pointed, poetic lyrics that address police brutality, gender inequality and entrenched racism. The track is also an elegy for Tribe rapper Phife Dawg, one of hip-hop's most influential MCs, who died in March of complications from diabetes. "We the People" is a powerful endcap to a monumental legacy, and the track's sudden timeliness makes it all the more indelible. —Eric R. Danton
15. Leonard Cohen, "You Want it Darker"
Did we want it darker? Either way, Leonard Cohen took it there, and to our benefit. "You Want It Darker" was one of Cohen's most ominous songs even before his death, but now it's impossible to hear the line "I'm ready, my lord" without the connotation of a man accepting his mortality. Cohen's gravelly voice only gained emotional nuance over the years, so this lyric and all of his poetic insights hit at full impact. Throughout the track he draws from classic darkness-signifiers, including a chorus of ghostly "ooohs," a soloist chanting a minor melody, and a haunting church organ. Cohen frequently wrote grim lyrics over his career, but even the relentlessly bleak list of death methods in "Who By Fire" had a jaunty melody that made the song feel playful. "You Want It Darker," by contrast, jumps off the deep end and makes no attempt to surface. But it's a beautiful descent. —Monica Hunter-Hart
14. Solange, "Don't Touch My Hair"
In a year where discussions of identity and ethnicity in American life often turned contentious, Solange moved past the finger pointing and recriminations to offer a heartfelt call for understanding. What starts as a plea for respect—and the right not be groped and treated like a spectacle—is only the jumping off point for a much larger examination of white privilege, cultural pride, and the othering of African Americans. That alone would have been enough to make it one of the year's most memorable moments, but the track's shape-shifting mix of ethereal keyboards, gently pulsating horns, and percolating beats is what pushes the track into instant classic territory. By the time the song culminates in a swirling chorus of soaring brass and harmonized voices, it has become a statement of catharsis and empowerment, earning a seat at the table among the most poignant civil rights anthems of the 21st century. —Matt Fink
13. Rihanna, "Kiss It Better"
There is so much mystification surrounding Bad Gal RiRi—the kind that's only heightened by the tabloid headlines that make her out as some untouchable caryatid. There's a reason why the pop star wears worship better than a Tom Ford jumpsuit, and it has nothing to do with the amount of times she and Travis Scott have been spotted on a veranda or how many retroactive shoe brands she can turn around (sorry, Puma). In "Kiss it Better," Rihanna's usual mainstream credo and Don Juan-ism make room for the realist Fenty, yet. A broken relationship remains broken no matter how many times you figuratively sooth it, but has that ever stopped us from seeking the fruitless rite of "kissing it better?" Rihanna writes the universal text to an old flame that in reality, only persists in a typed-but-never-sent limbo. It's emotionally seismic and it hurts like hell. But to be honest, we're pretty relieved that the baddest bitch we know finds herself in doldrums over her ex, too. —Mady Thuyein
12. Bon Iver, "22 (OVER SooN)"
Justin Vernon has long seemed conflicted about the attention his music has attracted, and much of his latest album, 22, A Million, feels like his attempt to open the throttle on his creative drive without losing his sense of self in the resulting glare. Opening song "22 (OVER SooN)" sets the tone for the album, balancing moments of discomfort with sublimity as Vernon plays with sounds and musical textures. He sets glitchy electronics and cut-and-paste pastiches of instruments alongside lustrous guitar parts and his yearning falsetto vocals, building tension and then offering catharsis in a masterful way that is at once mesmerizing and understated. —Eric R. Danton
11. Pinegrove, "Old Friends"
The opening track to Pinegrove's debut LP encapsulates everything that's great about this New Jersey band of twenty-somethings. There's vivid storytelling with enunciated lyrics. There's SAT-worthy vocabulary and wordplay with homonyms. There's poignant and nostalgic social interaction. Plus, "Old Friends" bookends with "New Friends" (a song the band had actually written and released before Cardinal), which gives the whole record a certain deliberateness. And when singer/songwriter Evan Stephens Hall sheepishly admits, "I should call me parents when I think of them / I should tell my friends when I love them," he delivers a kernel of wisdom that defies any ageism and genre pigeonholes. —Hilary Saunders
10. Kanye West, "Ultralight Beam"
When Kanye West said he was making a gospel album, I don't think any of us really thought The Life of Pablo would feature a track with Kirk Franklin, the great Kelly Price, The-Dream and Chance the Rapper (who, according to Black Twitter, has made the greatest gospel album in recent history, with Coloring Book). But we should have known that anything was possible. With all of those features, and in less capable hands (that's Mike Dean and Swizz Beatz on the production), "Ultralight Beam" could and should have been an over-the-top mess; one of those tracks that tried too hard, shifted in tone too often, and couldn't quite pull off the promise of greatness. But it succeeds, as a reflection of Kanye's distinctive praise and worship style, his interpretation of the "God dream" that moves and haunts his work. The myriad voices that contribute to the story—from the child who opens the track, proclaiming, "We don't need no devils in the house, Lord!" to Chance's perfectly-delivered blend of pop culture, humor and Biblical verse—serve as a reminder that Kanye craves an audience as much as he craves communion. He wants to be watched while he bears witness to his God, but he also wants to watch, while those around him bear witness to theirs. "Ultralight Beam" fits in perfectly with Kanye's oeuvre—mute the cuss words and you could almost play it at church; or better yet, it's another attempt by Ye to push the doors of the church open a little wider, in hopes of making room for a slightly stranger religion. —Shannon M. Houston
9. Frank Ocean, "Ivy"
Frank Ocean certainly made us wait for Blonde, but tracks like "Ivy"—which stands among his personal best—are proof it was worth it. Singing over the electric guitar contributions of Rostam Batmanglij (who, between this and his excellent album with Hamilton Leithauser, had quite a year), Ocean mourns a young love lost in the way that only he can, tenderly admitting that "I thought that I was dreaming when you said you loved me" before erupting into a nostalgic cry of "I ain't a kid no more/we'll never be those kids again."—Bonnie Stiernberg
8. David Bowie, "Blackstar"
The lead title-track on David Bowie's Blackstar sets the tone for the artist's farewell. It's actually several songs in one. "Blackstar" opens with a skittering beat and electronic adornments, as Bowie's finally emerges layered, weathered, subdued and soulful. "Blackstar" swells as horns creep and skronk, and then changes mood about four minutes in, like sun breaking through the clouds. It's an otherworldly 10 minutes that recalls Bowie's late-'70s forays into "plastic soul," accentuated by his love of electronic music and krautrock. It's an amazing piece of work that, 10, 20, or 50 years from now, will still be talked about alongside some of Bowie's greatest material, while simultaneously still sounding thrilling and new. —Mark Lore
7. Chance the Rapper, "No Problem"
"You don't want no problem with me," Chance crows again and again on Coloring Book's repeat button-wrecking, anti-record label anthem—even the indie-rap rebel's threats are joyous. Chano's elastic opening verse is plenty of fun, but where he really shines here is on the hook, his relentlessly melodic, autotuned boasting buoyed by a gospel choir. Seasoned veterans 2 Chainz and Lil Wayne each turn in characteristically adept, flex-heavy bars to keep the party rocking, and tick-tight instrumentation underpins the whole shebang. "No Problem" is a tidy microcosm of Chance the Rapper's knack for balancing street corner swagger with roof-raising fervor fit for a pulpit, and it's also an infectious celebration of all that independent music can be. —Scott Russell
6. Radiohead, "Burn the Witch"
As is often the case with Radiohead, it's hard to tell what's actually more impressive—the band's release tactics or the music itself. Yet, the English group once again prevails in both categories with "Burn the Witch," the first single off A Moon Shaped Pool. After erasing its entire digital presence, Radiohead returned by uploading a stop-motion animation video on its YouTube page, a vision that begins cutely Claymation-like and concludes as downright Orwellian. The song holds it own, too, even with the sawing string section seemingly at odds with the vicious thumping electronics and bass. Thom York's fluid, melodic (although usually unintelligible) voice weaves the two elements to create a return worthy of the extra-musical hype. —Hilary Saunders
5. Car Seat Headrest, "Drunk Drivers / Killer Whales"
"Drunk Drivers / Killer Whales" is six minutes of self-awareness and an examination into the unnecessary importance placed on other's expectations. The Chris McCandles-inspired message is relatable, addressing listeners in second-person: "You build yourself up against others feelings / And it left you feeling empty as a car coasting downhill." Songwriter Will Toledo described it as a song about "post-party melancholia. Wishing to either be a better person or care less about the whole deal." The song compares drunk drivers to rebellious killer whales in waterparks—how they're both pressured to perform for others but get freedom from recklessness, even if it's temporary. Though the song's main message is depressing, it offers a sense of hope that "It doesn't have to be like this," a line which repeats throughout the song. The track doesn't match Car Seat Headrest's past low-fi discography, but it continues to find meaningful ways to reflect in the everyday through Toledo's lyricism. —Lily Lou
4. Lucy Dacus, "I Don't Wanna Be Funny Anymore"
The beauty of "I Don't Wanna Be Funny Anymore" lies in both its how-did-nobody-think-of-that-song-title before charm, as well as its barebones rhythmic foundation. Dacus levels a velvet croon to relay her contempt for the ridiculousness of social roles over single-note strums, singing, "Lately I've been feeling like the odd man out," lamenting the public constructs that might deem one odd in the first place. As the song blooms, Dacus similarly slowly unfurls the elegance of her powerful voice, transforming a relatively straightforward power-pop tune into a new kind of millennial anthem advocating for individualism without the bullshit stigma. —Ryan J. Prado
3. Angel Olsen, "Shut Up Kiss Me"
Many of the songs on Angel Olsen's stunning My Woman are deeply emotional and gorgeously complex, but "Shut Up Kiss Me" provides the album a little levity with its tongue-in-cheek pleas from a jilted lover and infectious chorus featuring some percussive piano that Olsen recently revealed was inspired by David Bowie's "Changes." Love is complicated, but it doesn't always have to be—sometimes it's as simple as "shut up, kiss me, hold me tight"—and Olsen captures that with a straightforward gem that enters your head and refuses to leave.—Bonnie Stiernberg
2. Mitski, "Your Best American Girl"
"Your mother wouldn't approve of how my mother raised me, but I do," proclaims the primal punk poet Mitski Miyawaki, better known simply as Mitski, on "Your Best American Girl." Throughout her album Puberty 2, Mitski reacquaints herself with the tumultuous uncertainty of adolescence, but with an unassuming wisdom attained only by time and experience. On "Your Best American Girl" in particular, Mitski ponders over unrequited love and cultural boundaries in an angst-ridden anthem about an identity crisis. Mitski finds herself, loses herself, and starts all over again as she sings, "You're the one / you're all I ever wanted / I think I'll regret this." Cutting the astute poetry is grating fuzz that runs throughout the album, juxtaposing aged intelligence with a vigorous rebellion. Puberty is never fun to go through, but Mitski boldly maneuvers through it all with unforeseen grace the second time around. —Kurt Suchman
1. Beyoncé, "Formation"
Every once in a while, you come across a work of art that makes you wish you'd grown up in the South, or that you'd spent summers there—that you could, at least, claim to have some access to certain aspects of the culture. Texas in Friday Night Lights, Atlanta in Thug Motivation 101, Florida in Their Eyes Were Watching God, Oklahoma in Paradise, Mississippi in The Sound and the Fury; a great artist knows how to convey the specificities of the world they come from, making you feel both like an outsider, and a welcome voyeur, if you're not from that world. And if you are from that world, then you feel validated, blessed in some way by the homage paid to your hometown. With "Formation," Beyoncé (backed by writers Khalif Brown, Jordan Frost, Asheton Hogan and Mike WiLL Made It) achieves the task of reclaiming her own Southern roots (a task she's always down for—see "Bow Down/I Been On"), all while translating a certain aspect of that Texas Bama/New Orleans culture to the rest of us. That "Formation" does all of this, while also playing like an infectious New Orleans bounce/marching band/hip-hop/R&B track is the reason it's the best song of the year. In fact, there may not be a better reflection, in music today, of the term "melting pot,"—and as white supremacists and their associates take over the highest political offices in America—we need the themes of "Formation" more than ever.
In addition to being a celebration of Beyoncé's America, "Formation" allows the artist to reintroduce herself. Those of us who, for many reasons, wanted her to be more outwardly political—but expected that she wouldn't dare alienate her white audience—experienced a true and glorious shock and awe, watching her sink a New Orleans police car in her video. Anyone who ever thought to accuse her of being too pop, of playing it too safe in her lyrics (an accusation that mostly came from the casual listener) got quite a shock with the Red Lobster line that somehow became a feminist (or anti-feminist) rallying cry—a culturally specific celebration of the kind of female sexuality we still only catch glimpses of here and there. In many ways, everything we know about Beyoncé has been leading to "Formation"; but in many other ways, "Formation" feels like a song by a former pop star who no longer cares about her image, who's made a record that is decidedly not for everyone. And, as if she knew that we wouldn't quite believe such a bold message coming from her—America's favorite, Pepsi-endorsing celebrity—she enlisted NOLA's own Big Freedia and the late Messy Mya. "What happened at the New Wi'lins?" and "I did not come to play with you hoes, haha/I came to slay, bitch" carry as much weight as lyrics like, "I like my baby hair with baby hair and afros/I like my negro nose with Jackson Five nostrils."
"Formation" had to be our first glimpse into the world of Lemonade, one of the best albums of the year, and arguably, the most important. It prepares us for the Beyoncé of middle fingers up, baseball bats, country music songs and Mothers of the Movement—those women whose children were slain (or lynched) by American police. "Formation" simultaneously looks to the past, and represents a future; and that future is unapologetically female and black. Like most great stories it contradicts itself, falling prey to American capitalistic ideals that inform rap, while also embracing queerness and a sexual empowerment that's linked to financial independence. But those contradictions also speak to the very strange America that we inhabit today. And so now, when we try to respond to Arundhati Roy's brilliantly posed question about "which America" we live in, we have another answer: the United States of cornbread, corn rows, baby hairs, collard greens and slayage. Oh yes, you besta believe it.—Shannon M. Houston